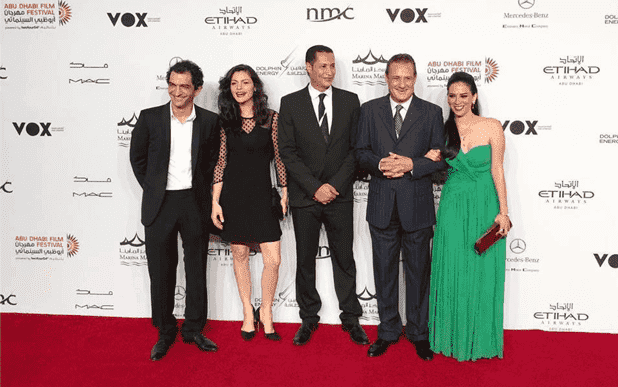 Monday, October, 27th. Amr Waked's El Ott made its world premiere in the Abu Dhabi Film Festival 2014, to be the only Egyptian film to take part in this year's narrative competition. The story revolves around an important case took-place during the last 4 chaotic years in the country, which is Child abduction and organs trafficking.
"El Ott 's story is a character study of a small time Egyptian gangster El Ott (played with great intensity by Amr
El Ott Cast
Waked) who is both divorced from his wife Salma and estranged from family after his daughter Amina was mysteriously kidnapped and lost in Cairo. He discovers that Fathi, a human and organ trafficking mobster boss, has recently kidnapped street children from his neighborhood in order to sell their organs. It consumes El Ott and fuels his anger for what might have become of his own lost daughter motivating him to destroy Fathi. El Ott's existence is devoured confronting the operations of this child trafficking gang and navigating the underworld to put an end to Fathi's butchery. El Ott does not go it alone but recruits his brother El Ghagary for protection. A fascinating series of events unfolds when a mysterious man claims he has been watching El Ott and offers him a lucrative deal to take down Fathi and his trafficking operation. El Ott along with his brother Ghagary begin a journey through the underworld confronting their own demons as they struggle to take down Fathi and his cohorts. The journey reunites El Ott with his family but there can be no comfort knowing the vicious cycle of organ trafficking will continue through Egypt." As originally appeared on Abu Dhabi Film Festival
Director, Ibrahim El-Batout – El Ott
Award-winning filmmaker Ibrahim El-Batout was born in Egypt and graduated in physics from the American University, Cairo, in 1985. He worked as documentary director, producer and cameraman from 1987 to 2004, specializing in war zone documentaries for TV, including ZDF, ITN, ARTE, ABC and CBS. On his return to Egypt in 2004 he made his feature debut with Ithaki (2005). His other notable films include Eye of the Sun (2008), Hawy (2010) and the widely acclaimed Winter of Discontent (2012), which premiered at the Venice Film Festival
Cast and Crew
Director
Ibrahim El- Batout
Cast
Amr Waked, Farouk Al Fishawy, Salah Al-Hanafy, Amr Farouk, Sarah Shaheen, Salma Yacout
Production Company
zad communication & production – Egypt
Sales Contact
Daniel Ziskind
Music
Akram Al Sharif, Negm Eldin Shaheen
Producer
Amr Waked, Salah Al-Hanafy
Screenwriter
Ibrahim El Batout
Editor
Ahmed Al Hawary
Cinematographer
Tarek Hefny
Sound
Mohamed Hassan Al-Hanafy
Production Designer
Ahmed Fayez
It came to our sight that the production agency zad media, will cooperate with a professional and specialized local Digital Media agency to be responsible for the movie online activation worldwide, which is something new in the Egyptian film industry. Epitome Cairo still preparing the digital strategy for El Ott, to be revealed approximately before Jan 2015 along with the movie official launch in cinemas.
Epitome Cairo became the first digital media agency in Egypt to be responsible for a whole social media activation for a huge production like El Ott in Egypt — We wish you all the best.