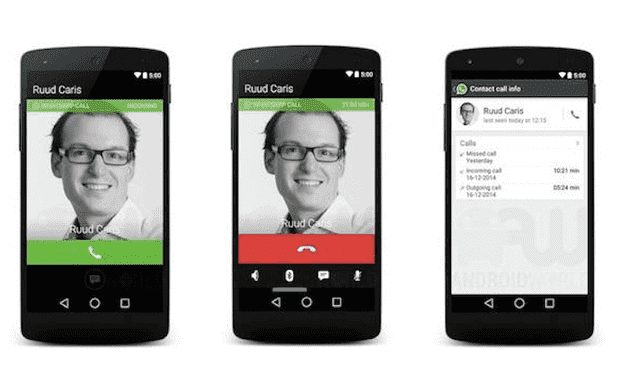 Whatsapp Calls Update: the alleged screenshots show what could be the the future calling features of Whatsapp. The update could still be in beta version so it's not released on the Google Play Store or the App store. There seems to be separate screens for call logs and ongoing calls and dialing a voice call. We're not sure if these images are legit but we don't doubt that there is a beta build somewhere. The only question now is when the official version would roll out.
Source: Android Community
Whatsapp calls coming soon
WhatsApp calls to be launched soon; The mobile instant-messaging service being bought by Facebook for $19 billion, introducing soon a voice service this year in a step to make its application more appealing to new
whatsapp
users and increase the 1 million new users growth per day.
WhatsApp Chief Executive Officer Jan Koum said at the Mobile World Congress #MWC14 in Barcelona today, that the new function will be added first on iPhone and Android then Blackberry and Windows will follow.
"We want to make sure people always have the ability to stay in touch and call their friends, families and loved ones and do it easily and affordably," Jan Koum said. "We think we have the best product out there, using the least amount of bandwidth and we optimize the hell out of it."
We think that people around the world will be happy with this great FREE step from WhatsApp, but the question now, will the mobile operators in the MENA region will block WhatsApp as Skype on mobiles? Because this is the case now in most of the MENA region countries like Egypt, Saudi Arabia, and more…
Will you use your phone normal calling after WhatsApp Voice Service?