I'm Allan, an avid surfer and traveler. I wanted to share my experience of how I earned $300 on my trip from Miami to São Paulo. Apparently, getting paid to travel is not too good to be true.
I discovered Grabr a while ago. The basic idea is, shoppers order common products sold abroad and if you happen to be traveling to their city, you can offer to buy and deliver their order to earn some money.
I thought my trip to São Paulo would be a great chance to try this out. 3 weeks before my flight, I created a trip on Grabr and started making delivery offers. It definitely makes it easier to start this as soon as possible so you have time to get more of your offers accepted.
My advice is, feel free to make more offers because not every offer you make may be accepted. I refreshed the São Paulo order page a few times a day to find new orders. Once a shopper accepts your offer, they pay for their product and your delivery reward into Grabr's escrow account so you don't have to worry about them changing their mind.
Earn Money Every Time You Travel
My goal was to earn a decent amount with the deliveries. Plus I wanted to qualify for the $100 bonus (you earn an additional $100 if you deliver 10 orders or more on your trip). After my offers were accepted, I ordered the products online (mostly from Amazon) and had them shipped to my home. This part is pretty easy because all the products just arrive at your doorstep.
After I received my orders, I started unboxing them so I could fit everything into my suitcase. I even did a bit of recycling. 🙂 Then it was off to São Paulo!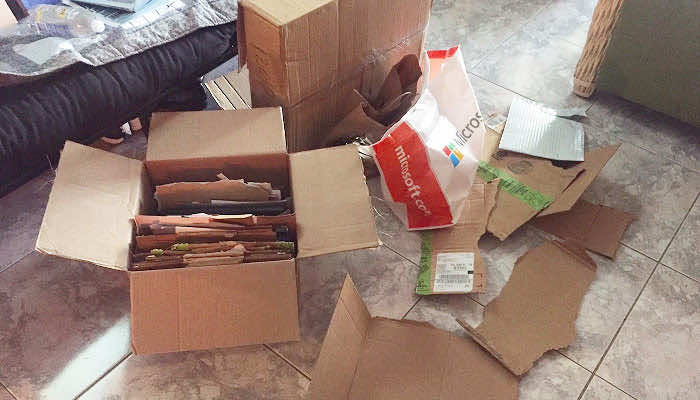 When I arrived, I messaged all of my shoppers and gave them a few time windows and places to meet at. Everything went perfectly and all of my shoppers were super nice. It was a great feeling to make someone's day! One guy had the biggest smile after receiving his favorite hoodie from Deus Ex Machina.
All of my shoppers confirmed their deliveries in person and I received the payments a few days later. You get reimbursed for all the products and receive your rewards for each delivery. I also got the $100 delivery bonus because I delivered 11 products (you need to deliver at least 10 orders on one trip to qualify.) All in all, I got an extra $300 spending money to enjoy my São Paulo trip!
Grabr
If you're traveling somewhere this year, I would recommend giving this a shot. There are shoppers who publish orders from almost every part of the world, so you should be able to find something to deliver no matter where you're flying.