Telegram is a leading cloud-based instant messages platform. It became popular in recent years for its privacy, speed, voice and video quality, and other unmatched features over its main competitor Whatsapp.
In 2018, Telegram's audience reached 200 million people, with 500,000 new users joining the messenger every day. It was launched for iOS on 14 August 2013 and Android on 20 October 2013.
What is Telegram Channels?
Telegram offers a powerful toolset that allows businesses to create and manage channels, groups, and bots to broadcast messages, engage in conversations, and offer reliable customer support via bots.
Today, we will address Telegram channels and how to use them for maximum benefit.
Telegram channels enable users to broadcast messages to multiple users simultaneously. Like on social media, users need to subscribe to your channel to get access to your content published by one or more administrators.
A Telegram channel is used for various purposes, from sharing helpful content to implementing a business strategy. In addition, you can use your channel to build and improve your company image, boost your sales, make profits, enhance customer loyalty, and more.
How to set up a Telegram channel? (A step-by-step tutorial)
Telegram channels fall into two types:
Private channels are only accessible to subscribers and don't appear in public searches. To join a private channel, you need to receive a link from the owner (administrator). A private channel is an excellent solution for companies and teams. You can also use this type of channel to write down personal notes, reflections, etc. By the way, you can make your private channel public at any moment.
Public channels are public to the internet, regardless of whether or not they are subscribed. A public channel is displayed in search results and has a short address (link).
Telegram Channels requirements & features 
Channel login must contain 5-32 characters
The Channel name and bio must be no more than 255 characters long
Each account can create up to 10 public channels
Unlimited number of subscribers per channel
Invite up to 200 users from your contacts to join your channel
Add up to 50 administrators
Activate up to 20 bots
Content is editable within two days of publishing
To delete a channel with over 1,000 subscribers, you need to contact user support
How to create a Telegram channel?
It's easy to create a Telegram channel via desktop app or mobile app (for Android and iOS):
Telegram desktop app: In the upper left corner, click the Menu icon (the one with three lines). Select "New Channel" from the drop-down menu.
Telegram Android app: Open the chats list, click the menu icon and select "New Channel."
Telegram iOS app: In the "Chats" tab, click the new message icon in the right upper corner. Select "New Channel."
Step-by-step tutorial on desktop: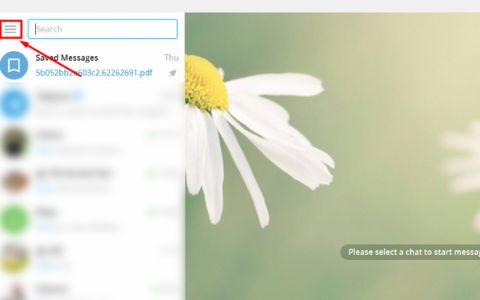 Select "New Channel"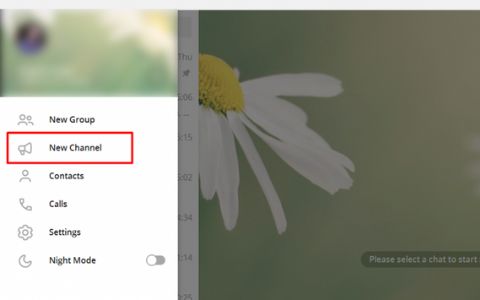 A new window will come up. Enter your channel name and bio. (See the character limits above.) Click "Create."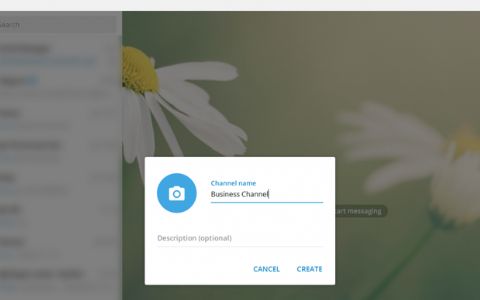 In the next window, choose the type of your channel. If you want your channel to be public, you need to develop a link for it. In the screenshot below, it's "/catmarketing." If your selected link is unavailable, you'll need to suggest another option.
You can invite up to 200 people from your contacts to join your channel as the next step. Select the users you want to add and click "Invite." You can skip this step altogether.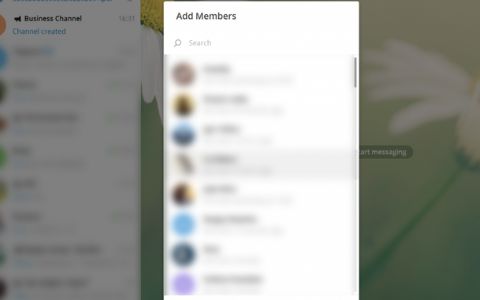 Done! Now you're the proud owner of a Telegram channel. The next step is to set up and customize your channel.
How to customize a Telegram channel?
The visual aspect of channels is very critical. In fact, design is the first thing that a potential subscriber pays attention to, even though unconsciously.
The main design elements of your Telegram channel include a name, bio (brief description), and avatar. Your bio should be:
Concise
Clear
Informative
While the character limit is 255, try to fit into 200 characters. This way, users will be able to take in your text fast and efficiently. Reveal the essence of your channel and provide contact information. For example, you can add a bot name, link to your pricing plans, etc.
To view your bio, click the Menu icon and select "View channel info."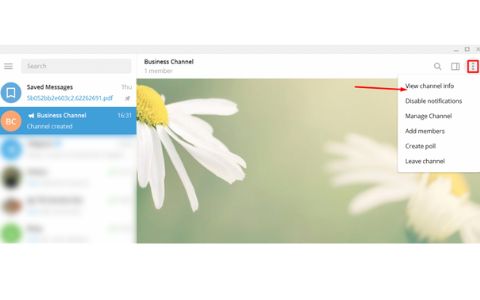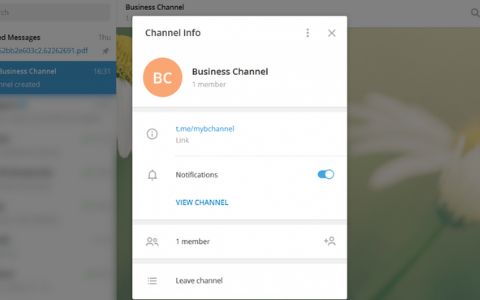 When choosing the right name for your Telegram channel, use the language of your target audience. The name must sum up the essence of your channel in 1-3 words. If you're planning to expand your Telegram audience, it makes sense to incorporate keywords into your name.
To edit your name or bio, click the Menu icon and select "Manage Channel."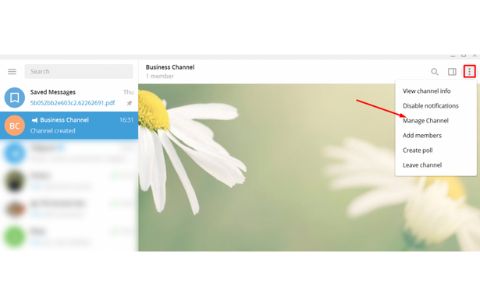 Telegram Channel avatar size/dimensions
The optimal dimension of the avatar on Telegram is 512px by 512px, and it's recommended to use PNG format to deliver an unpixelated avatar.
To upload a logo, click the Menu icon and select "Manage Channel." In a new window, hit the Camera icon.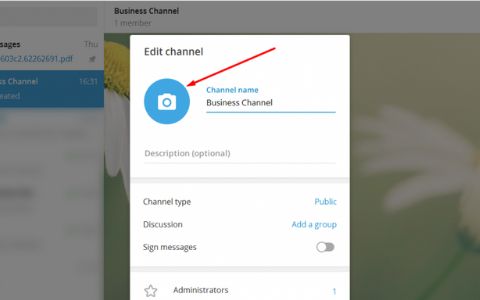 Add the logo from your device. Adjust the visible area of your image. Congratulations! Now your Telegram channel has a face Click "Save".!
How to manage your Telegram channel?
Administrators
The creator of the channel becomes its administrator by default. If you need help managing your channel, you can add more administrators from your subscriber base. You can provide each admin with limited or full rights to manage the channel. For example, you can allow an administrator to publish and edit content while withholding the right to add new subscribers.
Select: Settings – Manage Channel – Administrators – Add administrator. From your list of subscribers, select the correct user. A new window will appear on the screen. Check the rights you're willing to give to your administrator.
Click "Save" ;
Hashtags
Hashtags are a fast way to find the correct information on social media. To put your content out there, be sure to add hashtags to each post. We have two intelligent tips to give you:
Avoid compound hashtags that consist of several words. If you have a hashtag like #marketingnewsinusa, split it into smaller hashtags: "#marketing, #news, #usa.
Write your hashtags in the language of your target audience.
Polls
A few years ago, you had to use a special bot to run a poll on Telegram. Now you can easily do that yourself in two clicks. Hit the Menu icon and select "Create Poll." Write your question and add up to 10 options. Running polls is a powerful strategy for getting feedback from your audience. If you're considering the possibility of modifying your channel in any way, be sure to ask your subscribers' opinions first.
Some Telegram Channels content management tips
Don't publish new content at nighttime. Since not all users disable notifications for the night, you risk inadvertently disturbing them.
Find your optimal posting schedule and stick to it. The peak posting times include 8 am, 6 pm, and 8 pm on social media. Try to publish serious stuff in the morning and leave less demanding content later in the day.
Choose quality over quantity. Remember that one high-quality post is better than five short publications of questionable value.
Your posting frequency depends on the topic of your channel. If you have a news channel, it's OK to publish new content every day (or even every hour). For other industries, stick with 2-3 large posts a week.
Users are more open to new information on workdays rather than weekends.