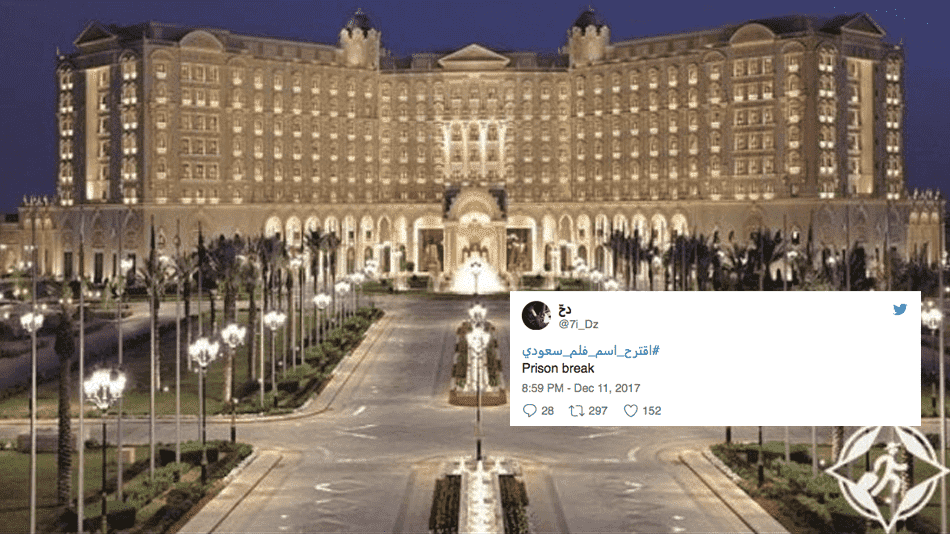 Twitter feeds saw an outburst of memes carrying satirical movie title suggestions in reaction to Saudi Arabia's recent decision to lift a three-decade ban on cinemas in light of the Kingdom's recent liberalizing efforts.
"Prison Break," posted one tweep using a photo of the famous Ritz Carlton hotel in Riyadh where the kingdom's royals are now being held on charges of financial corruption. Others poked fun at the country's strictly conservative culture, adding an Islamic flavor to famous movie titles. Eat, Pray Five Times, Love; I Know What You Did Last Ramadan; and The Fasting and the Furious were among the top tweets.
The ban lifted on Dec. 11 was enforced in the early 80's in response to pressure from hardline Islamists who wanted to establish a strictly conservative society that frowns upon arts and entertainment.
Here are the top tweets we found using the hashtags #SaudiMovieTitles and اقترح_اسم_فلم_سعودي# (suggest a Saudi movie title).
English Hashtag #SaudiMovieTitles
The kidnapped #SaudiMovieTitles pic.twitter.com/h6JSCuHr5Z

— Ahmad Buhelaiqa🇶🇦 (@Buhelaiqa) December 11, 2017
https://twitter.com/A_Fallahian/status/941103659357736960
Gone with the camels 😍🐪
#SaudiMovieTitles
Photo by @AL_SABT pic.twitter.com/2KEZKEPUMF

— أماني عبدالرحمن العجلان (@AmaniAAJ) December 11, 2017
I Know What You Ate Last Ramadan#SaudiMovieTitles

— AwkwardMuslim (@AwkwardMuslim) December 11, 2017
Hairy Potter and the Sorcerer's Stone #SaudiMovieTitles pic.twitter.com/hpz9NFWJQI

— Nader (@BonsaiSky) December 11, 2017
https://twitter.com/Tyfour91/status/941149438654996480
#SaudiMovieTitles is trending on Twitter. Some of the best so far:

Eat. Pray Five Times. Love.
Spider Imam
It's Always Sunni In Philadelphia
Scarf-face
The Fasting and the Furious

😂😂😂 pic.twitter.com/lFscA7GE8H

— Yousef Tuqan Tuqan (@yousef) December 12, 2017
https://twitter.com/jeem_jana/status/940238380125732866
Its Always Sunni in Philadelphia#SaudiMovieTitles

— AwkwardMuslim (@AwkwardMuslim) December 11, 2017
Eat, Pray Five Times, Love#SaudiMovieTitles

— Gringo Starr (@TheOneWhoMocks) December 11, 2017
The beauty and the jinn #SaudiMovieTitles

— Abba Saleh (@abba_saleh) December 11, 2017
The Fasting, and the Furious#SaudiMovieTitles

— Zuvaan Muskulhiya (@GenieOfAwesome) December 11, 2017
https://twitter.com/Noorsnook/status/940218876989603840
Arabic Hashtag #اقترح_اسم_فلم_سعودي
https://twitter.com/aboodii736/status/940365502802784256
#اقترح_اسم_فلم_سعودي
"السريع والغاضب" The Fast and Furious
بطولة صاحب السمو الملكي الأمير طقعان بن آل سعود pic.twitter.com/Elcq7Zwn7w

— Ziad ZD↗️ (@crixus_ar) December 12, 2017
https://twitter.com/7i_Dz/status/940294917703815168
https://twitter.com/luluaaa11_lulu/status/940626075364855809
https://twitter.com/rapunzellla/status/940342771306680325
Wolf of Olaya Street pic.twitter.com/2f7bFCI8Xk

— Rayan (@Rai0ny) December 11, 2017
https://twitter.com/TOTYMovies/status/940279484518977536
Dumb and dumber #اقترح_اسم_فلم_سعودي pic.twitter.com/72VYAaHglL

— فيصل العثمان (@Faisal_su) December 11, 2017
https://twitter.com/nahawnd989/status/940219503954276352
https://twitter.com/alfaisal_ks/status/940215887000457216