How To
Social Media Listening: Power or Peril?
Natasha Ighodaro, Digital Strategy Director, Newslab at J. Walter Thompson Worldwide in Dubai is one of the keynote speakers at the Marketing Kingdom Cairo 4, scheduled to take place from 17-18 October at the Royal Maxim Kempinski in Cairo.
For more info about her session visit Marketing Kingdom Cairo 4 Agenda
In an era of #InstagramvsReality and #FakeNews, how can brands harness the power of social media listening to generate actionable intelligence?
Social media listening – the process of tracking public online conversations to uncover insights –  has been around for a long time. But how much are you using social media intelligence to inform your marketing activities, or even, shape your business?
Gathered correctly, social listening intelligence is incredibly powerful. With the right programme, you can create better connections with your consumers, connections which will drive action and sales. You can resolve issues before they become crises. You can get ahead of the curve when it comes the next big trend. You can even inspire product innovation. Many brands around the world, from banks to FMCGs, are doing this very well. 
But equally, when you look at what people share on social media (e.g. we're more likely to publicly share negative than positive brand experiences), and how the usage of social media itself is societally skewed, it's very easy to draw the wrong conclusions from data.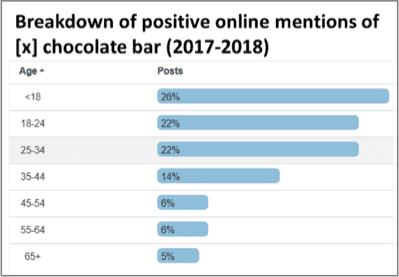 A simple example of this would be the graph on the left showing the percentage breakdown of positive comments found online about a chocolate bar across different age groups. So, does the data mean that the chocolate is favored by18-35-year olds? Or does it mean that you're less likely to talk about your love of chocolate bars on social media when you hit 35? Or does it simply reflect the general demographic breakdown of social media users, in which case the data becomes less significant? 
Draw your own conclusions, but in the meantime, here are five tips to help you harness the power of social listening intelligence and avoid some common pitfalls:
1. Do obsessively track your brand and your competitors
Brand reputation management and competitive intelligence are two areas wherein social media listening is critical, and highly useful. Today, all brands and companies, big and small, should be tracking brand mentions (in real time), as well as keeping tabs on their closest rivals. Monitoring your own brand allows you to stay a guardian of your brand reputation and track consumer satisfaction, whilst competitive monitoring is important for assessing share of voice and identifying new opportunities.  Paid tools such as Netbase or local tool CrowdAnalyzer are great if you have a budget, but there are also free tools that you can use to start you off, such as Google Alerts,  SocialMention or HowSociable. 
2. Do find your own influencers
The influencer scene is becoming increasingly commoditized and as a result, the impact of some 'influencers' is decreasing. One of my favourite functionalities of listening tools like Netbase is their influencer identification capability.  These tools can quantitatively show you which people are driving the most reach and impact for any subject that you're tracking, i.e. your brand, your category or even a competitive brand. Thus, listening tools can provide a good alternative way of surfacing new potential influencers to collaborate with for your brand or business.  
3. Don't use one data set in isolation
If you're aiming to draw definitive conclusions or insights, it's always best to combine multiple data sets. If we take for example the chocolate bar data above, a simple index would have been helpful to understand whether specific age groups are over- or under-indexing based on social media user demographics.
4. Don't confuse "real time data" with "actionable insights"
Whilst social media listening tools can help you derive real-time data, this should never be confused with real-time actionable insights. Normally, tools can provide quick quantitative data, such as the number of mentions of a brand or hashtag. However, good qualitative analysis of those brand mentions will take a bit longer, and although a lot of tools provide sentiment analysis, passion indexes and word clouds, there always must be a level of manual analysis and synthesis involved. 
As a rule of thumb, don't expect to get actionable consumer insights in real time, or even in 24 hours. You might do, but it's good to allow enough time to find gold dust.
5. Do scale up your programme to see real business impact
At the end of the day, the brands that get the most out of their social intelligence programmes, put the most in. The more social and data talents that you have in your team, the faster and the better your intelligence will be. Even with the most sophisticated AI, and contrary to popular belief, there is no silver bullet or magic button for generating instant intelligence from social listening, but with the right people, the right tools, and the right approach, social intelligence can positively impact almost every facet of your business.