The music streaming platform, Anghami has been officially listed on the NASDAQ stock exchange as it begins trading on February 4, 2022.
Founded in 2012 in Lebanon by Eddy Maroun and Elie Habib, Anghami has become the Middle East's largest music streaming platform. The listing marks the first time a regional tech startup was listed on the NASDAQ.
The leading music streaming platform and service in the Middle East and North Africa announced Today that it had completed its business combination with Vistas Media Acquisition Company ("VMAC") (NASDAQ: VMAC).
Anghami's common ordinary shares and warrants began trading in the United States on February 4, 2022, on NASDAQ under the tickers "ANGH" and "ANGHW," respectively.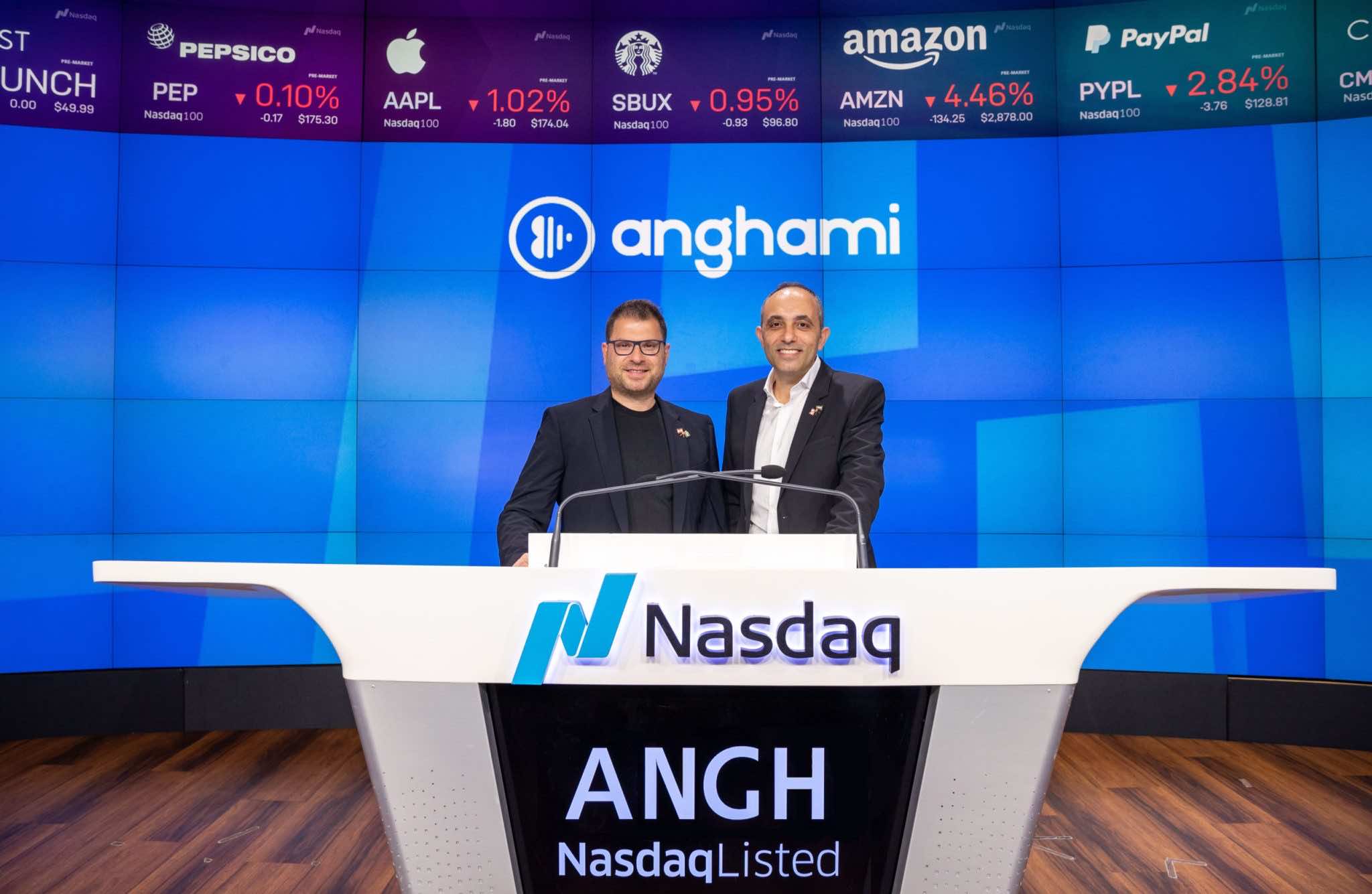 Eddy Maroun, Co-founder and Co-Chief Executive Officer of Anghami, commented, "Today marks the end of a long journey toward listing on NASDAQ, but also the meaningful beginning of our life as a publicly-traded company. We believe that our efforts to take a different approach and challenge the status quo in the streaming world present a great opportunity for fans in the region and millions of people worldwide who are trying to reconnect with their roots through music. We are grateful to our investors and partners who have made this possible. As we embark on this new chapter, we remain as committed as ever to our goal of expanding the Arabic-language music repertoire through new initiatives and innovative concepts such as Anghami Originals, Anghami Labs, live concerts, live radio, and branded content."
Elie Habib, Co-Founder and Chief Technology Officer of Anghami, said: "This is a moment of great pride, not only for Anghami but for the entire Arab world, as well as for our engineers, builders, creators and partners around the world. We launched in 2012 with the dream of making a valuable difference for users and artists alike, and nearly a decade later, with around 58% of the market share in the Middle East, we have earned a place not only in the industry but also in the hearts of music lovers across the region. We look forward to continuing our mission to transform the music streaming industry globally by connecting fans and artists and providing a unique streaming experience by focusing on original hyper-local content and an extensive catalog of music and entertainment."
F. Jacob Cherian, Co-Chief Executive Officer of Anghami, commented, "We are thrilled to bring the Arab region's most popular music streaming platforms and challenger brands to NASDAQ. This is an incredible achievement, and we look forward to reaching many more milestones in creating more original music content, expanding Anghami's horizons and reach, and growing as a global publicly-traded company."
Anghami's journey and milestones in the lead up to its listing on NASDAQ
In early 2021, SHUAA Capital psc. Led funding round for Anghami and made a PIPE commitment of $30 million, in addition to a $10 million burden from Vistas Media Sponsor, LLC. SHUAA worked closely with the team to develop and secure the PIPE investment and achieve a successful listing on NASDAQ. Franklin Templeton, a leading global investment company, also came on board as one of the pre-IPO investors and invested in PIPE before the company's listing.
Since announcing plans to list on NASDAQ via a business combination with Vistas Media Acquisition Company Inc. ("VMAC"), Anghami has strengthened its business through several significant partnerships and initiatives spearheaded from its Abu Dhabi headquarters. These include:
In December 2021, Anghami launched Vibe Music Arabia, a brand-new record label dedicated to supporting the independent Arabic artist community across the GCC and Levant and in the Kingdom of Saudi Arabia in partnership with Sony Music Middle East. The wholly independent record label will act as a creative, accelerator, and educational hub to empower musicians, songwriters, producers, and content creators to tell their stories regionally and globally. This will enhance Anghami's existing 65m international song catalog.
Soon after, the company launched an enhanced interactive experience in cooperation with Amazon Alexa for Amazon Echo device users, developing a skill that provides users in UAE and KSA a seamless, innovative experience in Arabic and English. The skill offers Arabic-speaking users in the region a seamless localized music experience in a Khaleeji Arabic dialect, enabling them to play the music that fits their mood and stream their favorite podcasts using just their voice. Users can also listen to Quran recitals in the voice of their favorite Qari.
In September 2021, Anghami appointed Mary Ghobrial as Chief Operating and Strategy Officer, strengthening the senior management team. Mary was previously Amazon's Director of Marketplace Expansion and former CCO of SOUQ.com. Before joining Amazon, Mary had deep media experience, as before joining Amazon, she led Business Development for Prodea Systems, where she forged relationships with all major studios across Hollywood, Bollywood, and across the Arab world for digital on-demand rights for all new movies original programming.
In August 2021, Anghami announced the launch of an innovative entertainment venue named "Anghami Lab" in the heart of Dubai to be followed by KSA's vibrant capital Riyadh and other major cities. As part of this, Anghami has partnered with Addmind, the region's market leader in hospitality, operating nine leading brands such as White, Iris, Clap across Dubai, Abu Dhabi, Beirut, Qatar, and London, to launch the new concept. Anghami Lab will be the first to combine both online and offline worlds, bridging digital and traditional entertainment. The venue will feature a Lounge, Stage, and Studio where creators can experiment by co-creating music inspired by both Arabic and international cultures to be performed in the medium.
In May 2021, Anghami announced the launch of Live Radio, innovative music and voice real-time audio experience that enables users to tune in, listen to music and interact via text messaging and audio in real-time collectively. Entirely developed in-house by Anghami, this cutting-edge social audio service allows users to enjoy music together, share conversations, and more.
Anghami established its global headquarters and R&D center in Abu Dhabi in 2021 as part of a partnership with the Abu Dhabi Investment Office (ADIO). Through the AED 2 billion (USD 545 million) Innovation Programme, ADIO has provided Anghami with financial and non-financial incentives to set up at the Abu Dhabi Global Market (ADGM).
Anghami also has offices in Beirut, Dubai, Cairo, and Riyadh. In less than a decade, Anghami has worked with several local label partners to build catalogs of songs from around the region and negotiate licenses with major international labels. Today, Anghami has 72 million songs in its libraries and 75 million registered users, and around 40 telco partners in the MENA region. Anghami's growth and success over the years, especially in its three largest markets – Egypt, Saudi Arabia, and the United Arab Emirates – has catapulted the company into a driving force in shaping the music business in the Middle East and North Africa (MENA) region.