News
Smartphones
Apple will roll out iOS 16 update to fix iPhone 14 Pro bug causing cameras' shake
Apple will release the first update to iOS 16 in light of reports by some users about a bug in iPhone 14 Pro and Pro Max causing the camera to shake and buzz on some apps, including Snapchat, TikTok, and Instagram.
These problems include the rear camera shaking, rattling, and even making physical noises.
Apple has acknowledged the problem in a statement to Bloomberg. The company says a fix will roll out sometime next week. If you are affected by this issue, do not allow your iPhone 14 Pro's camera to rattle/shake because it could cause hardware damage.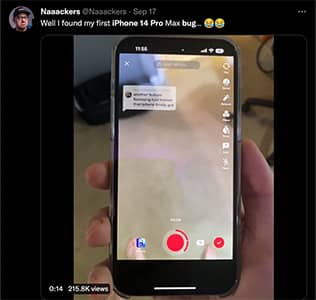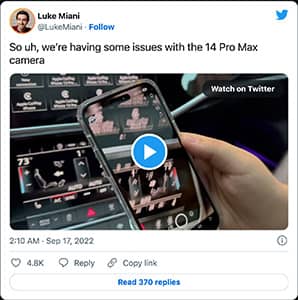 Other users said they had seen similar problems with Snapchat, Instagram, and TikTok. A handful of videos showing this problem have also been shared on social media.
This video below from TikTok does a great job of showing the software problem alongside the iPhone 14 Pro's camera module rattling. It was posted by TikTok user Damian Munoz on Saturday:
Because this iPhone 14 Pro camera shaking/rattling problem only affects the camera in third-party apps, it's almost certainly a software bug.
In particular, it could be related to optical image stabilization, hence the rattling sounds the camera module makes. Likely, these third-party apps weren't prepared for the iPhone 14 Pro camera changes.
As of right now, there's no fix for this problem. The affected apps, like Instagram, Snapchat, and TikTok, will likely need to roll out updates to their respective apps to solve the problem.