News
Arada launches $1.7bn commercial hub in Sharjah, UAE
The Dubai-based communities' developer Arada has launched the Central Business District, a new commercial hub for Sharjah, with a cost of 6.3 billion dirhams ($1.71 billion) at Aljada amid a boom in Emirate's economy.
Spread over 4.3 million square feet of prime leasable space located in 40 smart office blocks, Arada CBD can accommodate 20,000 workers, fulfilling the substantial demand for a contemporary business district in Sharjah and catering to the needs of the future workplace for companies across the UAE and beyond.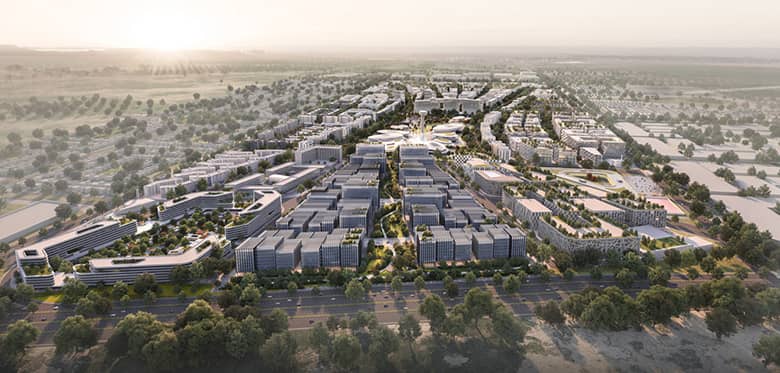 The region's first post-pandemic business park features employee-friendly elements and landscaped 'green spine.'
The region's first business park to be conceptualized after the pandemic, Arada CBD, is defined by contemporary urban architecture designed to inspire staff and enhance productivity.
Flexible and wide, open floor plans enhance collaboration and benefit from floor-to-ceiling windows allowing more natural light, while each office also benefits from smart technology that is part of Aljada's overall smart city program, which will use next-generation solutions that are linked to everything from waste and traffic management to the circular economy and smart lighting solutions.
The signature feature of Arada CBD is the 'green spine.' This forest park runs the length of the district, containing shaded walkways, an amphitheater, art installations, seating areas, and spaces set aside for activities and quiet reflection. All external green spaces, indoor trees, and plants are fed using recycled water from Aljada's onsite treatment plant.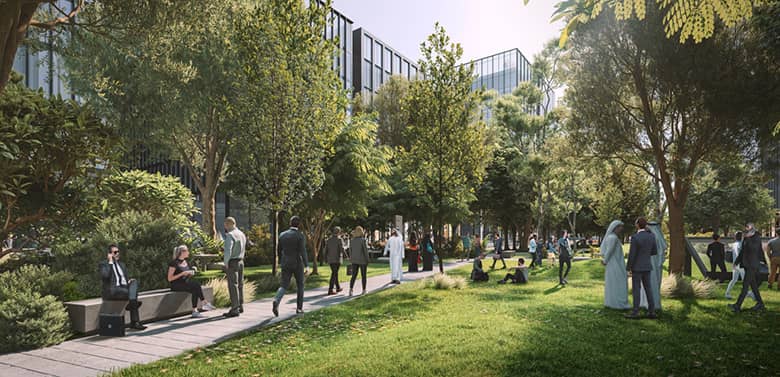 HH Sheikh Sultan bin Ahmed Al Qasimi, Chairman of Arada, said: "Arada CBD is aligned with Sharjah's vision to position itself as a leading business hub, attracting companies of all sizes and talents from across the UAE and beyond. The launch of Arada CBD fulfills our promise to provide a transformational urban experience where residents can work, live and play."
Arada CBD also contains a mix of café, dining, and retail spaces, all carefully curated to serve local employees, and the district is also served by extensive parking. The Rove Aljada hotel, located within Arada CBD, offers convenient hospitality for business trips from other parts of the UAE or overseas and dining options for the local workforce.
According to Oxford Economics, the launch of Arada CBD complements the ongoing growth of the Sharjah economy, which is projected to grow at 5% annually for the medium term. One of the region's most vibrant and diverse economies, with 96% of GDP derived from non-oil sectors, the Emirate also attracted AED808 million in foreign direct investment (FDI) in 2021.
Leasing has begun with the first phase of eight blocks to be completed in 2025
Scheduled to break ground in the first quarter of 2023, the first cluster of Arada CBD features 812,000 square feet of Grade A and Grade B leasable space spread across eight impeccably designed buildings. The cluster also includes 1,666 parking spaces, 76,000 square feet of landscaped green space, and 26,500 square feet retail space.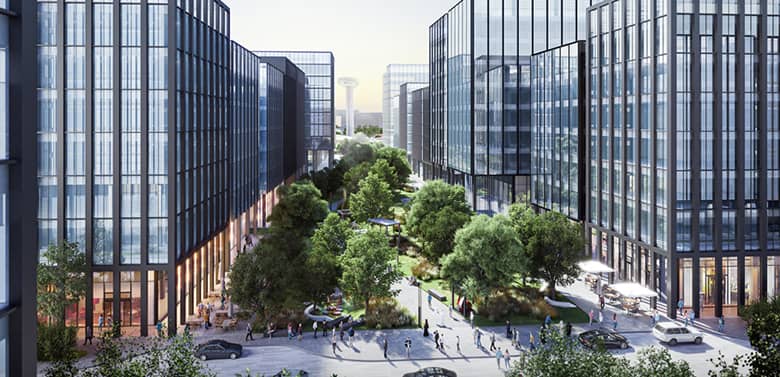 By the time the first cluster of Arada CBD is ready in the first half of 2025, there will already be 20,000 living within the Aljada community.
Aljada is Sharjah's largest ever project and a transformational destination for the Emirate.
Spread over a 24 million square foot area, Aljada has numerous residential districts, extensive retail, hospitality, entertainment, sporting, educational, and healthcare components, and Arada CBD, all within a green urban master plan. So far, Arada has completed almost 1,500 homes at Aljada, with another 6,000 currently under construction.