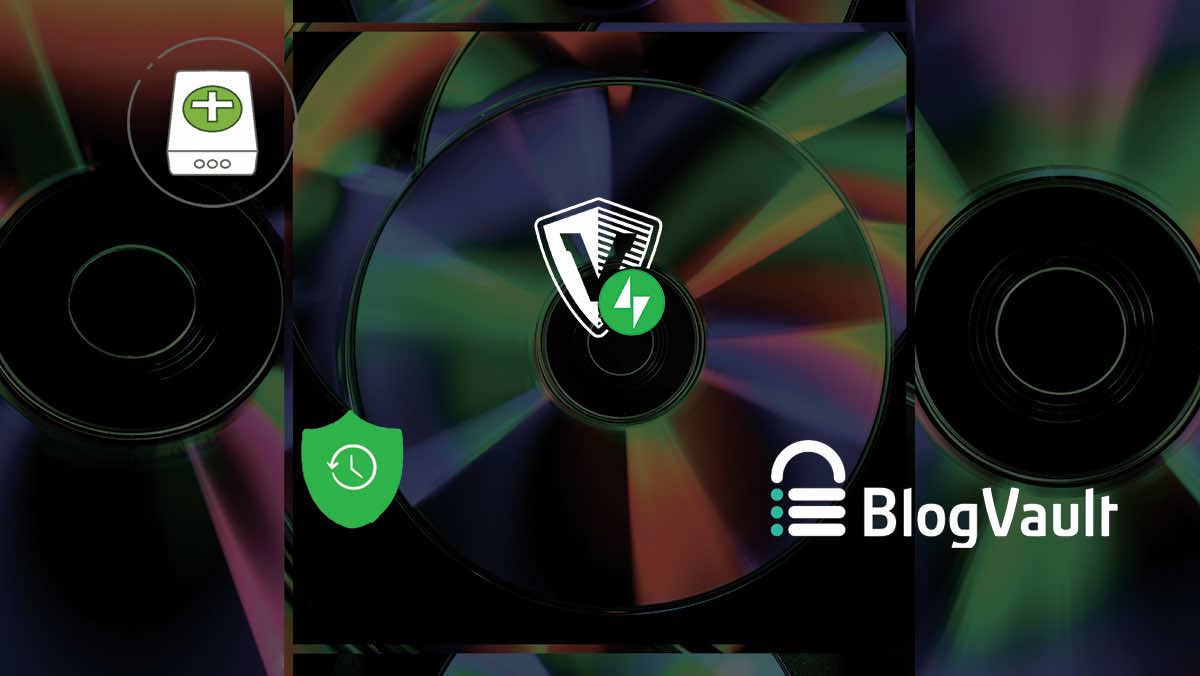 With the increasing number of WooCommerce sites being built every day, especially after the pandemic, the demand for specialized WooCommerce hosting and real-time backups has also increased.
If you are running a successful e-commerce business, your website is probably the most valuable asset for your business. A well-performing site will enable you to attract more shoppers, increase your conversions, and generate higher revenue.
Imagine if your e-commerce website stops functioning only for a few hours! It could lose valuable e-commerce data like product listings, customer records, customer orders, shipping details, and a lot more. Moreover, you could lose online customers along with customer trust. Therefore, this may lead you to pay much more money trying to restore the critical data you lost.
What is the best way of ensuring that you will not be in this horrible situation?
A real-time backup tool is mainly what you need, not just a regular backup. Compared to other websites, an e-commerce website goes through many changes daily. These changes could be in customer orders, payment transactions, shipping details, product additions (or removals), and many other operations. This results in the generation of volumes of real-time data practically every hour or even minute.
A regular backup tool is designed for fixed backups scheduled at intervals (for example, every week or day, or hour). But when it comes to the backup of real-time data generated by e-commerce websites, regular backups can miss out on the latest website changes.
An e-commerce site needs this kind of backup solution as it automatically triggers a backup every time a change is made on the site.
This ensures you do not lose any vital information if and when you need to restore your site.
How to choose the suitable WordPress backup plugin tool for your website?
Here are some of the essential elements that every WordPress backup tool must possess:
Comprehensive Backup: A backup tool must take a backup of all your website files/folders and your database tables. A backup should include WordPress files, installed plugin/theme files, web pages, website settings, and user comments.
Incremental Backups: Website backups can be a very data-intensive process, as most websites have large volumes of data. Real-time backups can be even more data-intensive as they are executed each time there is any file change. Incremental backups reduce the backup load by only syncing modified files and folders in small manageable chunks. This ensures that the entire website data is not backed up every time but includes only those components that have been modified.
Offsite Backup Storage: With an efficient backup process, the backup data must be stored safely and independently. It can be readily retrieved and restored whenever required. Storing your e-commerce website data on your web server is not a good idea as it can reduce the available storage space of your server. Hence, an offsite cloud-based storage location is the ideal alternative.
Multiple Backup Versions with Encrypted Data: WordPress backup tools create and store various backup versions, each with a date and time stamp. You can select the backup version you want to restore to your website during the restoration. Additionally, the backup data is securely encrypted so that online hackers cannot access them.
Real-time Backups: And last (but not least), backup tools offer real-time backups where every file and database change is tracked and synced (through incremental backups) to the primary backup version.
Which is better Free or Paid Backup Plugins?
When evaluating free or paid plugins, check for the following parameters:
Are they easy to install and use, even for non-technical WordPress users?
Do they offer automated backup facilities (what's the point of using a tool)?
Do they provide a complete backup of both website files and database records?
Is customer support included in the package, or do you need to pay separately for that?
If you want a reliable solution, you may use a paid solution – it's a reasonable price to pay for the benefits they offer.
Best WordPress Backup Plugins – the Pros and Cons of each tool
Here's a detailed comparison of the five best WordPress backup plugins and how they function. While some of them do offer a free version, these plugins are mostly all paid plugins.
BlogVault
It's a comprehensive backup tool that offers on-demand, scheduled, and real-time backups. It's trusted by over 400,000 WordPress websites (including WP Mayor). The plugin tool is easy to install and use with its 1-click backup feature. Some of its real-time backup benefits include:
Centralized dashboard for executing website backups and restores
Trigger-based instant backups
Access to 365 days of backup history
The entire backup process is performed on dedicated BlogVault servers, thus ensuring that your web servers are not overloaded
Hook-based listening is effective in tracking any website changes
Pros of BlogVault:
Incremental backups
Offsite backup storage with data encryption
Website migration and staging
Efficient customer support
Cons of BlogVault:
Does not offer any free version
Pricing
The basic paid plan starts from $7.4 per month
VaultPress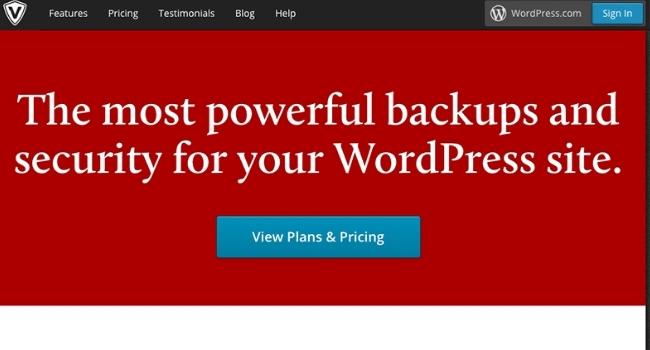 VaultPress is a real-time backup and scanning tool designed and built by Automattic, a company that operates millions of WordPress websites on WordPress.com.
The service is bundled with the popular JetPack plugin. VaultPress is used for both backup and malware protection. Some of its real-time backup benefits include:
Calendar view that lets you monitor real-time activity on your website
A centralized dashboard that enables you to perform backups and malware scanning
Complete backup of all website data, including the posts, user comments, media files, and dashboard settings
Pros of VaultPress:
Both backup and malware scanning feature
Access to the 30-day backup archive
Monitoring and notification of website downtime
Easy website migration
Cons of VaultPress:
Not available with the free version of the JetPack plugin
Slow website performance
Pricing
Premium plans are priced at $3.50 per month
BackupBuddy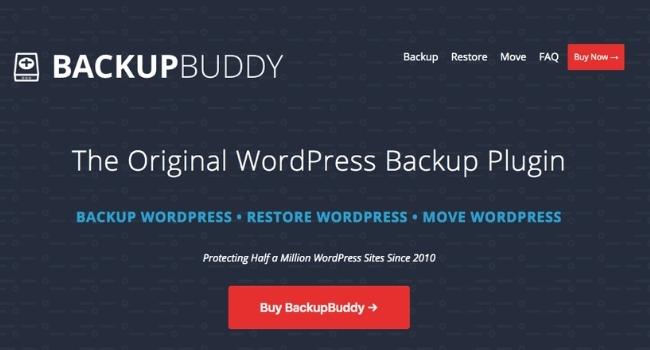 It's the first WordPress backup plugin that was released in 2010. With backups of over half a million WordPress websites, BackupBuddy offers a complete package comprising of website backups, restores, and migration. Some of the tool features include:
The option of scheduled and real-time website backups
Complete backup of all website files, including web pages, posts, user comments, dashboard widgets, images, plugins, themes, and more
Active tracking of real-time website changes
Takes a Snapshot of your entire website
Safe and secure offsite backup storage
Quick and easy backup restores
Pros of BackupBuddy:
Backup of website and database files
Allows creation and downloading of a backup zip file
Website management of 10 WordPress websites available with a premium subscription
Cons of BackupBuddy:
Most expensive among WordPress backup plugins
Slower website speeds
Pricing
One-year subscription plans are priced at $52 (for one website) and $129 (for unlimited websites).
Other Backup Tools
BlogVault, VaultPress, and BackupBuddy are premium tools that offer real-time backups for WooCommerce stores. But if you'd rather go for free tools, read on about UpdraftPlus & BackWPup which offer regular backups.
UpdraftPlus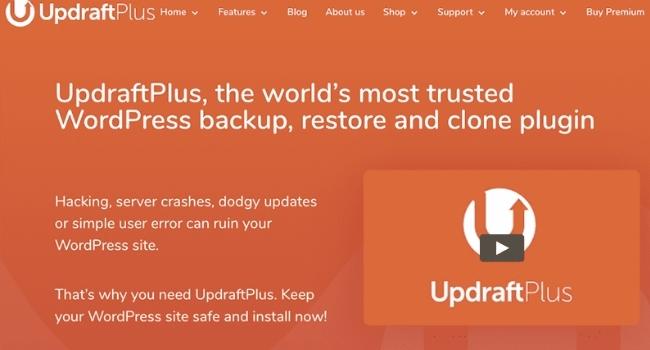 With more than 2 million website installations, UpdraftPlus is among the most trusted backup solutions across the globe. Along with a user-friendly interface, it directly uploads your backup data on cloud-based platforms like Google Drive, Dropbox, and Amazon S3. Some of its backup features include:
Supports more cloud-based storage platforms than other backup tools
Supports both automated and real-time backups
Faster and utilized lesser server resources
Pros of UpdraftPlus:
Cloning and migration
Allows you to select the WordPress files to be backed up
Has a free and paid version
Cons of UpdraftPlus:
Priority customer support available only for premium customers
Pricing
Premium plans start from $70
BackWPup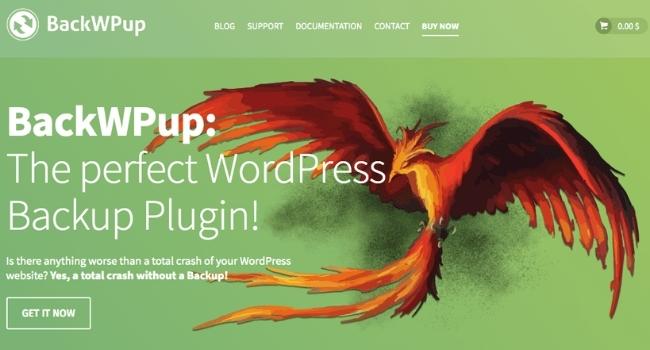 With over 8 million downloads, BackWPup is a popular WordPress backup plugin that can create a backup of your entire WordPress installation. Like UpdraftPlus, BackWPup stores your backup data on external platforms like Dropbox and Amazon S3. Some of its backup features include:
Complete backup of WordPress files and database
User-friendly dashboard for novice WordPress users
Offers both free and paid versions
Available with multisite support
Pros of BackWPup:
Complete file and database backup and restore
Easy administration of backup archives
Encrypted backup archives
Cons of BackWPup:
The high price of the premium version
Pricing
Premium plan starting from $69
In Conclusion
With the increasing number of WooCommerce websites being built every day, however not all backup services offer a real-time backup solution. Despite the fact that you have a limited number of solutions to choose from, the above tools offer pretty comprehensive features and you can rely on them to back up your e-commerce website efficiently.