Facebook has discontinued its Watch app for Apple TV. Users who try to access the app will receive this message "The Facebook Watch TV app is no longer available; you can still find lots of videos on Facebook at www.facebook.com/watch."
It's known that Apple TV can't open browsers, which means that Facebook is no longer working on Apple TV OS. At the same time, the app is still listed on the Apple TV AppStore.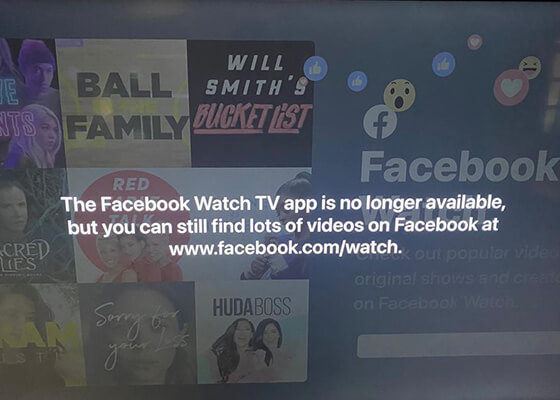 Facebook launched its Watch app on Apple TV in 2017 on Samsung Smart TVs. The app is also available on several other smart TVs and consoles, as well as on Facebook's mobile app and desktop site.
How to cast Facebook videos on Apple TV?
Users willing to continue using the Watch app on Apple TV should be able to cast Watch from their phone to their TV, but obviously, this isn't as convenient as simply opening an app.
The Facebook Watch TV app is still available for download on Apple TV Store, which means that It's not confirmed if the app is no longer available due to a glitch or if it's just giving its users notice before it is removed.