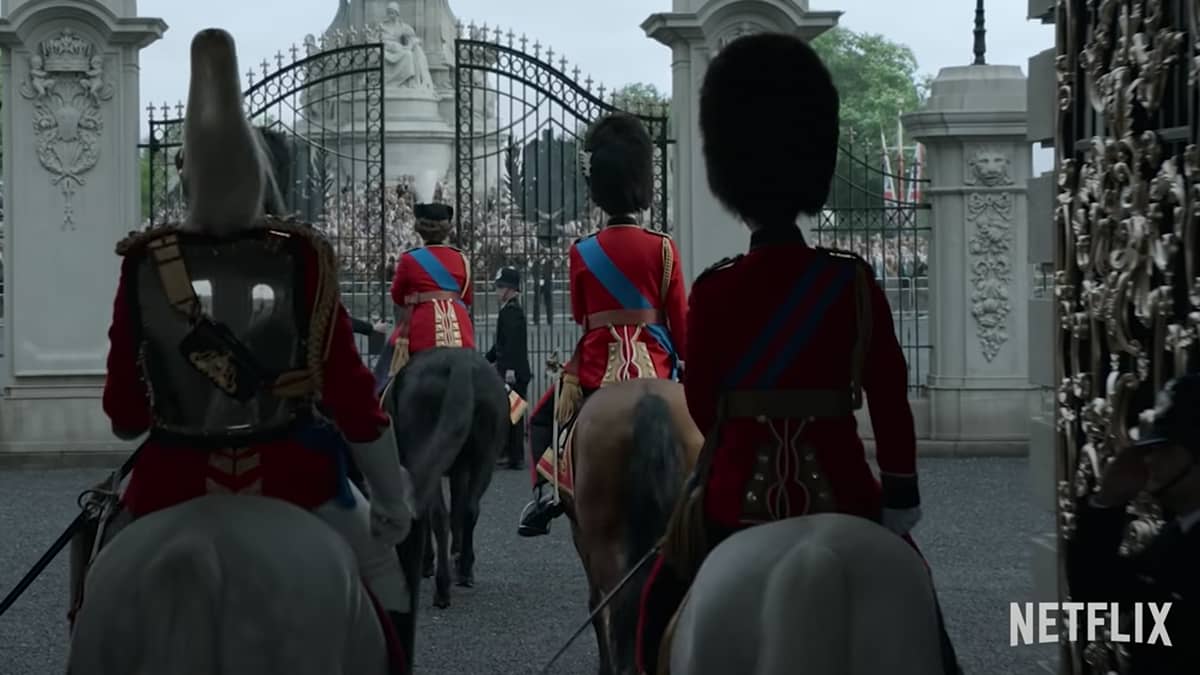 January will be an excellent season for history lovers on Netflix. It will be a perfect chance to watch the old series and catch up with the latest seasons of the ones that are still streaming before the new seasons show up.
We've covered you with a list of the best historical dramas currently streaming. The best historical dramas are available now with the press of a few buttons. So grab a bucket of Pop Corn and a can of soda, and let's start watching.
Here's a list of Netflix's top 10 historical series in 2022.
1. Ripper Street
The streets of Whitechapel are the haunt of Detective Inspector Edmund Reid and his team of officers, who aim to maintain law and order in a place once terrorized by Jack the Ripper. It is a drama mystery set in the wake of Jack the Ripper's reign of terror in London in 1888.
This 2012 series follows the members of H Division, a special task force trying to maintain order in a chaotic city rife with paranoia and the rumblings of a seedy underground criminal network.
2. The Crown Season 4
Follows the political rivalries and romance of Queen Elizabeth II's reign and the events that shaped the second half of the twentieth century. Season 4  brings the series into the 1980s, which means Britain's sweetheart  Lady Diana played by  (Emma Corrin), and Margaret Thatcher, played by (Gillian Anderson), will show up.
3. Alias Grace
In 19th-century Canada, a psychiatrist weighs whether a murderess should be pardoned due to insanity; based on Margaret Atwood's novel of the same name, this Canadian limited series centers on Grace Marks (Sarah Gadon), an Irish immigrant and domestic servant accused of murdering her boss and his housekeeper.
4. Cable Girls
Set in the 1920s, this is the story of four women from different backgrounds newly hired as operators for a phone company; feminism and progress intersect in this Spanish-language drama set just before the financial crisis of 1929. The show will leave you feeling empowered and longing for the vintage style.
5. Marco Polo
In a world full of greed, betrayal, sexual intrigue, and rivalry, "Marco Polo" is based on the famed explorer's adventures in Kublai Khan's court in 13th-century Mongolia. It also takes you out on the open seas, where the explorer finds experience and plenty of danger.
6. Reign
Mary, Queen of Scots, faces political and sexual intrigue in the treacherous world of the French court. The CW took many liberties with the story, most notably the costumes, which included off-the-rack pieces from designers like Alexander McQueen.
The series turned Mary and Francis' engagement and eventual marriage into an epic tale of romance and tragedy. They kept you eager for dangerous liaisons and supernatural mysteries within the confines of a gorgeous castle.
7. Call the Midwife
Chronicles the lives of a group of midwives living in East London in the late-1950s to late-1960s.This is probably the most modern series on this list.
This acclaimed BBC show follows Jenny (Jessica Raine), a midwife who is surprised to find herself assigned to a convent in London during the 1950s instead of the private hospital she was expecting; surrounded by nuns, she soon develops close friendships with the other nurses as their lives intersect with the women and families that they treat.
8. Barbarians
Torn between the mighty empire that raised him and his tribal people, a Roman officer's conflicted allegiances led to an epic historical clash.
9. Kingdom
While strange rumors about their ill King grip a kingdom, the crown prince becomes their only hope against a mysterious plague overtaking the land. This South Korean drama is set around 1592; a king falls ill and sparks an epidemic that finds people rising from the dead. With the disease starting to spread, it's up to Crown Prince Lee Chang, played by (Ju Ji-Hoon ) to protect his father's deadly secret and find a way to keep the plague from advancing toward the capital while thwarting a coup against his family.
10. Vikings
Vikings transport us to the brutal and mysterious world of Ragnar Lothbrok, a Viking warrior and farmer who yearns to explore – and raid – the distant shores across the ocean.
 Ragnar's elder son Bjorn Ironside has ambitions for the Kingdom of Kattegat, he dreams of peace and prosperity, but the fates have a different plan for the new King. A threat is looming, and an enemy is resurgent–much more ruthless than the rest. Lagertha has dreams of burying her sword and returning to the simple life. But as enemy forces gather, Bjorn and Lagertha will rise to the challenge because they are Viking heroes and can never surrender.
11. Outlander (2014)
The story is about an English combat nurse from 1945 who is mysteriously swept back to 1743.
It follows the story of Claire Randall, a married combat nurse from 1945 who is mysteriously swept back to 1743, where she is immediately thrown into an unknown world in which her life is threatened.
When she is forced to marry Jamie Fraser, a chivalrous and romantic young Scottish warrior, a passionate relationship is ignited that tears Claire's heart between two vastly different men in two irreconcilable lives.
Starring: Caitriona Balfe as Claire Randall, Sam Heughan as Jamie Fraser, Duncan Lacroix as Murtagh Fraser, Sophie Skelton as Brianna Randall Fraser, and many more good actors. The plot stays interesting throughout the series. This show is a great time travel escape from reality.
It is visually stunning, and the acting is excellent. It has all the romantic elements going for it: a windswept landscape, a handsome Scotsman, forbidden love, and a dash of danger.
Announcement: Outlander Season 7 details
12. High Seas (2019)
Two sisters discover disturbing family secrets after a string of mysterious deaths on a luxury ship traveling from Spain to Brazil in the 1940s.
This series has some beautiful, mysterious moments. The investigations are pretty pleasant, and it has a great soundtrack; it's well-written and genuinely engaging, the costume and sets are unique, and there's a constant theme running through mystery, murder, and suspense.
13. Ophelia (2018)
A reimagining of Hamlet told from Ophelia's perspective, As a rebellious and motherless child, Ophelia is taken into Elsinore Castle by Queen Gertrude as one of her most trusted ladies-in-waiting.
Soon enough, Ophelia captures the affection of the young Prince Hamlet. This passionate romance kindles between the 2 in secret as the kingdom is on the brink of war amidst its political intrigue and betrayal.
When Hamlet's father is murdered, and the prince's wits begin to unravel into an insatiable quest for vengeance, Ophelia sharply navigates the rules of power in Denmark, all while struggling to choose between her true love and her own life.
It's a beautiful story with a sad twist, a nice-looking costume drama, with all the modernization one can think of. Some scenes in Hamlet are reinterpreted as the same subtext of the play is used to suggest new meanings.
Starring Daisy Ridley as Ophelia, Nathaniel Parker as King Hamlet, Naomi Watts as Gertrude, and many promising young actors, it's an enjoyable reimagining of hamlet.
14. Bridgerton (2020)
Wealth, lust, and betrayal are set against the backdrop of Regency-era England, seen through the eyes of the powerful Bridgerton family.
Follows Daphne Bridgerton, the eldest daughter of the powerful Bridgerton family, as she makes her debut in Regency London's competitive marriage market. Daphne's prospects initially seem unrivaled, hoping to follow in her parent's footsteps and find a match sparked by true love.
But as her older brother begins to rule out her potential suitors, the high society scandal sheet written by the mysterious Lady Whistledown casts aspersions on Daphne. Enter the highly desirable and rebellious Duke of Hastings, committed bachelor and the season's catch for the debutantes' mamas.
Despite proclaiming that they want nothing the other has to offer, their attraction is undeniable. Sparks fly as they engage in an increasing battle of wits while navigating society's expectations for their future.
Starring young actors like Phoebe Dynevor as Daphne Bridgerton, Rege-Jean Page as Simon Basset, Nicola Coughlan as Penelope Featherington, Jonathan Balley as Anthony Bridgerton, it's a lovely period drama with fancy costumes, spatting lovers, gossip and mystery as it follows a spicy romance and various other romances.
15. Versailles (2015)
In 1667, the 28-year-old all-powerful King of France, Louis XIV, decided to build the most splendid palace in the world – Versailles. But drained budget, affairs, and political intrigues complicate things.
In the wake of the Fronde in 1667, the French nobility began to defy and disobey the monarchy. Young King Louis XIV decides to move the court from the Château de Saint-Germain-en-Laye near Paris to his father's former hunting lodge near the hamlet of Versailles as a means to force their submission.
As Louis renovated and expanded his new Palace of Versailles, the nobles were displaced from their usual surroundings but compelled to surround the king-become embroiled in increasingly dangerous intrigues.
Starring: George Blagden as Louis XIV, Alexander Vlahos as Monsieur Philippe d'Orleans, and many more, it is a fictional drama based on actual historical events, this series has sets and costumes that are incredibly lavish, grand buildings and surroundings, and it is awe-inspiring.
16. My Country: The New Age (2019)
Set during the end of the Goryeo period to the early Joseon period. Two friends aim their swords against one another due to differences in opinion about "my country."
Nam Sun Ho is a bright and talented figure. Seo Hwi is a warrior. His father, Seo Geom, is a famous commander. Seo Hwi does not compromise when it comes to injustice. His life devolves into a hellish existence, but he still holds a smile.
He wants to pass the military service examination. Due to a corruption scandal involving his father, Nam Sun Ho loses his dream. Making things worse, he conflicts with Seo Hwi over a misunderstanding. Because his mother was born into the lowest class, other people look down on Nam Sun Ho.
This is one of the best Korean show series. It has plenty of action and suspense with authentic, beautiful graphics and fantastic cinematography combined with incredible fight scenes, making this show a visual treat. The story is excellent. Starring: Yang Se-Jong as Seo Hwi, Woo Do-Hwan as Nam Seon Ho, and more.
17. The King's Affection (2021)
The story is set during the Joseon Dynasty when twins were considered an ominous sign. When the Crown Princess Consort gives birth to twins, an order is sent to kill the daughter. To save her, she is secretly shipped out of the palace.
The Crown Prince's wife gave birth to twins, but twins were considered an ominous sign, the twin daughter was supposed to be killed, but her mother begged to save her life. Secretly, the twin daughter is sent out of the palace. A few years later, the twin son Lee Hwi dies due to a disease.
The Crown Prince's wife hides her twin son's death, brings her twin daughter back to the palace, and raises her as Prince Lee Hwi. Lee Hwi eventually becomes a crown prince, but she fears her real identity will be revealed. Because of her secret, Lee Hwi cannot have anyone close to her.
She hides her emotions from others, and she makes biting remarks. Jung Ji Woon is Lee Hwi's teacher. Jung Ji Woon comes from a noble family. He is handsome, intelligent, and an optimist who enjoys life. Crown Prince Lee Hwi develops feeling for Jung Ji Woon.
Starring: Eun-bin Park as Dam Yi and Kim Ro Woon as Jung Ji Woon, this series has a brilliant production, cast, story, and excellent cinematography; it has the dark sides of historical sexism, homophobia, classism, jealousy, abuse of power, political intrigue, assassination, murder, and struggles for the position.
18. Alias Grace (2017)
It is a TV mini-series about 19th-century Canada, and a psychiatrist weighs whether a murderess should be pardoned due to insanity.
In 19th-century Canada, a psychiatrist weighs whether a murderess should be pardoned due to insanity.
Starring: Sarah Gadon as Grace Marks, Edward Holcroft as Dr.Simon Jordan, and Rebecca Liddiard as Mary Whitney, the storytelling is made beautifully; it is well-made, superbly acted, and completely fascinating.
19. Historical Roasts (2019)
"Roastmaster General" Jeff Ross and a slew of guest stars poke fun at prominent historical figures while honoring their enduring impact on the world.
Starring: Jeffrey Ross as Host, Jaleel White as Muhammad Ali, Bob Saget as Abraham Lincoln, and many more distinguished comedians.
It is a hilarious show; the more you know your history, the funnier it is; it's pure comedy, and it is not meant to be taken seriously; it turned the darkest moments of history into humor in a very admirable way.
20. Dracula Untold (2014)
As the Turks are threatening his kingdom, young prince Vlad Tepes must become a monster feared by his people to obtain the power needed to protect his own family and the families of his kingdom.
At the turn of the century, the young lord Vlad and his family live a peaceful life ruling over their small kingdom. Still, when a Turk warlord demands from Vlad a thousand boys and his son to create an army, Vlad seeks a terrible power that will allow him to protect his kingdom and family from the Turks at a terrible cost.
Starring: Luke Evans as Vlade, Dominic Cooper as Mehmed, Sarah Gadon as Mirena, and more …, it is simply an excellent telling of the Dracula legend.