TikTok has introduced unique 3D avatar creation tools, assuming that digital avatars will become a critical representation of our authentic selves.
Several social media platforms, such as Facebook, Instagram, Snap, and more, are now trying to develop the best 3D avatar tools to better align users with their apps, as we humans interact more and more in wholly virtual spaces.
However, TikTok has developed its avatars with exclusive features and options for use in TickTock clips. We'll discuss everything in this article.
The real motive is to stay in touch with the next phase of digital connection and build avatar tools that will increasingly align with habitual usage shifts while helping maintain contact with your presence in each app.
How to create a Tiktok 3D avatar?
You can access the new avatar feature by opening the TikTok camera, navigating to the app's effects section and clicking on "TikTok Avatars." From there, you'll see a panel with template avatars.
You can try out the template avatars or click "New" to create your customized avatar. You can create your avatar by selecting from an array of hairstyles, accessories, piercings, and makeup. TikTok says it built the avatar feature to be inclusive, from outfits to skin tones and hair color to texture.
"Choose from an array of hairstyles, accessories, piercings, and makeup, to create a TikTok Avatar that reflects your look and style. After your Avatar is ready, you can start recording videos. As you gesture and move, your Avatar will mimic your motion." TikTok explained.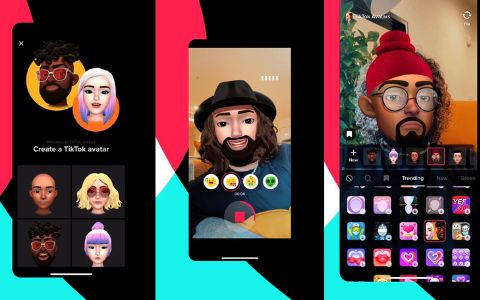 Exclusive features in TikTok avatar.
1. You can add voice effects to TikTok's avatar
Users can also try out the avatar voice effects to give a new voice to their avatar by choosing a voice style and speaking into the microphone. You can try out different voice styles and choose the one you like the most.
Tapping on the different voice styles adds or removes them from your avatar. Once you're happy with your avatar, you can start recording videos. You can become your avatar when you record a video, as it mimics how you move and follows your gestures.
2. Tiktok 3D avatars are similar to Apple's Memoji
The functionality is identical to Apple's 'Memoji,' which allows you to use your chosen Memoji character as a digital puppet, with the character moving in response to your actions when looking at the camera.
3. Miniature avatar
There's also a miniature avatar option where you can choose an avatar and add it to your video. You can adjust the size of the miniature avatar and place it anywhere on your screen. Users also have the option to change their miniature avatar's reactions by tapping the different expressions displayed on the screen. The miniature avatar feature isn't available at launch, but TikTok says it will roll out soon.
Meta's 3D avatars and Snap's Bitmoji characters
Meta's 3D avatars are already well-advanced and available for use, in different ways, across both Facebook and Instagram. At the same time, Snap has its Bitmoji characters, which users are also aligned with.
Meta and Snap are now exploring the sale of digital clothing for your virtual characters. Meta is also looking to merge your Avatar over to VR and, eventually, its metaverse vision; according to that, users will get used to engaging via these depictions.
TikTok's also looking to get in now, purposing its users also become more attached to their in-app caricatures.
It might come down eventually to the most functional avatar creation tools, the most customizable and best looking, and the most universally available; you might have the ability to take your character with you across other apps and platforms.
TikTok's unique avatars can be used on any platform
Systems haven't been made as yet, that's why it is unknown how's it going to work, but the best avatar tools will enable universal compatibility so that the character you align yourself with on one platform is the same one you use on every other, helping to build that recognition and presence across digital spaces.
Meta's photorealistic avatars
Meta also creates its photorealistic avatars, which will take time; of course, it might eventually want to create a tool like Ready Player Me to build out its avatar creation options and increase its appeal to younger people users.
TikTok's 3D avatar is a new way to create content on the app
TikTok will give users a new way to create content on the app. Aside from being a new way to express yourself, the avatar feature could also be helpful for people who don't want to show their faces in videos and would prefer to keep an aspect of anonymity.
TikTok says it will continue to improve avatars to ensure that the experience is representative of all users. The company notes that it plans to look to creators for feedback and listen to its community. Alongside user feedback, TikTok is working with its Creator Diversity Collective to ensure that the feature is inclusive.
TikTok Avatars are rolling out globally to all users, so don't miss that!