The definition of "tweet" was added to the Oxford English Dictionary in 2013. This year we have witnessed one of the most influential and powerful individuals on our planet, President Donald Trump, making regular headline news with the content he shares over Twitter.
But how did this massive platform come to be, and how has it evolved over the years?
What is the first tweet in history?
The first Tweet was published on March 21, 2006, 9:30 pm PST, when Jack Dorsey, co-founder of Twitter, posted: "just setting up my twttr."
just setting up my twttr

— jack (@jack) March 21, 2006
What's Twitter's History?
The platform was initially launched as Twttr! At the time (and still today), it was a popular trend for companies to drop vowels in their name. Just look at social channels like Flickr, Tumblr, and Scribd. 
However, shortly after Twttr's launch, the company rebranded and changed its name to "Twitter."
When did Twitter introduce the verified account? Why?
In June 2009

, Twitter introduced verified accounts after many high-profile celebrities had complained about impersonation on Twitter. The verification tick can now be applied for by any person or business, letting people know that an account of "public interest" is authentic.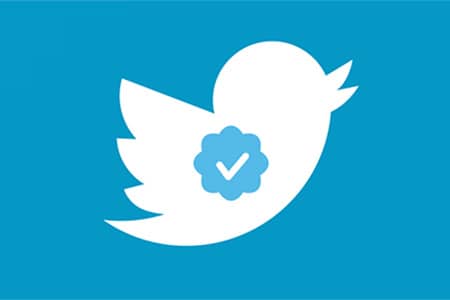 In July 2009

, Twitter added hyperlinks to #hashtags. People had already been using hashtags in their tweets regarding specific events and topics, but now people could explore hashtags just by clicking on them. This was a hugely important step for Twitter.




When did Twitter introduce Re-Tweeting?

In November 2009,

Twitter introduced Re-Tweeting. Users had previously been reposting someone's tweet by writing

RT

at the start of their tweet. Twitter caught on and eventually introduced retweeting so people could do this easily, with the click of a button.

In September 2010

, Twitter delivered "New Twitter" – the most significant update to the website's interface. The design had a complete upheaval, with videos and photos becoming viewable on Twitter.

In December 2011

, Twitter

introduced revamped Web site

to make the microblogging service easier and help companies showcase their brands better. The new version of Twitter would feature a new look and feel and faster performance.

The redesigned website comes as Twitter is taking steps to introduce more advertising and faces increased competition from Web giants Facebook and Google Inc.

In October 2011

, Apple Inc integrated Twitter's service directly into the popular iPhone software. Since then, Dorsey said, the number of monthly sign-ups for Twitter has increased by 25%.

In the same year, the new version of Twitter sought to simplify the service and made it easier for new users to understand various Twitter-specific features, such as the # symbol (hashtag) used to search for topics on the service.

The new version of Twitter also featured a revamped profile page, in which a company can customize the look of its brand and highlight specific content, such as videos or photos. Previously, the profile pages displayed a chronological list of the company's most recent Tweets.

Twitter was taking steps to build a profitable business on top of its popular service. The company began showing ads on limited parts of the service in 2010 and is expected to generate about $140 million in ad revenue this year, according to estimates by industry research firm eMarketer.

Twitter became an effective fund-raising platform when the

Red Cross

launched a mobile giving campaign that surpassed all expectations. High-profile users tweeted about the drive to help victims of the Haiti earthquake. Many of their followers tweeted and retweeted the message, helping the Red Cross raise more than $8 million within 48 hours of the Haiti earthquake, a large-scale

earthquake

that occurred on

January

12, 2010, on the West Indian island of

Hispaniola

,

comprising

the countries of

Haiti

and the

Dominican Republic

.

In June 2012,

Links pasted into a tweet now had a content preview, image, or video of the link. This made the content shared by URL a lot more dynamic and engaging.




When did Videos become available on Twitter? How?

In January 2013

, Twitter launched Vine, an app that allows you to shoot and share six-second looping videos. The Vine experiment was interesting, with the intention for the platform to be a way to capture "

casual moments in their [users] lives and share them with friends

." Videos were viewable on Twitter.




When did Twitter become a Public Company?

In September 2013

, Twitter filed to become a public company. (It announced the news to the public in a tweet.) It's

initial public offering

(IPO) in November raised $1.8 billion, giving it a market value of $31 billion.


When did Animated GIFs become available on Twitter?


In June 2014

, Animated GIFs could be shared and viewed across all of Twitter's platforms (desktop, mobile, and app).




When did Live Streaming become available on Twitter? How?

In March 2015

, Periscope, an app that allows live streaming, was

acquired by Twitter for a reported $85million

. This highlighted a growing trend for live streaming across social media.

In October 2015

, Twitter introduced poll questions to their Tweets, allowing users to ask polling questions with up to 4 possible answers.

One of Twitter's co-founders, Jack Dorsey, returned as CEO

in October 2015

. Twitter had continued to grow in popularity but had yet to become profitable, so it added other features to increase user interaction. Twitter added a new feature, Moments, which allowed users and the service to create

curated

thematic collections of tweets and other content. Moments were displayed prominently in their tab in the app.

The most radical change occurred

in March 2016

, when Twitter replaced its

chronological

timeline (in which tweets were ordered by time) with an algorithmic timeline in which tweets that were popular on the service or even tweets that were liked by the people a user followed would appear first. Twitter claimed this change made users interact with others and even tweet more. Still, some criticized it as creating an experience that would produce an information bubble confirming users in their existing biases.

In January 2017

, Twitter replaced Moments with Explore, in which trending subjects, including Moments, were collected. The character limit of a tweet was increased from 140 to 280 characters.

Twitter finally became profitable

in the last quarter of 2017

, with 330 million monthly users.

In December 2017

, Twitter introduced a plus button to create threaded tweets easily. Just a month after increasing the character limit, Twitter appears to be angling towards sharing long for content more easily.

In Early 2019

, Twitter switched from tracking monthly users to "monetizable daily active users," the number of users exposed to ads daily.

Fleets, added

in November 2020

, were collections of tweets and other content designed to vanish within 24 hours, much like Stories on the social networks Snapchat, Instagram, and Facebook. However, Fleets failed to catch on with users, and the feature was discontinued in August 2021.

In May 2021

, Twitter introduced Spaces, in which accounts with more than 600 followers could host live audio conversations.

As of late 2021

, the service had 217 million monetizable daily active users. In November 2021, Dorsey stepped down as CEO again and was replaced by chief technology officer Parag Agrawal.

In 2022

, Twitter announced that it was to be purchased by South African-born American

entrepreneur

Elon Musk

for about $44 billion. Musk was to become the sole owner of the company.
Three months later, Musk announced that he was withdrawing his bid for Twitter, citing concerns over bot accounts and claiming that the company was in "material breach of multiple provisions" of the purchase agreement. 
Bret Taylor, the chair of Twitter's board of directors, responded by saying that the company was "committed to closing the transaction on the price and terms agreed upon with Mr. Musk." By then, Twitter shares had declined roughly a third from Musk's proposed purchase price.
In July 2022

, Twitter sued Musk to force him to buy the company, and in September 2022, Twitter's shareholders voted to accept Musk's offer.
The changing face of Twitter
Over the years, the Twitter logo went through some exciting changes, as shown below: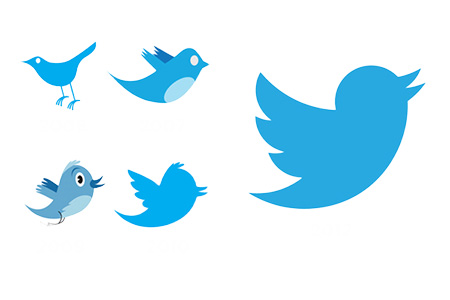 Twitter's homepage and its design evolution
Twitter's homepage design was revealed on April 15, keeping the now familiar bird but dropping the word "Twitter." The new layout aims to create a broader content hub to hook potential new users, gathering Tweets into a curated list of topics instead of popular individual tweets and trending hashtags. These screenshots of Twitter's homepage as it evolved since its founding in 2006.
Twitter's Homepage Changes from 2006 to 2020
Twitter was created in March 2006 and launched later that year in July. Since then, it has evolved a lot. Today we will review the changes and evolution of Twitter's homepage design in the last fourteen years just as follows:
2006-2008
2009-2010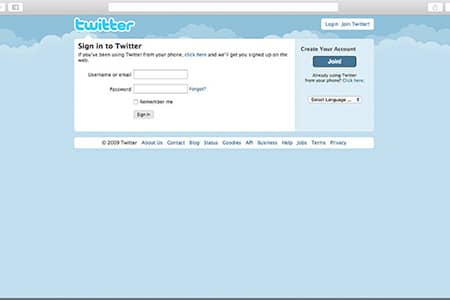 2011
2012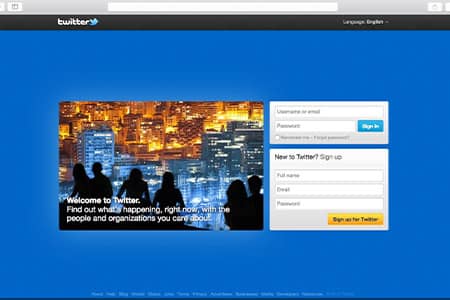 2013
2014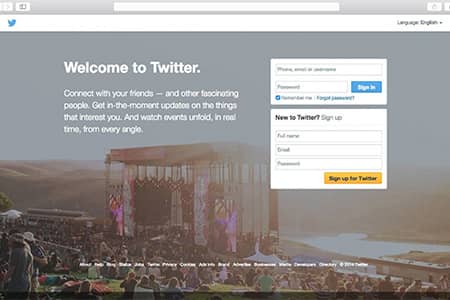 2015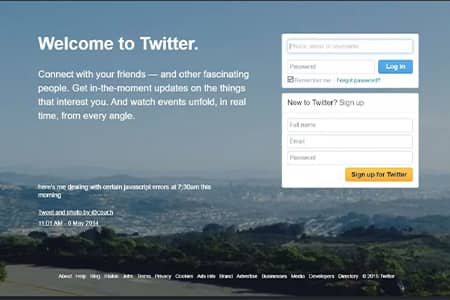 2016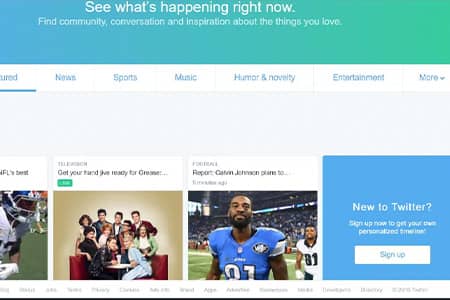 2017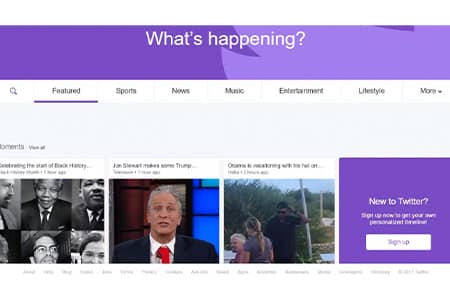 2018

2019-2020

2021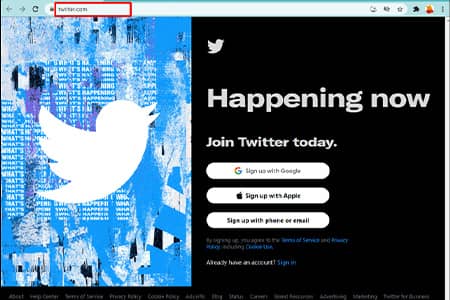 2022
And yet Twitter will still be developing year by year to cope with the new technology updates and digital world demands. Can you imagine what Twitter will look like in 2030?