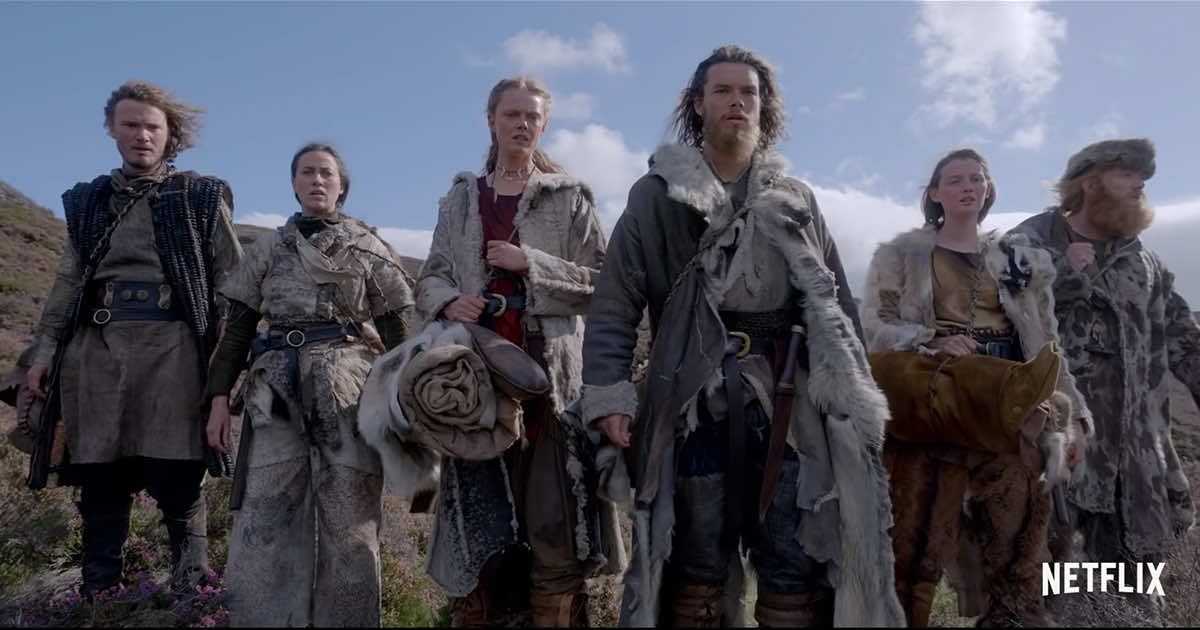 February is going to be a prosperous month on Netflix. The streaming platform will air a new show based on the famous Vikings series, and a more exciting new original series.
We've put together a list of every Netflix Original set to arrive this month.
1. Raising Dion -Season 2- (2019)
Airing date on Netflix: February 1st
A widowed single mom discovers that her son has superpowers and tries to figure out how to raise him safely and responsibly.
Starring a group of talented actors and kids like Alisha Wainwright as Nicole Warren, Ja'Siah Young as Dion Warren, Ali Ahn as Suzanne Wu, and many more, it is a great series to watch with Family, this fun series about the beginnings of a young superhero in training.
Finally, after two years, the new season is here.
2. Kid Cosmic -Season 3- (2021)
Airing date on Netflix: February 3rd
A young boy who dreams of becoming a hero stumbles across some cosmic stones of power; his dreams appear genuine.
Voice dubbing by: Amanda Celine Miller as Jo, Lily-Rose Silver as Rosa, and many talents, it's a show worth watching; Kid Cosmic is a fun show with its clever storytelling and great characters about a boy named Kid who finds five cosmic stones and assembles a team of people he knows to become heroes.
Each episode is a lot of fun and will get you pumped for season 2 like each Marvel movie gets you excited for the next film. It's an excellent show for superhero fans and fans who grew up in the 2000s when Craig McCracken's presentations ruled television.
3. Sweet Magnolias-Season 2- (2020)
Release date on Netflix: February 4th
Three South Carolina women, best friends since high school, shepherd one another through the complexities of romance, career, and Family.
Starring distinguish actors such as JoAnna Garcia Swisher as Maddie Townsend, Brooke Elliott as Dana Sue Sullivan, Heather Headley as Helen Decatur, and more .., it's a book adaptation predictable and comfortable series that's a good thing, there are not many shows like this anymore.
4. Inventing Anna -Mini-Series- (2022)
Coming to Netflix: February 11th
A journalist with a lot to prove investigates the case of Anna Delvey, the Instagram-legendary German heiress who stole the hearts of New York's social scene – and stole their money as well.
Starring: Julia Garner as Anna Delvey, Anna Chlumsky as Vivian, and more …, One of the most anticipated limited series coming up to Netflix for the entirety of 2022, let alone February 2022, is Inventing Anna. Most known for her award-winning performance in Ozark, Julia Garner will play the real-life con-artist Anna Delvey.
In Inventing Anna, a journalist with a lot to prove, investigates the case of Anna Delvey, the Instagram-legendary German heiress who stole the hearts of New York's social scene and stole their money as well.
Anna and the reporter form a dark, funny love-hate bond as Anna awaits trial and our reporter fights the clock to answer the biggest question in NYC: who is Anna Delvey? But is Anna New York's most prominent con woman, or is she simply the new portrait of the American dream? The series is inspired by the New York Magazine article "How Anna Delvey Tricked New York's Party People" by Jessica Pressler, who also serves as a producer.
Anyway, we'll see what's going will come out in this series.
5. Tall Girl 2 – Movie – (2022)
Coming to Netflix: February 11th
After Jodi Kreyman gains popularity, her miscommunications start causing rifts with those around her, and now she needs to 'stand tall.'
Starring: Ava Michelle as Jodi Kreyman, Griffin Gluck as Jack Dunkleman, and more …, The movie picks up after the events of the first film "Tall Girl "2019, which was talking about Jodi, the tallest girl in her school that was bullied and ignored because of her high.
I guess we'll need to wait and know if it is as good as the first one.
6. Young Wallander: Killer's Shadow -Season 2 – (2020)
Coming to Netflix: February 17th
Following recently graduated police officer Kurt Wallander as he investigates his first case, Wallander was left relatively disenfranchised come to the end of the first season of Young Wallander but will now be returning to the Major Crimes Unit after a change in leadership.
Starring: Adam Palsson as Kurt Wallander, Yasen Atour as Reza Al – Rahman, Lean Best as Frida Rask, and more …, It's an English made series, set in Sweden, filmed in Lithuania.
It is an Impressive series, an excellent story that is well-produced and well-acted, worth watching.
7. Wu Assassins: Fistful of Vengeance – Movie – (2022)
Coming to Netflix: February 17th
Kai Jin, a young Chinatown chef in present-day San Francisco, becomes entangled with the Chinese Triad's pursuit of deadly ancient powers known as the "Wu Xing.
Starring: Lewis Tan as Lu Xin Lee, Iko Uwais as Kai Jin, JuJo Chan Szeto as Zan Hui, Yayaying Rhatha Phongam as Ku An Qi, and more. It's Picking up from the end of Wu Assassins, the Netflix series. We're hoping it will be a good movie.
8. One of Us Is Lying – Season 1 -(2021)
Coming to Netflix: February 18th
A brain, an athlete, a princess, a criminal, and a "basket case" walk into detention – but only the first four make it out alive.
Starring: Annalisa Cochrane as Addy Prentiss, Chibuikem Uche as Cooper Clay, Marianly Tejada as Bronwyn Rojas, Cooper Van Grootel as Nate Macauley, and more talented young actors, it is a good show that keeps you interested and attached about a high school murder mystery.
9. Space Force – Season 2- (2020)
Coming to Netflix: February 18th
The people tasked with creating a sixth branch of the armed services: The Space Force.
Starring famous stars like Steve Carell as General Mark R.Naird, John Malkovich as Dr.Adrian Mallory, and others, it's a witty and entertaining series, also captivating that easy and fun to watch along with a heartful storyline.
9. The Texas Chainsaw Massacre – Movie – (2021)
Coming to Netflix: February 18th
After nearly 50 years of hiding, Leatherface returns to terrorize a group of idealistic young friends who accidentally disrupt his carefully shielded world in a remote Texas town.
The spiritual sequel to The Texas Chainsaw Massacre franchise takes place 47 years later. Ruth is a 25-year old San Francisco moneymaker who drags her younger teenage sister with her to Texas on a business trip out of fear of leaving her alone in the city.
The younger sister Lila is an amateur photographer who uses a wheelchair, and it's not long until they're fighting for their lives against a 60-year-old Leatherface.
Starring: John Larroquette, Alice Krige as Mrs. Mc, and more actors …, the horror franchise has been in the mainstream for decades.
10. The Cuphead Show! – Season 1- (2022)
Coming to Netflix: February 18th
Follow the misadventures of the impulsive Cuphead and his cautious but persuadable brother Mugman in this animated series based on the hit video game.
As  Impulsive scamp Cuphead and his cautious but easily swayed brother Mugman scour their surreal homeworld of the Inkwell Isles in search of fun and adventure, they always have each other's back. Unless there's only one cookie left, in which case it's every cup for himself.
Voice Dubbing by Tru Valentino as Cuphead, Frank Todaro as Mugman, and more. It sounds like a fun and different series, but I guess we have to wait to know.
11. Cat Burglar (2022)
Coming to Netflix: February 22nd
Details are still few and far between about this new animated series coming from the creators of Black Mirror but what we do know is that it's a "Classic cartoon show that sees craziness meets an interactive quiz in a new series."
12. Vikings: Valhalla – Season1 – (2022)
Coming to Netflix: February 25th
Follow-up series to 'Vikings' set 100 years afterward and centering on the adventures of Leif Erikson, Freydis, Harald Hardrada, and the Norman King William the Conqueror.
Vikings: Valhalla begins in the early 11th century and chronicles the legendary adventures of some of the most famous Vikings who ever lived – Leif Eriksson, Freydis Eriksdotter, Harald Hardrada, and the Norman King William the Conqueror. These men and women will blaze a path as they fight for survival in the ever-changing and evolving world.
Starring: Pollyanna McIntosh as Queen AElfgifu, Frida Gustavsson as Freydis Eriksdotter, and more actors. After the massive success of the Vikings series from 2013-to 2020, we should be expecting something extraordinary out of this series.
Also see: Top historical movies to watch on Netflix
13. Tyler Perry's A Madea Homecoming – Movie – (2022)
Coming to Netflix: February 25th
Madea's back halleluja. And she's not putting up with any nonsense as family drama erupts at her great-grandson's college graduation celebration.
Starring: Tyler Perry as Medea, Brendan O'Carroll as Agnes Brown, and more actors from the previous Medea movies and new performers, This movie should be as fun and hilarious as the rest of Medea Movies, so we should be expecting.
14. My Wonderful Life – Movie – (2021)
Coming to Netflix: February 28
Middle-aged Joanna tries tirelessly to reconcile being a mother, daughter, grandmother, wife, lover, housewife, and high-school teacher. But she seems to be losing her patience.
A caring daughter, a laid-back mother, a popular teacher, a wife with whom you can steal horses – Joanna plays perfectly each of these real-life roles. And in none of them for a long time, she does not feel like herself. That is why she leads a double life, having a secret that she does not share with anyone. Because if anyone found out, it would be the end of everything that seems so "wonderful" in her world. It's the story of a woman who doesn't want to be a good girl anymore. But is her courage enough to rebel, shake up the marriage, lose her reputation, and pursue what she really cares about?
Starring: Agata Buzek as Joanna 'Jo' Lisiecka, Jacek Braciak as Witek Lisiecki, Adam Woronowicz as Maciek, and more .. .
15. Two Sentence Horror Stories – Season 3 – (2017)
Coming to Netflix: February 28th
This anthology series of terror features diverse characters facing primal fears in spine-chilling situations that stretch past daily routine.
Starring: Lauri Hendler as Len, Wei-Yi Lin as Mona, Mardy Ma as Ma, Hannah Barlow as Michelle, and more .. it is Original and refreshing, and we'll see what will come out of Season 3.
This was our List for Today; stay tuned; we will be updating it soon.