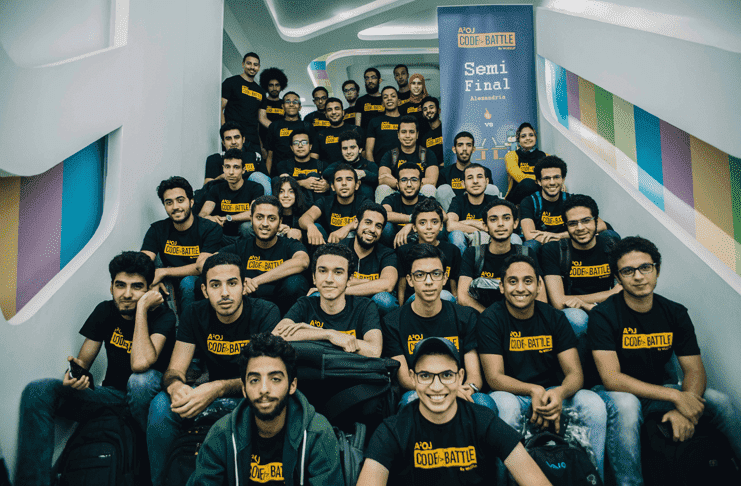 15 winners were crowned at Egypt's first programming competition "A2OJ's Code Battle", organized by WUZZUF.com on Saturday, Oct 28 at the Golden Tulip Flamenco Hotel in Cairo.
More than 40 contestants battled for the crown of Egypt's algorithmic throne, which after three long hours of coding was finally claimed by Mohamed Yasser: Egypt's code champion. Second, third, fourth and fifth place went to Ahmad El-Sagheer, Amr Magdy, Ahmed Kamel and Mohamed Omar respectively.
"We were amazed by how many young programmers joined Code Battle and did really well, it's clear to see  that Egypt's tech future is bright and beaming," said WUZZUF marketing programs manager Dina Khedr Saturday as the winners were announced.
In addition to the top five champions, the youngest, top female and top regional contestants were crowned at the event, which was attended by a number of tech industry leaders who got the chance to connect with the finalists.
More about Egypt's first programming competition
WUZZUF and A2OJ set out to hunt the one coder who is worthy of the title of Egypt's best coder. That's why Code Battle presented the perfect opportunity for all Egyptian coders who are passionate about programming to prove they're the best.
3,000 talented Egyptian programmers joined the competition on October 9. After two online rounds, 150 Code Battlers made it to the on-site Semi-Final, which was composed of three regional events that were held last Wednesday (October 25) at the Greek Campus in Cairo, the Workstation Coworking Space in Alexandria and Silicon Waha at We Park in Assiut.
The competition was composed of a series of smart, challenging programming puzzles that contestants solved on the A2OJ website. Through these programming problems, which were similar to the ones used by Google, Facebook, Amazon and Microsoft to recruit developers all around the world, Code Battle tested contestants' problem-solving, algorithmic and data structuring skills.
With Egypt's first programming competition, WUZZUF and A2OJ were not only aiming to build and strengthen an interactive and comprehensive Egyptian programming community and encourage Egyptian coders to pursue their passion, they were also paving the way for a brighter, smarter, and tech-savvier future in Egypt.