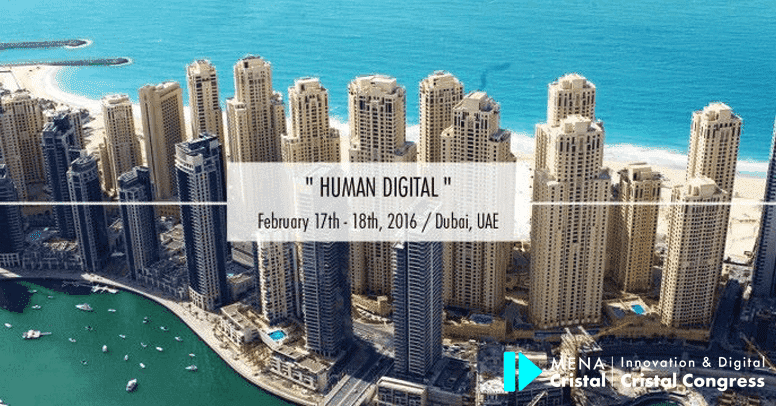 For its second edition, ID Cristal Congress MENA, the Annual Summit for Media professionals to connect and learn on Digital & Entertainment will take place on February 18th, 2016 at Sofitel Dubai Jumeirah Beach. Register now!
Over 300 media professionals & 30 speakers from the MENA region will gather for one day at ID Cristal Congress 2016, to share experiences and improve the standards of digital living with brands that are more human, appealing and approachable to customers.
Here are out top reasons you won't want to miss out on MENA's biggest digital event
 Networking is at the very heart of the Innovation & Digital Cristal Congress. The event provides great opportunities to engage with brands.
 Conferences are true sources of inspiration for future marketing actions and innovative technologies.
 The MENA Awards Ceremony rewards the best media and advertising campaigns of the region.
 Creativity & Innovation at the heart of the festival: MENA Leadership Council (CEOs from the biggest agencies of the region) & Advertisers Grand Jury (CMOs from the most influencial brands).
New This Year: MENA Start-ups Contest
Submit your 2-minute start-up pitch video and get a 5000$ reward + your delegate pass!
The start-ups contest is dedicated to companies "aged under 3 years old" from the MENA region (with an office in the MENA region). It is covering all market fields (mass market, digital, app, gaming, innovation, product, services etc…).
A jury composed of brands, medias agencies, tech companies selected on February 10th the start-ups that will have the opportunity to pitch on stage on February 18th in front of a big assembly!
Judging is based on criteria such as: value proposition, target market, competitive advantage, business model, innovation, team qualifications and market/sales strategy.
Winners will be rewarded with 5000$!
Contact: penelope@cristal-events.com
MENA Start-ups Jury
Some of the topics that the event will be discussing:
"Storytelling in an online world"
Start-up pitching session: 11 start-ups pitching 6 minutes!
"7 billion entrepreneurs – The what if experiment"
Session – Arab Culture: agencies & brands co-presenting their case studies on stage
Women entrepreneurs & marketing strategies in the MENA region: get inspired!
"Branded content through a factual channel and hence value delivery to clients"
"Content Marketing, delivering ROI in a time of change"
"Brands on diet and health! Snackable content versus heavy content"
Panel – E-Commerce: MENA retailers & e-retailers
Panel – Music, Entertainment & Advertising
Winning in a mobile first world (Facebook)
Virtual reality experiences
"The big short: why short form video is leading branded entertainment?"
And much more interesting panels sessions, conferences, labcorners, & workshop. Check the full program
Register today and don't miss the opportunity
See you there!