News
Amman turns white as snow storm hits
Snow has covered Amman late evening on January 26, as a polar snowstorm originating from Cyprus hit the Levant region, including Jordan, Palestine, Syria, and parts of Egypt.
Snowfall started Wednesday at 8:00 pm Jordan local time and for the next 24 hours. According to Accuweather, the temperature dropped significantly from 1 Celsius to -9 Celsius as the storm hit.
Amman turns white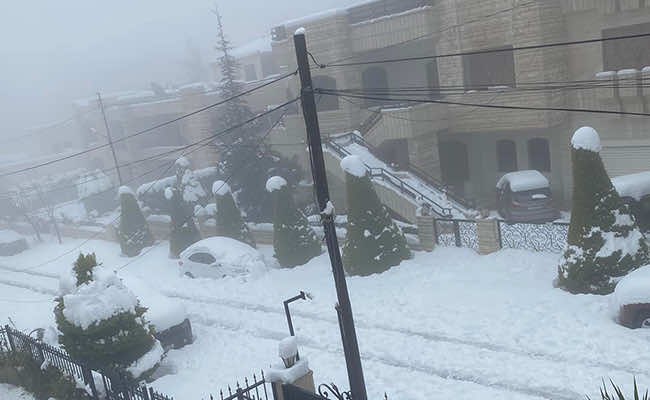 Polar Weather on Thursday and Friday
The polar weather system is forecasted to prevail over the next two days in Jordan, indicating that snow won't melt quickly.
Snow Thickness
The snow thickness is expected to reach 20 to 30 centimeters in the highlands, and the central part of the blizzard felt after midnight with snow falling over areas 700 meters above sea level.
Jordan Meteorological Department "JMD," said in a statement that the highest level of accumulation is expected in the north, in the Ras Munif area, reaching 30 centimeters, added that the thickness of the snow in the central highlands would be 5-2 centimeters. The highest thickness expected for Amman's capital will be 25 centimeters in Sweileh.
Also, the JMD claimed that the southern heights would witness accumulations of between 7-15 centimeters, noting that the highest level of accumulation is expected in the south in Tafileh / Qadisiyah and the heights of the Ma'an al-Shobak Brigade, while the thickness of snow in the eastern heights will be between 5-10 centimeters.
Photos shared by Jordanians and Palestinians Thursday morning