Egyptian chatbot startup WideBot witnessed a surge of Arabic chatbot building requests during the first half of 2020, amounting to a 100% increase, compared to the whole year of 2019, as businesses are looking for quick solutions to move to digital interaction with customers.
Q1-20 saw over 30% increase in requests from e-services and delivery
WideBot rolls out new branding and features
During the first quarter of the year, WideBot-powered chatbots increased from 1,200 to more than 2,500 in more than 40 countries, mainly serving customers in the UAE, Saudi Arabia, and Egypt.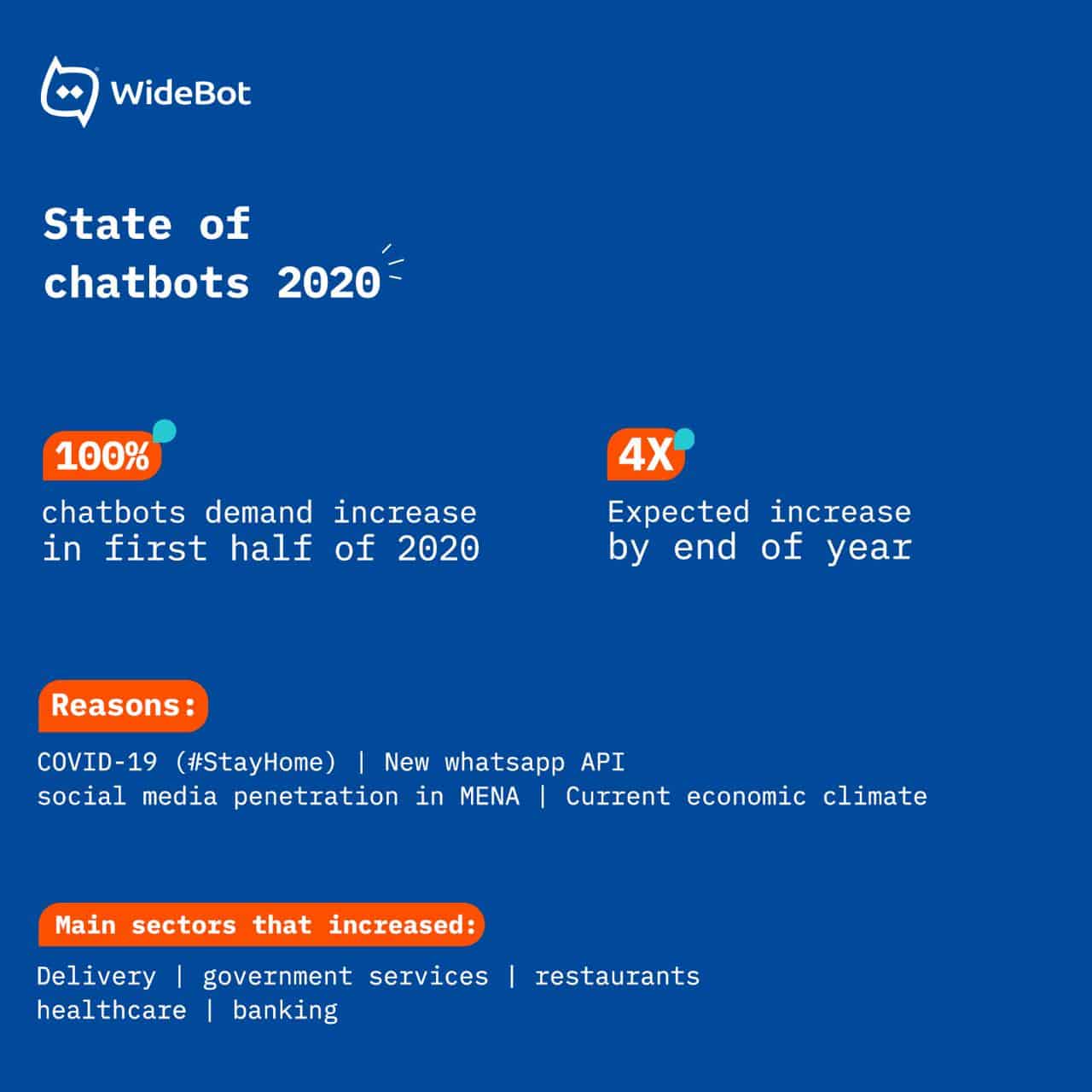 WideBot empowers businesses with AI-powered bots that chat like human beings, so they can build strong relationships with their customers and maximize their outcomes through a seamless personalized experience.
"COVID-19 was a major reason for the increased demand as people are staying home and businesses are limiting human interaction," CEO of WideBot Mohammed Nabil said. "Turning to online, automated solutions, especially with the current economic climate, also helps optimize operational costs."
The heightened demand was mainly visible in the e-services and delivery sectors, with industries like food and beverages, restaurants, government services, banking, and healthcare taking the lead. Chatbots are more accessible than most means of communication and feel more natural to use as social media penetration reaches 75% in the Middle East and North Africa.
Over the past few years, WideBot has grown and evolved to be a leading Arabic AI conversational platform in the Middle East. Recently, the company has rebranded and added more features to make it easier for their clients to build human-like chatbots. Commenting on the company's rebranding, Head of Product Marketing at WideBot Nour Eldin Ebrahim said: "Our offerings evolved, our portfolio expanded, and we have worked with companies, enterprises, SMEs, scaleups, and governments in over 40 countries to deliver highly complex and of top-notch quality bots used by more than 3 million users."
With WideBot's newly implemented chatbot templates, businesses can easily pick a template that fits their needed use case to have an almost complete chatbot that needs only a few tweaks to be ready to publish. The template library contains 15 ready-to-use templates with cases like restaurants, COVID-19 awareness, NGOs, E-commerce, news and publications, and more.
Additionally, WideBot added WhatsApp chatbots, given that MENA alone has over 155 million WhatsApp subscribers that send 65 billion messages daily. The WideBot update also allows sending broadcast messages to user segments that have interacted with businesses.
"Following the international trend, we expect demand to keep growing by 4-5 times year-on-year by the end of 2020," Ebrahim explained.