News
Egypt's Press Propagates for Turkish Coup, Misleads Readers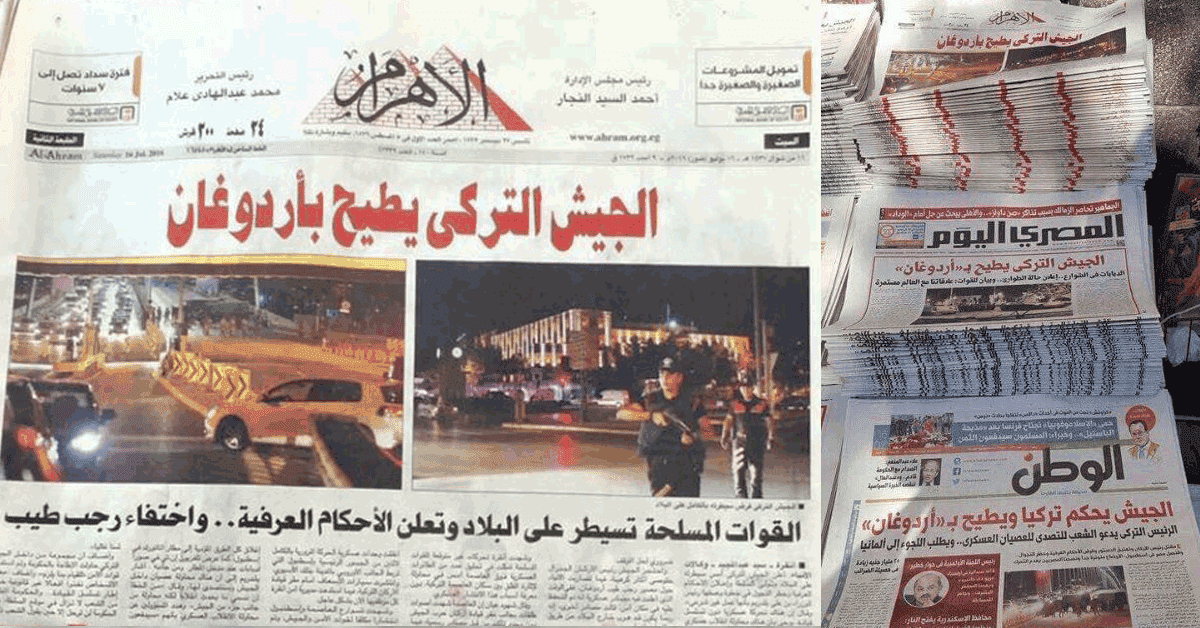 Egypt's front-page headlines reported Saturday that Turkish military leaders who organized a coup to oust President Recep Tayyip Erdogan are in control of the country.
The attempted military coup which started Friday night was foiled by the early hours of Saturday morning.
Egyptian newspapers, including the state-owned Al Ahram, the privately-owned Al Watan and Al Masry Youm reported in their early morning editions that Erdogan had been ousted by a military coup. Erdogan gave a speech in Istanbul to thousands of his supporters after eight hours of an attempted military coup to overthrow him.
Relations between Cairo and Ankara have been deteriorating since the ouster of Mohamed Morsi, former elected Egyptian president who was forced to step down by the army following mass protests calling for his removal from office. Morsi's ouster marked the end of the Muslim Brotherhood's one year in power, during which Turkish-Egyptian bilateral relations were at their best. Animosity towards Turkey's Erdogan is common in Egypt's politicized media, which openly criticize Erdogan for supporting the Muslim Brotherhood.
Egyptian TV presenters echoed the same anti-Erdogan rhetoric, expressing support for the attempted military coup on social media as well as on several TV talk shows.
Share your views in the comments box below or join us on twitter& Facebook
If you have a news story or tip-off, drop us a line at post@adigitalboom.com