META, Facebook is one of the giants of the Internet today. Its founders may not have dreamed of this success when they started building it from scratch in their university.
Here, we briefly explore how Facebook started and uncover the origins of its name, as well as detail some of Facebook's major milestones.
What was the original purpose of Facebook?
The original purpose of Facebook, or "The Facebook" as it was known then, was to allow Harvard students to use their ".edu" email addresses and photos to connect with other students at the school.
Then-student Mark Zuckerberg foresaw a way of bringing the existing social experience of college onto the Internet. He wanted to create a place that could help college students connect.
Why did Mark Zuckerberg make Facebook?
In January 2004, Mark Zuckerberg began writing the code for the new site that would eventually become Facebook. The inspiration for it came from an editorial in The Harvard Crimson on Facebook's controversial forerunner, "FaceMash."
This site compared the pictures of different Havard students' faces and allowed users to rate them for attractiveness. It proved immensely popular overnight, attracting 22,000 views in just 4 hours.
Unfortunately for Zuckerberg, the site violated Harvard's policy by hacking into the school's security system and copying student ID images used to access dormitories to acquire the photos needed for the site, not to mention being in dubious taste. The university shut it down within days.
Zuckerberg, astonishingly, managed to escape expulsion. A close call but a useful one.
His experience with "FaceMash" helped spark the idea for a new site — a social networking site where students at Harvard could use their ".edu" email addresses and photos to connect with other students at the school.
Now all he needed was a catchy name.
By all accounts, the site's name was taken from the sheets of paper distributed to the freshman profiling students and staff at Harvard.
Facebook was subsequently founded in 2004 by Mark Zuckerberg, Eduardo Saverin, Dustin Moskovitz, and Chris Hughes — all of whom were students at Harvard University soon after the new site was launched under the URL thefacebook.com.
The site was an immediate hit, and within just 24 hours of launch, around 1,200 students had signed up. Within one month, around half of all Harvard undergraduates had a profile.
It soon spread to three other college campuses in the U.S. — Yale, Columbia, and Stanford.
"It became Facebook.com in August 2005 after the address was purchased for $200,000. US high schools could sign up from September 2005. Then it began to spread worldwide, reaching UK universities the following month," according to the Guardian.
How did Mark Zuckerberg come up with the idea?
As we have already seen, the idea for Facebook came from existing practices at Harvard for freshman students. In his own words, he was trying to solve a problem he saw around him and not build a multi-million dollar enterprise.
"Yeah, well, I never started this to build a company," Mark Zuckerberg told Freakonomics Radio as part of its six-week series, "The Secret Life of CEOs."
"Ten years ago, you know, I was just trying to help connect people at colleges and a few schools."
"That was a basic need, where I looked around at the Internet, and there were services for many things you wanted," Zuckerberg added.
"You could find music; you could find news; you could find information, but you couldn't find and connect with the people that you cared about, which as people is the most important thing. So that seemed like a big hole that needed to be filled."
As we all know today, Facebook exploded beyond all expectations for Zuckerberg and other Founders.
Today, the social media giant has a market capitalization of more than $600 Billion and had annual revenue of around $70.7 Billion in 2019. It has more than 2.5 billion monthly active users and has made Zuckerberg one of the richest men in the world.
However, the history of Facebook has not been without controversy. For example, anyone who has watched "The Social Network" may remember an apparent problem with the Winklevoss twins.
Almost as soon as Facebook was launched, it was mired in legal issues. Twins Cameron and Tyler Winklevoss and Divya Narendra claimed that Mark Zuckerberg had reneged on an agreement to help them build their own social media site at Harvard.
They claimed that Zuckerberg used their idea and his code to build Facebook instead of their venture. This was disputed for years until a legal case was settled in 2008 for $65 million in cash and Facebook stock.
But this was not the only lawsuit against the fledgling social media site. A New York-based, former wood-pellet salesman called Paul Ceglia claimed that he was owed a large amount of Facebook stock from a 2003 contract with Zuckerberg.
According to Ceglia's claim, back in 2003, he hired Zuckerberg (then an 18-year-old freshman at Havard) to complete some coding for a site called Streetfax, later Streetdelivery. Allegedly Zuckerberg was paid $1,000 for the work.
Ceglia also claimed he invested $1,000 into Zuckerberg's "The Face Book" project. Ceglia claimed that he was now owed a large chunk of Facebook shares based on that investment.
At the time, Facebook suggested the claim was "fraudulent" and used Ceglia's history of fraud as evidence. They pointed out that Ceglia had been arrested and charged with criminal fraud and grand larceny in 2009 when his wood-pellet company failed to honor delivery of over $200,000 in orders.
But the case then got more interesting. The founder of StreetDelivery, Andrew Logan, confirmed that Ceglia had indeed worked there in 2003 and that Zuckerberg had been employed to write the code for Streetfax.
The case, however, was dismissed by a federal judge when a magistrate judge's findings were upheld, showing that the evidence provided by Ceglia had, indeed, been faked.
Who was the first Facebook user?
You won't be surprised to hear that the first Facebook profile belonged to none other than Mark Zuckerberg himself. Long before user profile URLs were changed to their current forms, they looked something like "https://www.facebook.com/profile.php?id=" and a set number.
Zuckerberg's was id=4.
1-3 were most likely test accounts and have since long been deleted.
The first "real" Facebook user, with an id of 5, was Chris Hughes, Zuckerberg's friend, and co-founder of Facebook. The next few dozen accounts appear to have been Zuckerberg's friends, classmates, and roommates.
Interestingly, Business Insider conducted an investigation a few years back and discovered the first 20 Facebook accounts and their relationships with one another.
According to their findings, after Zuckerberg and Hughes, the next few accounts were as follows:
Dustin Moskovitz – He helped found Facebook and was a roommate with Mark.
Arie Hasit – Arie was the first non-founder account and was friends with Chris Hughes.
Marcel Georgés Laverdet II – Marcel was friends with early Facebookers and Facebook founders.
Soleio Cuervo – He was friends with other early Facebook members like George Laverdet, above.
Chris Putnam – Chris was also friends with other early Facebookers.
Andrew McCollum – Andrew was one of Mark Zuckerberg's classmates.
Colin Kelly – Colin knew many other early facebookers.
Mark Kaganovich – Mark also knew many other early facebookers.
Facebook is no stranger to controversies
No talk about Facebook would be complete wıth a discussion of the company's various controversies throughout its history. While we have already touched on some early lawsuits against the company, Facebook has also taken fire for a few other allegedly suspect activities.
One major contention surrounding Facebook is its apparent dissemination of "fake news." Coming to the attention of journalists during the 2016 U.S. presidential election, Facebook has been accused of allowing fake Russian Facebook accounts to purchase hundreds of thousands of dollars in paid ads to spread propaganda, to influence the election results.
According to these claims, these ads both contributed to and influenced the outcome of the elections. Whether you believe this or not, the accusations continue to damage public attitude towards the company.
In a statement directly addressing this issue, Zuckerberg stated:
"The problems here are technically and philosophically complex," Zuckerberg wrote after the 2016 election.
"We believe in giving people a voice, which means erring on the side of letting people share what they want whenever possible. We need to be careful not to discourage sharing of opinions or to restrict accurate content mistakenly."
However, Facebook is still mired in claims that it allows fake news and dangerous propaganda to be disseminated on its site. More recently, Facebook, and Zuckerberg in particular, have been accused of doing nothing to reign in dangerous hate speech on the site, and even of, allegedly, encouraging the dissemination of such speech through company policy. In June 2020, Facebook began shedding advertisers, who claimed they no longer wanted their ads to appear next to posts from hate groups.
Due to the nature of Facebook's business model, it is also regularly accused of questionable data harvesting scandals. One of the most notable occurred in 2018 when they were engulfed in the Cambridge Analytica scandal.
Allegedly, the data firm was improperly using the personal data of Facebook users to create psychological profiles of them for later political use. This data, so the claim goes, was then used, in part, to help influence elections in the US and UK.
Other tenuous links were made to Russian ne'er-do-wells too.
This ultimately led to Zuckerberg being called before the U.S. Congress to testify in Facebook's defense. The Federal Trade Commission also investigated Facebook over the allegations.
This, in turn, led the U.S. government to consider potential legislation to help rein in companies like Facebook to prevent them from having carte blanche with users' data.
"It's clear now that we didn't do enough to prevent these tools from being used for harm," Zuckerberg told Congress. "And that goes for fake news, foreign interference in elections and hate speech, and [for] developers and data privacy. It was my mistake, and I'm sorry."
It was also announced that Facebook could face a $5 billion fine payable to the FTC.
It is unlikely that Facebook will radically change how they gather and sell user data in the future, as this is the basis for how their Facebook ads, Facebook Marketplace, and Facebook Business Manager services work. For most cases, this enables companies to target ads to specific demographics who are most likely to buy their products.
Given the growing controversy and advertiser backlash, Facebook is taking pains to seem to favor some form of regulation. So long as it is the "right kind" of regulation — though recent evidence to their lobbying activities against data privacy laws may prove the contrary.
Sadly for Facebook, their troubles weren't over with the data harvesting scandal of 2018. The same year, Facebook publicly announced a hack that affected over 50 million users.
The largest hack the company had ever experienced at the time gave hackers access to sensitive data and account information and any apps users had logged into through Facebook.
All affected users were requested to log back into their accounts and were notified of the breach.
But these are just some of the many controversies and unethical practices against Facebook. Given the size of the company, and the nature of its business, this is unlikely to change anytime soon.
Facebook Logo evolution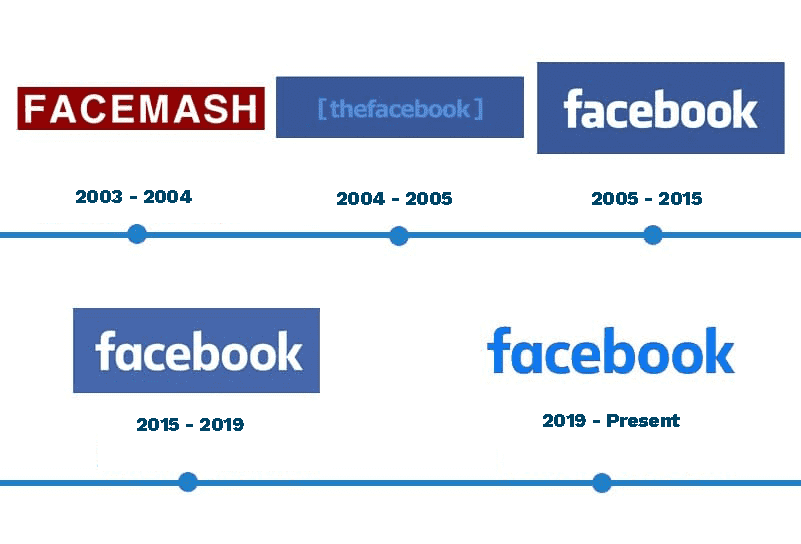 What were some of the significant milestones in Facebook's history?
Here is a brief history of some of Facebook's significant milestones and news events. This list is far from exhaustive (after all time and tide, wait for now, man): –
February 2004 – Facebook (then called "thefacebook") was founded by students Zuckerberg, Moskovitz, Saverin, and Hughes.
March 2004 – Facebook spreads to three other college campuses – Yale, Columbia, and Stanford.
June 2004 – Facebook moves its headquarters to Palo Alto, California.
September 2004 – The site launches the now-infamous "wall," allowing users to post things and receive messages on their page.
December 2004 – Facebook hits 1 million users.
May 2005 – Facebook expands to more than 800 college campuses. 
September 2005 – The site expands to high school networks. It also drops the "the" to become just "Facebook."
October 2005 – Facebook adds photos and goes international.
December 2005 – Facebook has more than 6 million users.
April 2006 – Facebook goes mobile.
September 2006 – Anyone can now join Facebook.
December 2006 – Membership increases to 12 million.
June 2007 – Video capability launches.
December 2007 – Membership increases to 58 million.
July 2008 – Launch of Facebook for iPhone.
February 2009 – The "like" button is introduced.
July 2010 – Over 500 million users are active on Facebook.
August 2010 – A Facebook engineering center is opened in Seattle.
October 2010 – Groups are launched.
April 2011 – Datacenter opens in Prineville, Oregon.
July 2011 – Video calling is launched.
April 2012 – The acquisition of Instagram is announced.
May 2012 – Facebook released its IPO – which raised $16 billion and gave the company a $102.4 billion market value for its Facebook stock.
October 2012 – Membership hits the 1 billion mark.
February 2013 – The acquisition of Atlas is announced.
June 2013 – Facebook's acquisition, Instagram, launches video capability.
February 2014 – The acquisition of WhatsApp is announced.
March 2014 – The acquisition of Oculus is announced.
April 2014 – Facebook's Business Manager service is launched.
November 2014 – Groups App is announced.
April 2015 – Over 40 million small business pages are now on Facebook.
June 2015 – Facebook's AI Research group opens in Paris.
February 2016 – Facebook's Reactions launches.
July 2016 – There are more than 1 billion users of Messenger a month.
October 2016 – Facebook Marketplace launches – allowing users to buy and sell products.
April 2017 – The F8 developer's conference is held in San Jose by Facebook.
September 2017 – News emerges that Facebook, and Microsoft, have completed work on a new trans-Atlantic data cable.
March 2018 – Facebook is sued by shareholders following stock plummet.
May 2018 – Facebook trials a new technology to help stop "revenge porn" by asking users to provide naked pictures of themselves.
April 2018 – Zuckerberg testifies before Congress regarding data and privacy breach concerns.
September 2018 – Facebook COO Sheryl Sandberg testifies before Congress.
October 2018 – Facebook announces the launch of the new Facebook Portal: a hands-free video calling device.
December 2018 – Facebook announced the launch of "Stablecoin," a blockchain version in India.
January 2019 – Facebook invest $7.5 million to help launch a TUM Institute for Ethics in Artificial Intelligence.
April 2019 – Facebook reportedly set aside billions to cover future FTC fines.
May 2019 – Facebook deletes large amounts of fake accounts from its site.
June 2019 – Facebook shareholders vote to remove Zuckerberg as Facebook chairman. 68% agree with the motion.
June 2019 – Facebook begins blocking Huawei from pre-installing its app on their smart devices.
June 2019 – Facebook launches its new digital wallet and currency called Calibra.
July 2019 – It is announced that Facebook is helping to map roads using deep learning and AI-focussed tools.
August 2019 – Facebook filed lawsuits against various Hong Kong and Singapore app developers because of their so-called "click injection" fraudulent activities.
September 2019 – Facebook launches their Tinder-like dating feature, which also comes with Instagram integration.
September 2019 – Facebook acquired the mind-reading startup CTRL-labs for $1 billion.
December 2019 – Facebook announces yet another major security breach.
April 2020 – Facebook announces canceling all major public events until 2021 amid COVID-19 fears.
May 2020 – Facebook purchases GIPHY for hundreds of millions of dollars.
June 2020 – Facebook unveil their new AI tool to transform 2D images into 3D models.
June 2020 – Companies begin to pull ads from Facebook in a boycott over "hate speech." Facebook stock takes a massive hit.
June 2020 – The company announces its new "Dark Mode" for mobile devices.