As Apple CEO Tim Cook said in the latest Apple event, which was held on September 7, 2022: The iPhone 14 Pro and Pro Max are the "most innovative pro line yet."
Here's all you need to know about iPhone 14 Pro and 14 Pro Max: price, release date, cameras, colors, and more.
iPhone 14 Pro cheat sheet: all new features
The notch is dead, and in its place is a pill-shaped cutout to house the Face ID sensors and front-facing camera.
These cutouts are called the "Dynamic Island" that changes size depending on alerts, like calls or Face ID use, AirPods on a charge, and background activity.
The new display is now brighter at 1,600 nits and has slimmer bezels. And peak brightness tops out at 2,000 nits for use in sunlight.
There's now an Always on display, enabled thanks to new tech that allows for refresh rates as low as 1Hz, and a new LTPO panel to dim the screen for low-power mode seriously.
A new A16 Bionic chip mixes the power of 16 billion transistors efficiently. It's built on a 4-nanometer process, with a 6-core CPU that beats the A15 Bionic yet sucks up less energy than the competition; think the Snapdragon 8 Gen 1. There's a 5-core GPU with 50% more bandwidth and a display engine to power Dynamic Island. The Neural Engine can now handle 17 trillion operations per second to help aid computational photography.
A new 48MP camera promises more detail-rich photos and improved low-light photography, with up to 2x performance than the iPhone 13 Pro, thanks to Apple's new Photonic Engine. Pro RAW can also be used with uncompressed 48-megapixel photos, enabling more editing flexibility for adjusting white balance and tone mapping.
All three cameras (main, telephoto, ultrawide) all get improved low-light photography. A new flash with 9 LEDs helps facilitate this.
For video, there's 4K resolution up to 40 frames per second for Cinematic mode, and the new action mode is used for improved video stabilization.
Apple promises an "all-day battery life."
There's also crash detection, so the iPhone 14 Pro can automatically call emergency services if it detects you've had a crash.
The iPhone 14 Pro still starts at $999 and iPhone 14 Pro Max at $1,099, with pre-orders coming on September 9 and a full release on September 16.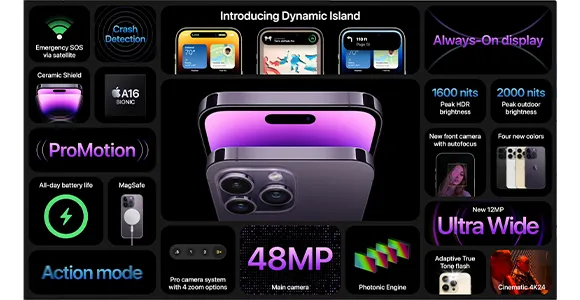 iPhone 14 Pro models Design & Display
The notch is replaced by a pill-shaped cutout, the Face ID components, and a second circular cutout, the front-facing camera, even though Apple will still offer the standard 6.1- and 6.7-inch screen sizes.
Apple moved the proximity sensor behind the screen, and notifications are now animatedly displayed in the notch. This system is known as Dynamic Island, according to Apple. Apple is emphasizing how it animates and uses the system for new notifications, and notifications and alerts will adjust to and move around the pill-shaped notch.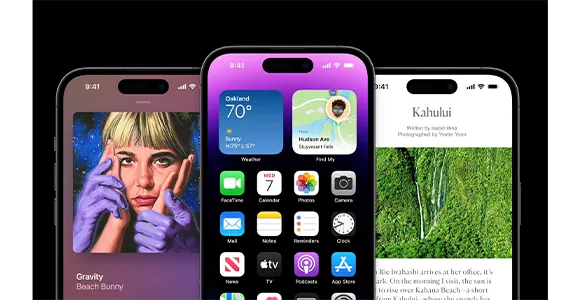 The always-on display of the iPhone 14 Pro and 14 Pro Max will work with iOS 16's new lock screen widget feature. It will enable access to information like calendar events, reminders, and weather without waking up the iPhone. Additionally, iOS 16 wallpapers have a sleep setting that makes them darker to conserve battery.
iPhone 14 Pro models Chipset & Battery Life
The iPhone 14 Pro and iPhone 14 Pro Max both get the new A16 Bionic chip. Building upon the fast A15 Bionic, the 6-core CPU is up to 40% faster than the competition. Yet being built on a 4-nanometre process and sporting 16 billion transistors, the chip's two high-performance cores consume 20% less power than before.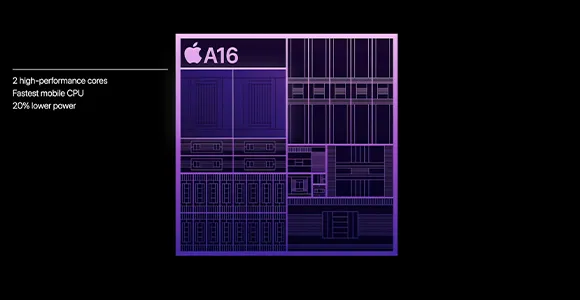 The 5-core GPU offers 50% more bandwidth, delivering more gaming performance and slicker graphically intensive apps. And a display engine has been added into the mix to take care of Dynamic Island.
But iPhones have never lacked in performance, so the exciting thing here is the Neural Engine can now handle 17 trillion operations per second and 4 trillion operations per photo. Working in tandem with the image signal processor should mean the iPhone 14 Pro's computational photography skills are awe-inspiring.
Apple revealed no battery sizes but promised the iPhone 14 Pro and 14 Pro Max would deliver "all-day battery life." We'll have to see about that in our testing. Fast charging is on offer, with a 20W adapter filling up the battery to 50% in around 30 minutes.
There was no mention of RAM, either capacity or type, but expect the iPhone 14 Pro and 14 Pro Max to be blazingly fast. Storage will come in 128GB, 256GB, 512GB and 1TB options.
iPhone 14 Pro models Camera
Speaking of the camera, the iPhone features a 48-megapixel sensor for the first time rather than a 12-megapixel sensor. The upgraded main camera's quad-pixel sensor, f/1.78 aperture, and 24mm focal length enhance low-light photography.
The sensor will typically take 12-megapixel binned images to maximize light collection. Additionally, it allows Apple to crop the sensor in various ways to deliver real 2x zoom at a 48mm focal length. In addition, the new sensor significantly enhances details in Apple's ProRAW format, which might result in some spectacular photographs.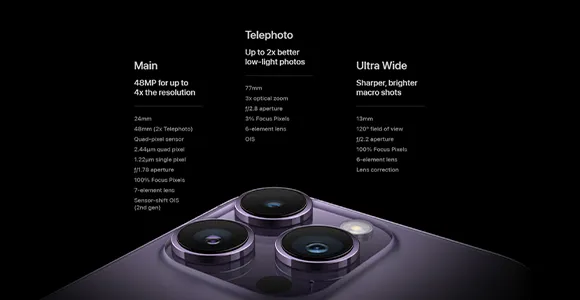 Additionally, the new ultrawide camera enhances macro photography and boosts low light performance by three times. Apple's flash on the iPhone 14 camera system has also been enhanced by becoming twice as bright and responsive to photo focal length. Both 4K resolution at 24fps and 4K resolution at 30fps are now supported in cinematic mode.
iPhone 14 Pro models Pricing
The price of the iPhone 14 Pro is $999, while the cost of the iPhone 14 Pro Max is $1,099. On September 9, both will be pre-orderable, and on September 16, they will be on sale in stores.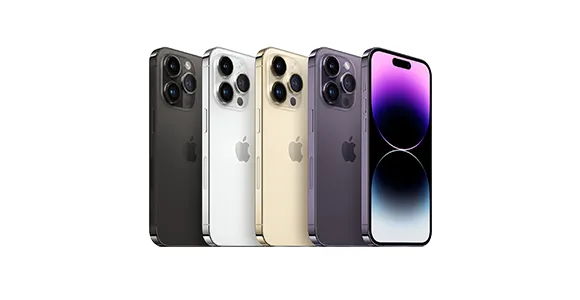 iPhone 14 Pro models Colors
iPhone 14 Pro and Pro Max are in Space Black, Silver, Gold, and Deep Purple.
iPhone 14 Pro models release date
iPhone 14 Pro and iPhone 14 Pro Max will begin arriving to customers and launch in stores this Friday, September 16, 2022.