Louvre Abu Dhabi announced that it welcomed more than one million visitors in its first year, establishing itself as one of the leading cultural institutions on the global stage.
HE Mohamed Khalifa Al Mubarak, Chairman, Department of Culture and Tourism – Abu Dhabi (DCT Abu Dhabi), said: "One year ago we spoke about Louvre Abu Dhabi as Abu Dhabi's gift to the world – and today we are proud to have shared it with more than one million visitors already.
Louvre Abu Dhabi has become an icon and a favourite destination in Abu Dhabi both for our local communities and visitors to the city. Our strong collaboration with our French and regional partners supports the museum's mission to tell universal stories and we thank them. Yet our greatest success, 10 years in the making, is the next generation of Emirati museum professionals who are trained to the highest standard in the cultural sector and are leaders in their field."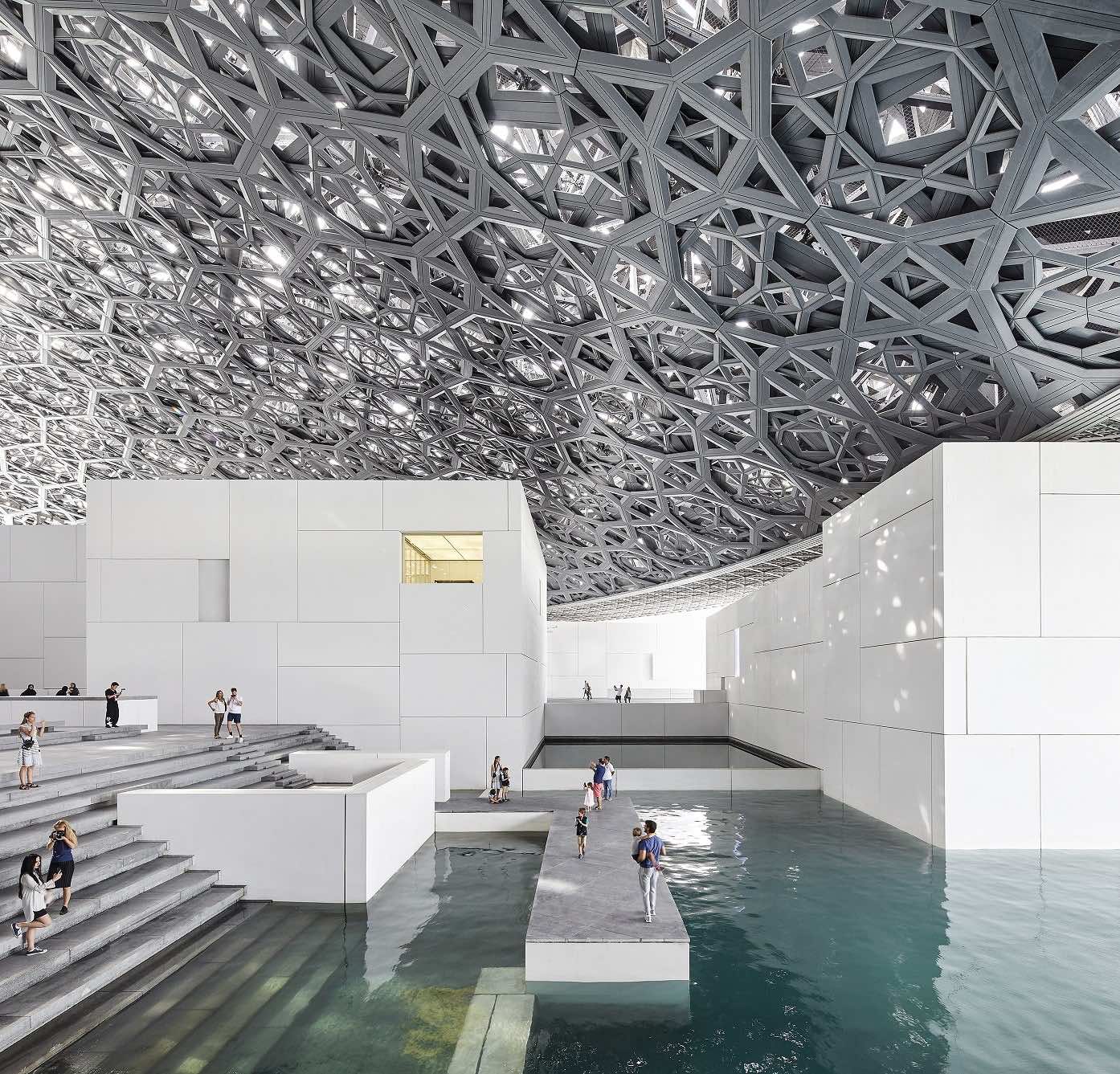 "Louvre Abu Dhabi's vision is to celebrate cross-cultural connections that transcend geographies and civilisations, to see humanity in a new light. The diversity of Louvre Abu Dhabi's audiences not only reflects Abu Dhabi's multicultural society, but also illustrates how its ambition and universal narrative, which aim to create bridges between cultures and nurture dialogue between communities, appeal to many, from seasoned art enthusiasts to younger audiences and families." he added.
UAE residents have rapidly adopted the museum and made it a favourite destination to gather with family and friends. They represent 40% of the museum's total number of visitors.
Emirati nationals are in the top two nationalities of residents who visited the museum and is the top nationality of repeat visitors.
The museum has 5,000 members to its loyalty programme (Art Club).
Louvre Abu Dhabi has also become a global magnet for international visitors who account for 60% of visits.
The museum is driving tourism to the Emirate and visitors comes from all parts of the globe, including the Middle East, Europe and Asia, with France, Germany, China, UK, the US, India and GCC being the top visitors.
Overall, India is the top nationality of visitors, including Indian tourists and UAE residents.
The museum has hosted more than 1,000 school trips, 5,000 guided tours, workshops and masterclasses, and programmed 115 special events from Bait Al Oud performances to talks, film screenings and concerts with more than 400 artists from 22 countries including a major show by British pop star Dua Lipa to celebrate its one-year anniversary on 11 November.
The Manga Lab, a special space to experience contemporary Japanese culture, has been popular with teenagers and young adults and is open until 5 January 2019.
47% of the museum's staff members are Emirati and a strong group of talented up and coming Emirati curators are working on the collection and in the permanent galleries, as well as in the education and mediation teams.
This autumn, Louvre Abu Dhabi unveiled 11 new world-class acquisitions in its permanent galleries, alongside new significant loans from 13 French partner institutions as well as regional and international museums.
As part of this year's first large-scale loan rotation, and in partnership with French museum partners, the museum curated a major rehang of its modern and contemporary art galleries, updated its displays, and showcased approximately 40 new incredible masterpieces for all visitors to discover and explore in the forthcoming year.
Some major loans, including Leonardo da Vinci's La Belle Ferronnière from Musée du Louvre and Whistler's Portrait of the Artist's Mother from Musée d'Orsay will stay in Abu Dhabi for another year, totalling 300 loans on display.
In February 2018, Louvre Abu Dhabi successfully launched the award-winning Highway Gallery, the world's first roadside gallery, spanning 100 km of the Dubai-Abu Dhabi highway, and inviting commuters and visitors to tune in to local radio stations to listen to a curator's presentation on each work displayed on billboards.
During its anniversary weekend, Louvre Abu Dhabi is hosting a two-day symposium, Worlds in a Museum, in collaboration with École du Louvre, addressing the topic of museums in a globalised world.
The symposium brings together leaders in the field to discuss contemporary museography, as well as the challenges and opportunities for museums in a new globalised world.  The symposium explores the DNA of Louvre Abu Dhabi as the first universal museum in the Arab world and a new member of the international museum community.
Speakers include HE Shaikha Mai bint Mohamed Al Khalifa, Minister of Culture in Bahrain; HE Mohamed Khalifa Al Mubarak, Chairman of the Department of Culture & Tourism – Abu Dhabi; Jean-Luc Martinez, President-Director of musée du Louvre; Henry Kim, CEO of Aga Khan Museum; François-René Martin, Head of the Research team at École du Louvre; Hartwig Fischer, Director of the British Museum; and James Cuno, President and CEO of J. Paul Getty Trust.
This winter, visitors are invited to join the museum's Rain of Light Festival (11 – 15 December 2018), a performing arts festival celebrating Louvre Abu Dhabi's first season, A World of Exchanges.
Next year, two flagship international exhibitions will be presented: Rembrandt and the Dutch Golden Age: Masterpieces of the Leiden Collection and the Musée du Louvre (14 February – 18 May 2019) and the photography show Opening the Album of the World, Photographs 1842-1896, in partnership with Musée du quai Branly – Jacques Chirac (25 April – 13 July 2019).
For its next season, Changing Societies, Louvre Abu Dhabi will present four international exhibitions and a new exhibition in the Children's Museum. Please note all below working titles are subject to change.
School of Paris (1900-1940), in partnership with Centre Pompidou, 12 September – 7 December 2019. The exhibition depicts the incredible dynamism and cosmopolitism of Paris in the first half of the 20th Century, and the encounters of many foreign artists in the city nicknamed "Capital of the Arts".
The Thousand faces of Luxury, in partnership with Musée des Arts Décoratifs, Paris, 31 October 2019-15 February 2020.  The exhibition will take visitors on a historical journey through luxury in the arts and society from Antiquity to the present days.
Chivalry and Furusiyya, in partnership with Musée national du Moyen-Âge de Cluny, February-May 2020. Visitors will be able to immerse themselves in medieval chivalric culture, both in Islamic territories and the Occident, though literature, music and the arts.
Charlie Chaplin. Cinema & Avant-garde, in partnership with Musée des Beaux-Arts de Nantes, April-July 2020. The exhibition presents the work of Charlie Chaplin, a first international star in cinema history and a key artist in the establishment of the "seventh art", not as a monograph but as a dialogue with the arts and concepts of that period.
Louvre Abu Dhabi is open: Saturday, Sunday, Tuesday, and Wednesday, 10 am–8 pm; Thursday and Friday, 10 am–10 pm. The museum is closed on Mondays.