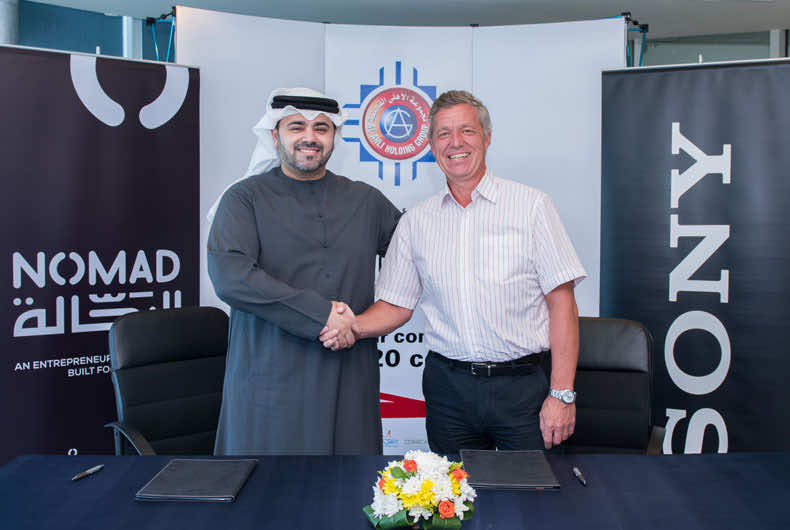 Al Ahli Holding Group (AAHG) has partnered with Sony Professional Solutions MEA on the development of the media sector and community within NOMAD.
A purpose-built ecosystem set to launch this year, which will offer a platform of opportunities and resources for entrepreneurs and the creative community to grow their ideas and innovate.
Under the agreement, Sony Professional Solutions MEA, a subsidiary of Sony Corporation, will collaborate on a range of services including providing equipment, joint development of programmes, events, accelerators, and workshops, as well as market access opportunities for the NOMAD member community.
In addition to that, key Sony members will be a part of NOMAD's advisory board that will be instrumental in shaping a new wave of talent through the project.
What's in it for creators?
The strategic partnership will create opportunities for content creators, film-makers, artists freelancers and musicians, and Sony Professional Solutions MEA will apply its industry-leading expertise to advise and mentor NOMAD members, while also sharing its know-how on the technology and production side to help facilitate content creation.
"What we are witnessing now is a great shift towards creativity in business practice. We are steering away from being merely consumers of technology in the region towards assuming the role of innovation. Hence the significance of this partnership, which is not only designed to service the creative industry only, but to also service small and medium enterprises at large with which creativity comes in hand in hand." said Mohammed Khammas, CEO of AAHG & NOMAD.
He also added: "I cannot think of any other platform such as NOMAD that provides this innovative approach into content creation and utilisation of technology. This partnership with Sony is really important for the value it brings to the regional and global market."
NOMAD will leverage both AAHG and Sony Professional Solutions MEA's significant global experience and knowledge to position itself as a world-class entrepreneurial ecosystem that will enhance Dubai and the UAE's position as a focal point for global innovation for entrepreneurs and startups from an array of disciplines from around the world; including the media, culinary arts, design, gaming, and technology sectors.
Through its industry partners and programming solutions, NOMAD members will have access to a community platform and network of mentors, investors and markets to scale their ventures.
Rob Sherman, Managing Director at Sony Professional Solutions MEA, said: "This partnership with NOMAD is significant, as it provides a holistic overview on how to support talent in the region. We as Sony provide the tools, and NOMAD comes in with the infrastructure that provide the ideal platform for people to use this technology.
He then added: "It is very important to build and nurture this platform locally to enable the storytellers to have a place and environment to work in. We are interested in retaining talent here in the region, and provide the right space and tools for local and regional storytellers."
The one-million square foot NOMAD build will be located within The Echo Plex near Dubai Outlet Mall, and will be developed over two years, with the first phase launching in 2019. In this phase, co-working spaces and production studio resources will be built, along with a pilot co-housing community in which members can live to save costs. The second phase will launch in 2020 and will encompass larger community development and the rollout of more advanced facilities.
"When we first announced NOMAD in May 2018, our goal was to build the right infrastructure that fosters collaboration across all sectors within the creative community in the region. Our mandate remains to bring forth global best practices and partnerships that will position NOMAD as a world-class creative hub with unrivalled business and financial support infrastructure," said Mohammed Khammas, CEO of AAHG & NOMAD.