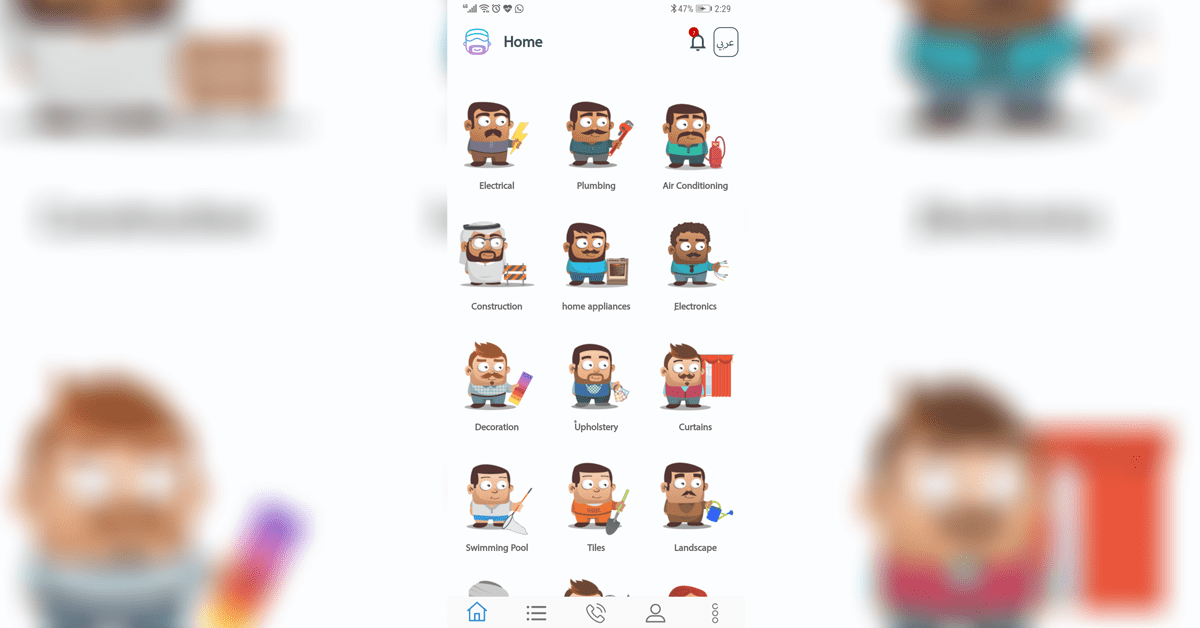 Rafeeg, an app-based marketplace for home improvement needs, has rolled out an update that comes with a new design and easy-to-navigate interface to make the everyday search for household needs a hassle-free experience.
Abu Dhabi's first online marketplace app undergoes major transformation offering a faster and better solution for all household maintenance needs at competitive prices
Building on its highly successful platform, Rafeeg has added new features and navigation tools to enhance the overall experience of its users, offering them the complete authority to choose suitable service providers based on their quotations, work portfolios, and customer reviews. This reduces the overall time taken from booking to delivery significantly, making it one of the fastest delivery platforms in the industry.
The free-to-use app can be downloaded from Android link or iTunes link
The platform is backed by an in-app live customer support that functions 24/7 to provide all possible assistance required for the smooth transaction. To offer greater protection, the app also allows users to generate an online invoice and archive it as long as their accounts are active.
The 100 per cent Emirate-born concept has been conceived and developed by Khamis Al Sharyani, who brings along with him over 15 years of experience in successfully launching innovation digital ventures that has helped serve many online users and the community at large.
"In this ever-changing technology landscape, what is driving the demand is convenience. People want virtually everything at their fingertips, and they expect services to be as convenient and hassle-free as possible. Rafeeg looks to do the same by offering a fast, efficient and competitive solution for all household needs with a touch of your finger," said Khamis Al Sharyani, founder and CEO of Rafeeg.
"With Rafeeg, the users are able to strike a better deal directly with the service providers without the need to visit a shop or market physically," he said.
The Abu Dhabi's first online marketplace app is fast expanding its reach to Dubai and other parts of the country. It currently has more than 10,000 customers and a strong network of 450+ verified suppliers.
"The rapid increase in our customer and supplier base is a testimony to the fact that thousands of people are using this platform every day to seek solutions for their house maintenance and decoration needs. We are committed to continue offering high-quality services to our users at their doorsteps, in the quickest possible time, and at a competitive price," said Al Sharyani.
Unlike some of the other apps available in the marketplace, Rafeeg not only carries out a proper assessment of every request before assigning it to the right service provider but also follows it up till the end to make sure that the work is completed efficiently within the given time frame. Besides offering the 24/7 chat support, the free-to-use app also allows users to put up their reviews after the work is done.
"We have worked extensively to develop a strong monitoring system that tracts every deal till the end to offer complete customer satisfaction. We take corrective measures by suspending accounts of service providers or shop owners if they are found to be charging a high price or not committed towards our customers, besides taking them to the courts if needed to protect our customers," said Al Sharyani.
Rafeeg also has been expanding its supplier base by tying up with new companies and shop owners that share the same long-term goals of providing more quality options and types of solutions at competitive prices to win the confidence of customers.