In the ceremony celebrating French President Emmanuel Macron's winning the presidential elections on the Champ de Mars stage, the Egyptian mezzo-soprano Farrah El-Dibany stole the show after performing the French national anthem. She had a hand-kissing by Marcon.
Farah El-Dibany, 33 years old, is an Egyptian opera singer; born in Alexandria, she received a Bachelor of Arts from the Hanns-Eisler Academy of Music in Berlin. El-Dibany is the first foreign "soprano" to celebrate a French presidential victory.
With the Eiffel Tower in the background, El-Dibany performed the French national anthem while President Macron and his wife, Brigitte, remained on stage with her.
El-Dibany said that she was very touched by the reaction of the French president and his wife as they saluted her and Macron kissed her hand.
She added, "They had seen me before when I sang for them, and I could not imagine that he would greet me and bow and kiss my hands. I was proud of this moment."
Who is Farrah El-Dibany?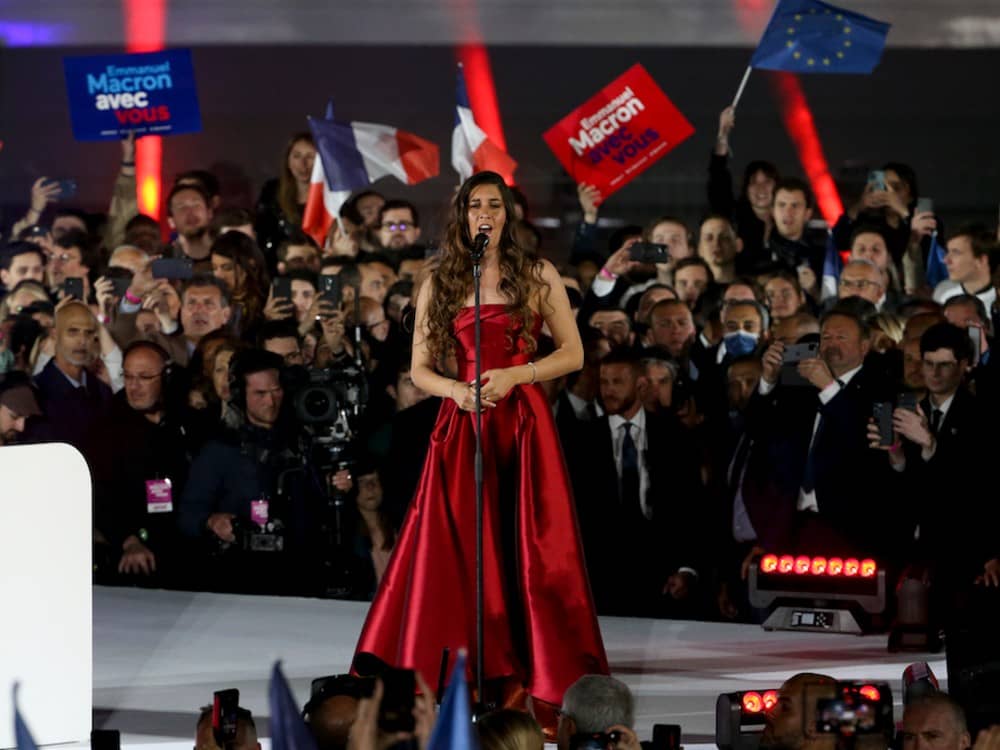 Born in Alexandria, Egypt, in 1989, Farrah Dibany was used to opera music and the French songs of Charles Aznavour and Dalida S.
Dibany learned German and piano at the age of seven. By 14, she received opera singing lessons from the famous opera singer Nevin Allouba before joining the Bibliotheca Alexandrina Arts Center in 2005.
She is fluent in Arabic, English, German, French, and Italian.
In 2010, she moved to Berlin's Hanns Eisler School of Music. After graduating in 2014, she continued her studies with a master's degree at the Berlin University of the Arts and a degree in Architectural Design from Technische Universität Berlin.
In September 2016, Dibany won the Paris Opera Prize for being the first Egyptian and Arab singer to join the Paris Opera.
In 2019, she won the "Prix Lyrique de l'AROP" award for best female Opera singer from the Paris Opera House. While receiving this award, she performed an excerpt from the Carmen opera by Georges Bizet.
Additionally, she held a solo performance at Dubai Opera in March 2020, days before the pandemic closed theatres and opera houses worldwide.