From ads about El-Dondoo to Sir Magdi Yacoub stealing the light from big brands, this Ramadan was full of fascinating social data.
We collected digital stats for the first 20 days of Ramadan in collaboration with our soul partners at e3langi.com Here are seven of our most interesting finds:
1. Vodafone Egypt's Ramadan campaign racked up 18 million views on Facebook, around 900K views per day, since its first launched on June 6, to be the most popular and viewed single ad this Ramadan on social media.
Read more: 5 Noteworthy Ramadan Content Consumption Tidbits [Infographic]
The advert has also generated more than 51,000 tweets, and 1.2 million interactions (likes, comments, shares) on facebook, racking the highest number of shares on a single ad spot with 300K shares.
Feedback was mixed, as the campaign received a number of negative conversations, criticizing Vodafone for spending millions on bringing in 11 celebrities in an advert instead of donating to charities, others found it a repetitive message referring to last year's campaign.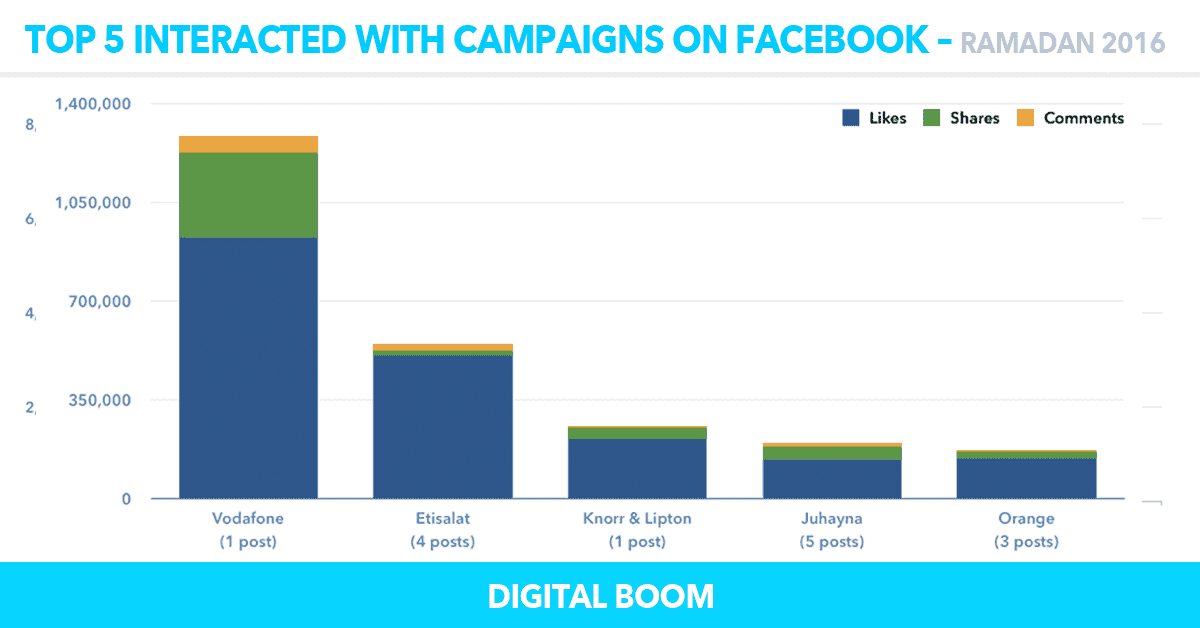 2. Etisalat was the first to enter the media race this year with "Imagine tomorrow", pulled in 44K tweets for its 4 copies featuring the voice of Asalah Nasry, ad making-video, Arsenal player "Mohamed El-Nenny", and AS Roma player "Mohamed Salah". The campaign is considered a re-branding rather than a customized Ramadan ad.
The campaign got 20 million views on facebook so far, as Etisalat is bombarding Egyptians newsfeed(s) with massive sponsored spots on Facebook. Here's a chart shows the top 5 viewed campaigns on facebook until now: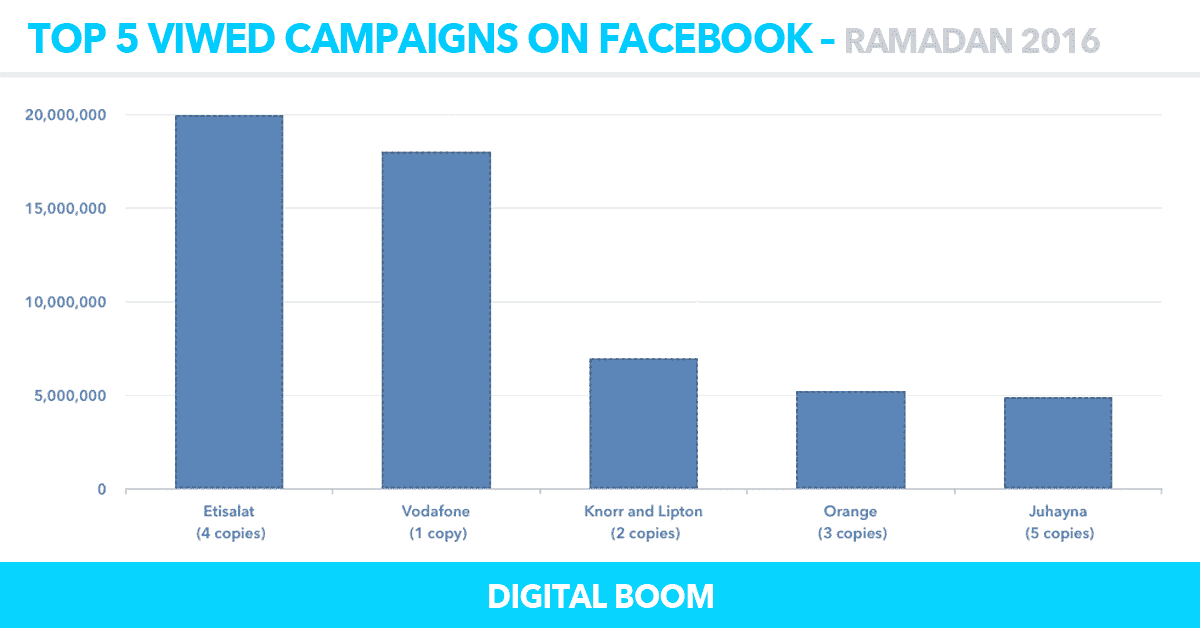 3. Juhayna got huge social buzz early on with its controversial ad "El-Dondoo", pulling in 22K tweets in the first three weeks, to be one of the top 5 most talked about campaigns on twitter, after Magdi Yacoub, Vodafone, and Etisalat.
According to Digital Boom reports, El-Dondoo ad generated a mixed feedback, some found it improper, encourages sexual harassment, some other found it funny and the best spot this Ramadan. Juhayna also launched 5 more copies of the three talking babies which generated 5M views on Facebook, as shown in the above graph.
4. Magdi Yacoub Foundation's advert blew up on social with one of the most creative, cheerful and optimistic spot — "Draw a heart" campaign aiming for awareness around the importance of donating to cure children's hearts — helping in generating over than 100K tweets since launched on June 13. Reflection on donations compared to same period last year will be revealed exclusively on Digital Boom by the end of Ramadan. Stay tuned!
Note: The campaign could have been even more successful if Magdi Yacoub Fondation's digital team took it online on the right time, unfortunately, the foundation uploaded the ad three days after airing on TV, which caused a big loss in viewership on both facebook and YouTube. Fortunately, that didn't impact twitter negatively.
5. During the peak of Ramadan, Orange pulled in as low as 6K tweets, some digital experts say that it's due to timing as it was a bit late. However, the feedback is crystal positive on social according to our reports; people loved the songs, and started to quote it in tweets. It's obvious too that Orange has a huge focus on Youtube than Facebook, as the campaign generated 7.6 million views on Youtube, to reserve number one most watched campaign on the video platform.
Top 5 viewed campaign on YouTube – Ramadan 2016
6. For the third year in a row, Knorr and Lipton continues to join forces on "Kamel Karamak" CSR campaign, in collaboration with the Egyptian Food Bank. The campaign ad which asking people to donate their extra food to the Egyptian food bank has generated 6 million views on Facebook and a real positive feedback on twitter with a low volume of tweets.
7. During the peak of Ramadan, Pepsi pulled in 3.7K tweets compared with 293 tweets about Coca-Cola. This is considered the weakest ever season recorded for both FMCG corporations in Ramadan.
Have something to add? Please drop us a line in the comments box below, or join us on facebook or twitter @adigitalboom