On the night of June 30th, 2020, Two instagram accounts (@shadynoor_ and @skhodirr ) started a PSA accusing an ex student of AUC and various other schools of universities of various sex and sex related crimes against girls of varying ages and nationalities. 
Their PSA brought on the anonymous online testimonies of other girls with the  current number exceeding 100 reports (to date of writing this article). 
Another Instagram account (@assaultpolice) was created to show and document and receive testimonies on the matter and has garnered over 65,000 followers in less than 48 hours.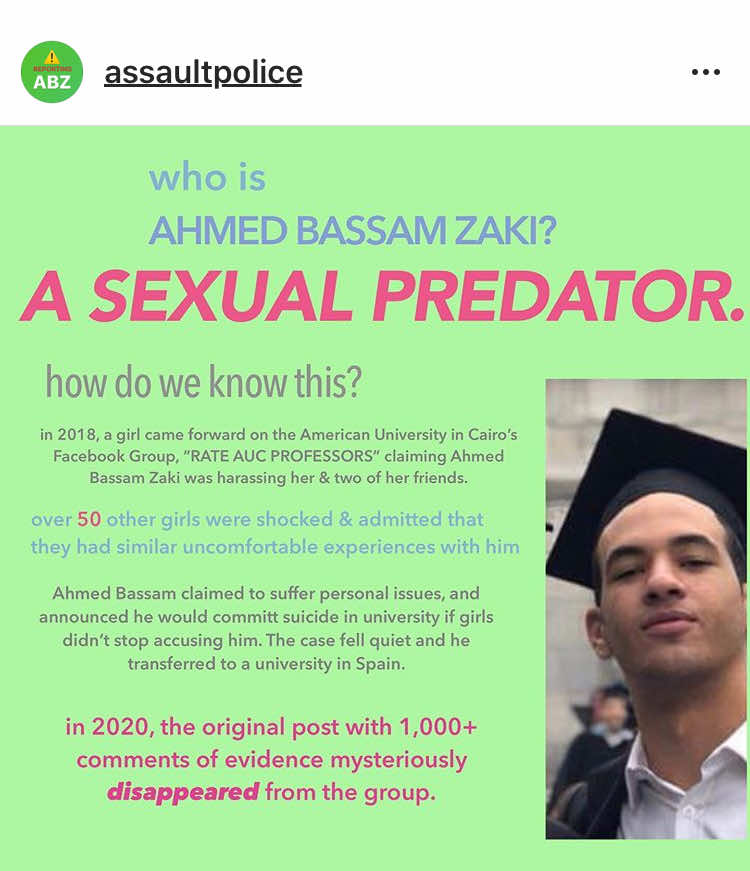 Twitter erupted with the hashtag #المتحرش_احمد_بسام_ذكي becoming #1 on Egypt's trending list (Friday July 3rd, 4 PM CLT). 
As is the case with similar accusations the public opinion is divided between anger, disbelief, discrediting the testimonies and defending the allegations in fear of the accused's mental health. 
The AssaultPolice account has issued a call for the victims urging them to come forward with their anonymity preserved in official reports in front of Law Enforcement but we are yet to hear of whether the victims have decided to take them up on the offer.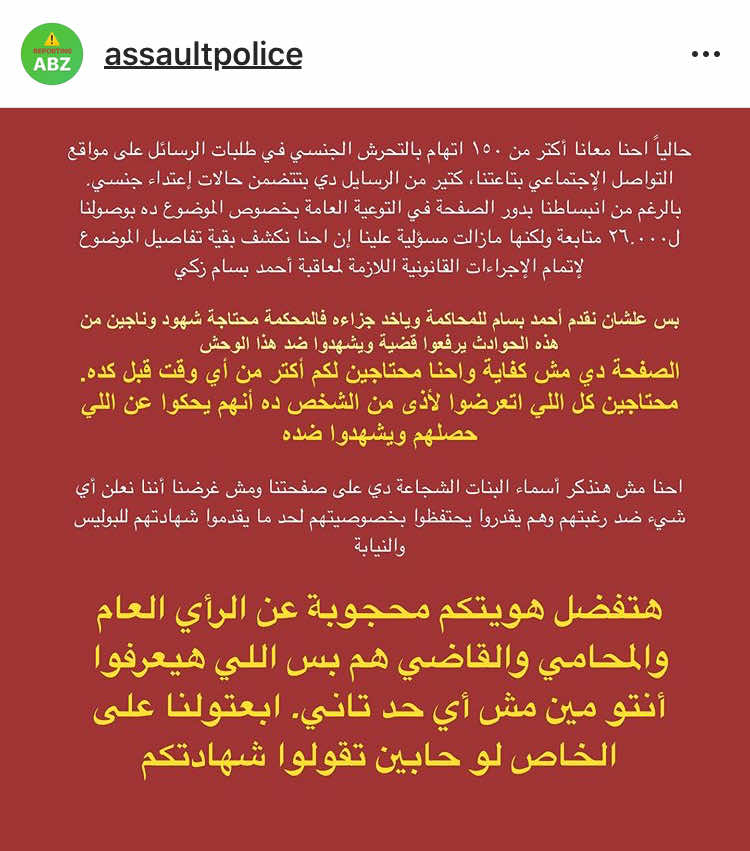 With Wednesdays and Thursdays not being a primetime for Talkshows, Sherif Amer of MBC Masr's يحدث في مصر did address the situation and explained, possibly for the first time on primetime television, the true legal ramifications of online harassment, online stalking and other digital based crimes targeting girls.
Amr Adib has 'spoken on the record' but off the air with the alleged rapist's father and that was the outcome.
Fake Accounts Dilemma 
Hours into the story developing, many have reported that two of the "accounts" reporting several allegations against the same person have turned out to be "fake accounts" which has stirred a conversation on whether or not this can undermine the case or, worse, raise serious doubts over the allegations.
By Saturday July 4th, the accused man was apprehended for questioning by law enforcement and has pleaded not guilty to all accusations against him, he has not been officially charged to date of publication.
As of July 6th, Assault Police has reported that two ladies have actually been to submit an official report and have come out reporting complete support and understanding from the Public Attorney's office. The account now also has a website () which documents all allegations and gives victims tips and support on how to come forward.
This case is eerily similar to the wave of #MeToo sweeping over the US and various other countries against men in power using their connections and money to attack, use, manipulate and blackmail women which results in Harvey Weinstein, former CEO and Co-Founder of Miramax and Cinema mogul to be sentenced for 23 years in prison with other trials still pending.
This goes to show the power social media has in supporting sexual assault and sexual harassment victims and, subsequently, raising awareness about predators and creating a safe space for victims.
This story is still developing. 
We urge victims of harassment, blackmail, molestation or sexual assault to please call 15115, the hotline for Egyptian females suffering from any sort of abuse, you are not alone.
Disclaimer: Digital Boom is reporting on the facts related to the viral-ity of the topic on Social Media Platforms, Blogs, Forums and News Sites and is in no way an accusatory instrument nor does it claim any affiliations to any of the parties involved in the current scandal.  We have also decided not to post any screenshots depicting the alleged attacks as it may trigger survivors and current victims.