News
Cairo Hotel Prices on New Year's Eve 2019
For those who still haven't settled on anything yet for New Year's Eve, there's a chance it will be the last minute low-key stay at one of Cairo's luxurious hotels.
Here's a list of Cairo hotel prices on New Year's Eve (one room for two adults). The ranking is based on price from the most expensive.
1. The Nile Ritz Carlton Hotel
Several events to celebrate the New Year at The Nile Ritz Carlton Hotel Cairo. You can choose to join Veni. Vivo. Vici party, with intimate six-course dining – Finish dinner at midnight, then join the New Year's celebrations next door at Bar'Oro, where you will delight in festive cocktails and dance to the sounds of celebratory DJ Beats!
Or join the New Year's Party at NOX to enjoy an evening of rooftop dining with three sharing appetizers, dessert, bubbly toast at midnight, party favors & various DJ beats. More details here.
2. 

Ramses Hilton Hotel & Casino
Raise a glass to celebrate New Year's eve from the 36th floor Ft entertainment Loai Khalifa, Khaled Says, and Sherihan, the belly dancer.
3. 

Kempinski Nile Hotel, Cairo
Enjoy the warm glow of lights at Osmanli Restaurant with a special New Year's Eve Programme with Belly Dancing, live Violin Music show, and DJ all combined with your choice of deliciously made set menu and a selection of soft drinks.

4. 

Sofitel Cairo Nile El Gezirah
A cool river breeze, the gentle sound of lapping water on the Nile banks, and the sparkling lights of a city that never sleeps all make for a beautiful evening stroll on Sofitel Cairo Nile El Gezirah Promenade.
Ring in the New Year in Magnifique style at one of the Sofitel restaurants. The famous Kababgy will be serving up a feast of seafood and mixed grills for EGP1,296 per person. At the same time, La Palmeraie has prepared a set menu featuring their signature Moroccan delicacies for EGP1,224 per person (from 7 pm to 1 am).
5. 

Cairo Marriott Hotel & Omar Khayyam Casino
Celebrate New Year's Eve with a glorious Egyptian feast, live band, and an enchanting belly dancer at Egyptian Nights Restaurant for EGP2,200 per person, all-inclusive!

6. 

Royal Maxim Palace Kempinski Cairo
Don't miss a special Stars night at the Palace! Alla Kushnir, Mahmoud Esseily, Moustafa Hagag, Bahaa Sultan, and Tahra.
7. 

Sonesta Hotel Tower & Casino Cairo
An entertaining live band, belly dancer, and festive menus.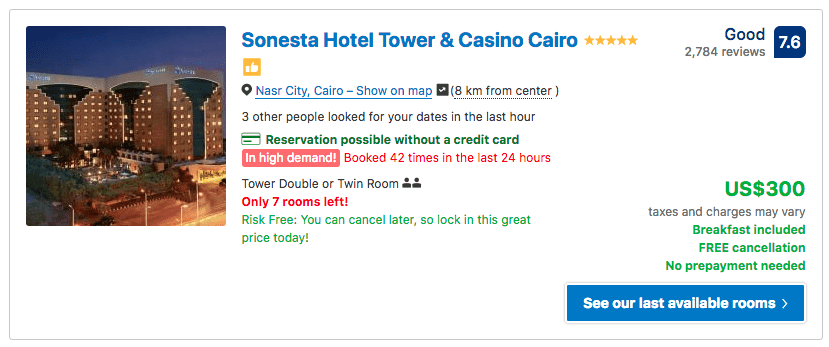 8. 

Marriott Mena House, Cairo
On New Year's Eve, travel back to the 1920s for a night of dance, dinner, and celebration at Mena House 139 gardens #ByThePyramids featuring famed belly dancer Dina, Crash Boom Bang band, and a glorious five-course meal, for EGP3,500 per person.

9. 

Heliopolis Towers Hotel
Celebrate the New Year's Eve at Aqua E Luce with Alexandria Seafood Buffet & Background Music, Fuze Bar with Snacks a-la-carte and NYE special snacks & accompanied by DJ until 2 am, or at Pizza Bar with Snacks a-la-carte and NYE special snacks.

10. 

Renaissance Cairo Mirage City Hotel
Dance all night with live entertainment and a belly dancer show at Vintage Bar & Lounge.
11. 

Le Meridien Pyramids Hotel & Spa
If you are spending New Year's eve in Egypt, what could be better than spending it by the Pyramids? With an awesome package and party programs like a cocktail reception, delicious buffet, live DJ, band, live violin, and an exotic belly dancer.
12. 

Hilton Cairo Heliopolis Hotel
Ring in 2019 with delicious food and fantastic drinks; Hilton Cairo Heliopolis offers an array of mouthwatering options, including Indian cuisine at Raj, a wide variety of Thai delights at LanTania, teppanyaki grills for a live cooking experience at Noble House.

13. 

Le Méridien Cairo Airport
This New Year's EVE, be a part of the celebration at Live Sports Bar, dance away the old year in style with a belly dance show, DJ, Live Entertainment, and more.
14. 

Le Passage Cairo Hotel & Casino
Don't miss a special Stars night at the Le Passage Airport! Bahaa Sultan, Al Al Dakhluya band, and belly dancer Oxana. Ticket price EGP2,500 for VIP, 2,200 and 1,900 for regular tickets.