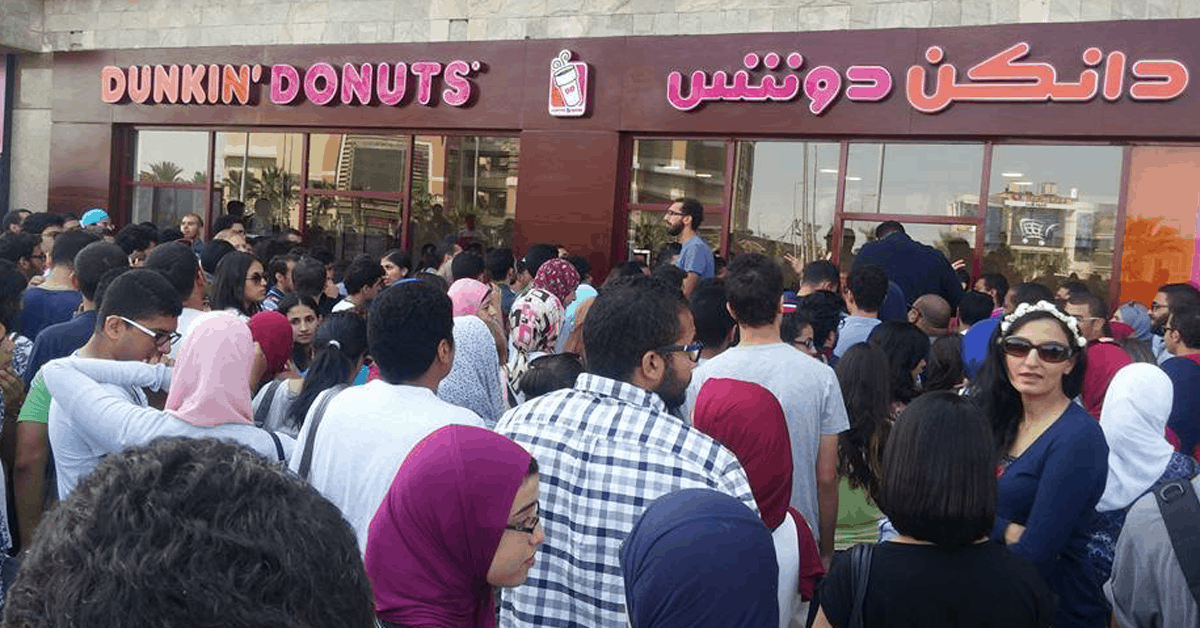 Cairo – Dunkin Donuts Egypt announced a generous promotion of one year free donuts offered to the first 250 customers who arrive at the new branch opening in Galleria Moon Valley Tagamo3 on 5th of October. The post found its way to customers, as dozens are now in front of Dunkin Donuts doors waiting for the opening.
Crowd in Front of Dunkin Donuts
Dozens or maybe hundreds are in front on Dunkin' Donuts Tagamo3 new branch right now, waiting for the opening to win their one year free donuts. (Photo by Hossam A. Swilam Reported by Sara Fahmy)
https://www.facebook.com/photo.php?fbid=10154306663903378&set=a.10151389033738378.579124.512453377&type=3&fref=nf
More photos have been posted on E3langi
https://www.facebook.com/E3langiblog/posts/641322479338449
Dunkin Donuts Post on Facebook
https://www.facebook.com/887405291339010/photos/a.902923039787235.1073741829.887405291339010/912069422205930/?type=3&theater
Takeouts
If you analyzed Dunkin' Donuts opening activation, you probably will come up with two main takeouts:
Advertising isn't the ultimate key of success, but a good marketing strategy
A smart promotion has been able to drive a tremendous traffic to the store opening using social media. As yo can see, the post hasn't thousands of interactions, but it found its way to people, how? simple it's the word of mouth, and the private communities power
Keep in mind, It's not about advertising, but the marketing strategy behind it. Smart & risky approaches help businesses win new customers and retain existing ones.
Planning the two results-scenarios is a must 
In this case, if Dunkin Donuts post didn't go viral as planned, so there should be a backup plan to save the opening day. The second scenario what if succeeded to generate a high traffic visitors to the opening? Dunkin' Donuts has to have a professional event organizers to manage the crowd, to save the day.
Have something to add to this story? Drop us a line in comments.