Instagram has introduced three new important updates today that enforce transparency and better security methods.
In a blog post titled "New Tools to Help Keep Instagram Safe": the company announced the three important updates: a new section "About This Account" to help users evaluate the authenticity of accounts with large followings, a verification form which accounts can request the blue verified badge, and finally, an improved form of two-factor authentication.
"About this Account" section
This section is designed to show more information about accounts on Instagram that reach large audiences so you can evaluate the authenticity of the account, from the date that account joined Instagram, the country where the account is located, accounts with shared followers, to any username changes in the last year and any ads the account is currently running.
To check an account, go to their Profile, tap the three dots on top right side of the app and then select "About This Account."
Facebook introduced a similar feature weeks ago that allows users to see all active ads run by a page to increase transparency on the platform.
This new feature will be available for large accounts on September, and it roll out for all accounts later.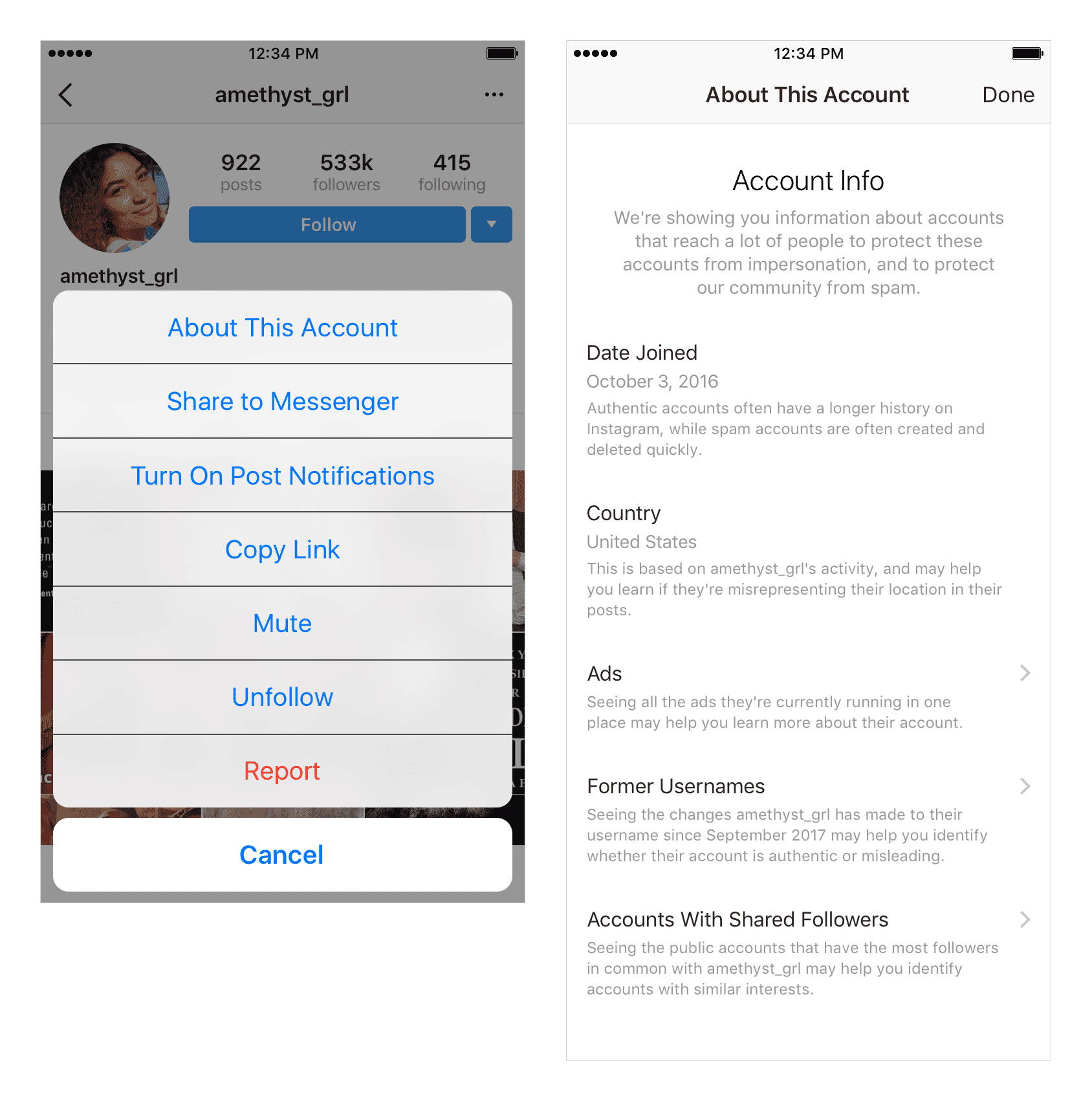 Instagram Verified Badge
The second significant Instagram update offers an easy way to request the blue verified badge directly through a global form in the Instagram app.
A blue verified badge can be requested through: go to your profile – menu – settings – request verification.
Instagram will ask for your full name and attach a photo of your ID (government-issued photo ID that show your name and date of birth. After your complete the required fields, submit your request and Instagram will review the request.
Once your request has been reviewed, you will receive a notification confirming or declining your request in the notifications tab.
Support for Third-Party Authenticator Apps
Instagram has extended support to use third-party authenticator apps such as Google or Duo authenticator apps to log into Instagram accounts. This form of two-factor authentication makes it easier and safer to securely log into Instagram.
To activate two-factor authentication, go to your profile – settings – two-factor authentication – authentication apps – select an app if you have any or download a new one from your preferred store (Google Play or AppStore).
"I founded Instagram alongside Kevin nearly eight years ago, and we care deeply about this community and the people who are part of it. We've been focused on the safety of our platform since the very beginning, and today's updates build upon our existing tools, such as our spam and abusive content filters and the ability to report or block accounts. We know we have more work to do to keep bad actors off Instagram, and we are committed to continuing to build more tools to do just that." Mike Krieger, Instagram Co-Founder & CTO
How do you find Instagram new updates? Let us know in the comment box below.