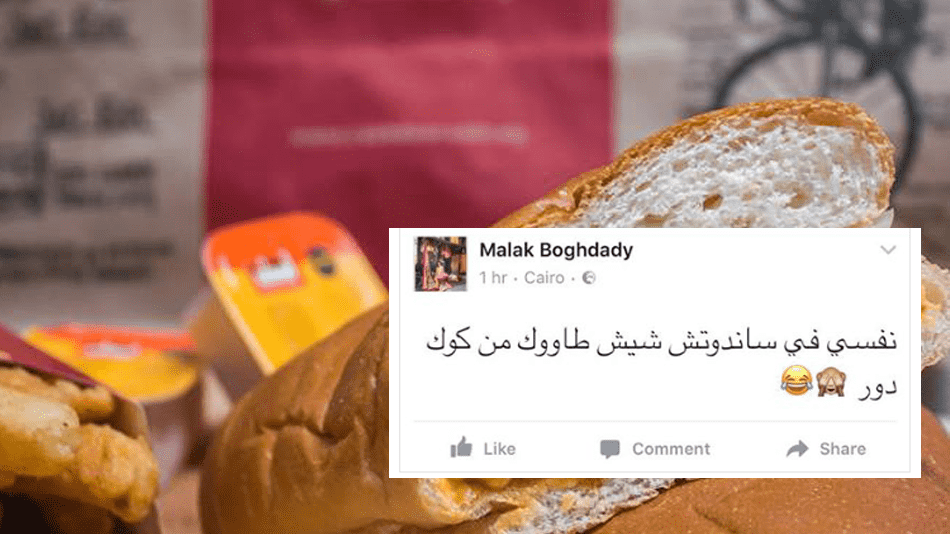 Cook Door, the Egyptian fast food chain, probably made this year's most memorable feel -good moment on social media.
And it all started with one seemingly simple Facebook post.
Like any other hungry person in the world with an Internet connection, Malak Boghdady made known her cravings for fast food- specifically, Cook Door's Shish Tawook sandwich on Facebook. It was just an innocent post, just one of the many others that would usually get buried among the tons of pictures, statuses, and updates that get featured on one's Newsfeed on a daily basis.
No one expected it to blow up, but blow up it did- in an extraordinary spectacular fashion that you wouldn't expect from a local fast food chain.
Cook Door immediately sprung into action soon after reading her post. Through their marketing team representative Ahmed Hassan, they reached out to Malak and told her that she'll be receiving her desired Shish Tawook sandwich on the house.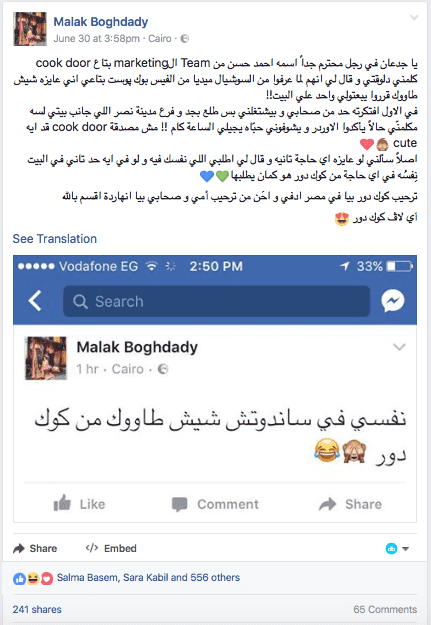 Going Viral on Social Media
Cook Door's generosity could've stopped at that, but the company went way above and beyond what is expected.
After learning of her good experience with Cook Door, Malak's friends soon joined in on the fun; they started to jokingly post that they wanted Cook Door fare for themselves too. But instead of ignoring them, the company actually complied! Cook Door got their numbers and sent them their meals too. Posts and shares started streaming in and the whole thing went viral in a blink of an eye.
Traffic on Cook Door's Facebook page increased ten -fold. Due to the overwhelming number of shares, posts, and mentions, Cook Door instead started sharing EGP100 gift vouchers to their followers on Facebook Messenger to make everything more streamlined and systematic and to keep the good will going.
Some Cook Door viral posts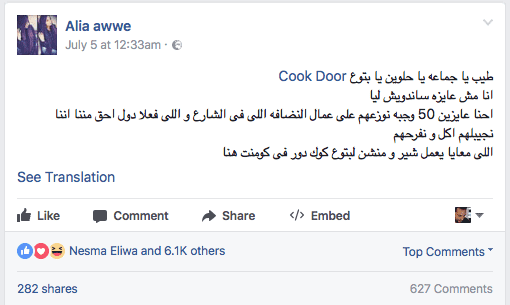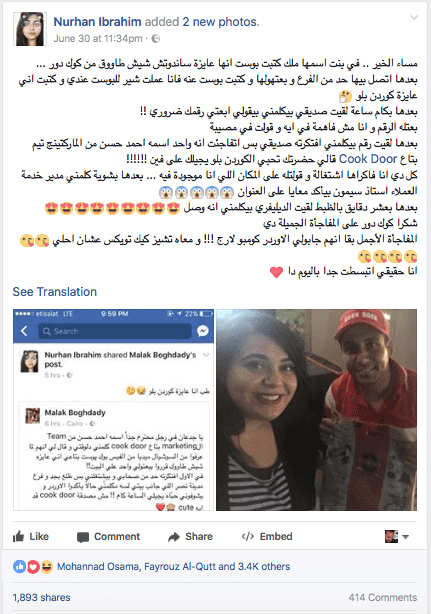 Great Example of Proactive Marketing
After all the recent news on rising fuel prices and inflation, a feel good story like this is a breath of fresh air.
It's a clear cut case of great proactive marketing a win-win situation for both the company and the consumers involved. Just by the simple act of reaching out to their customers on social media,
Cook Door managed to make a positive impression on their followers and the general public that will be remembered for a long time.
How they handled the virality is impressive too. Of course, it's understandable that the company wouldn't be able to comp meals for every person who contacts them on Facebook and Instagram, so the EGP100 vouchers are a great compromise.
What We Can Learn From This:
Proactive Marketing on Social Media Can Be Cheaper and More Effective Than Traditional Marketing
A TV ad can cost thousands of dollars. Probably a whole lot more than what Cook Door had spent in the meals and vouchers that they gave away.
Going Above and Beyond Is Always Appreciated
There really is no reason for Cook Door to give out those meals and vouchers. But they really extended themselves to make a large portion of their customer base happy, and their effort shows. This act will surely be remembered for a long time.
Don't Underestimate the Value of One Customer
Malak was only one customer out of many. However, one customer alone can bring in thousands more if you manage to make a good impression on him or her.
Hopefully, other companies can learn from Cook Door and follow the company's footsteps. People need more of these feel-good social media moments.