The hackathon is an open invitation to software developers and innovators… those tech enthusiasts who are excited to shape the future of Egypt with Vodafone.
Can you code like a boss? Do you have a new untapped idea that will shape the future of a Digital Egypt? Are you looking to bring your idea to life? Then look no further! Vodafone Egypt's "Developers 010 Innovation Hackathon" awaits you to nurture and foster your innovative and challenging spirit for the duration of three days.
The 010 Innovation Hackathon – set to take place from 13th to 15th December, in its HeadQ, Smart Village – comes in line with Vodafone's strategic goal to become one of the key digital enablers of Egypt's vision 2030.
The 010 Hackathon also coincides with the #1 Network's 20th Anniversary in Egypt.
Empowered by Egyptian innovators' great potentials, Vodafone aims to unlock new tech ideas in education, health, energy, transportation, environment, or any field that can enable a "Digital Egypt", by stimulating the creative and problem-solving juices of developers!
Prizes
Participants are in for a treat, as the total prizes of the hackathon amount up to EGP 210,000 to the first three winning teams:
1st prize team: EGP 120K
2nd prize team: EGP 60K
3rd prize team: EGP 30K
Besides, NanoDegree Scholarships from Udacity, potential internship and job opportunities at Vodafone for Undergrads & Grads.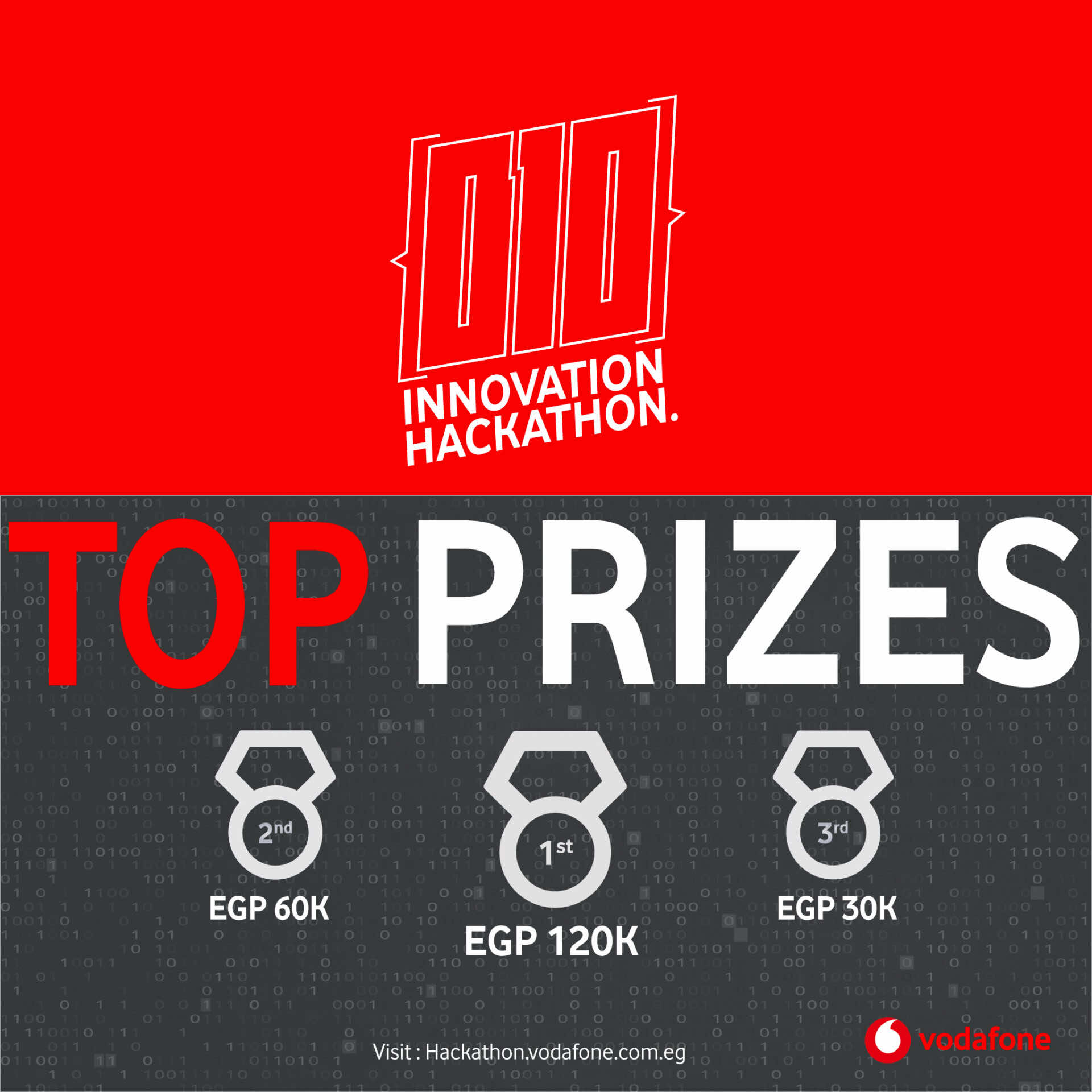 How to enroll?
Egypt's software developers who are 18 years old or above can take part in the three-day event. To join the hackathon, you will need to have a team of 2 to 4 members. Ideally, the idea would be developed using one or combining some of the Technologies such as, and not limited to, Artificial Intelligence, Application Development, Web Development, Big Data, DevOps, Robotic Process Automation and IoT.
Sky is developers' limit when it comes to the 010 Innovation Hackathon, as the final product can be a prototype, product concept, a software, a hardware, blueprints, or a working model.
Vodafone will select the final participants upon filtering their ideas on first-come, first-served basis. Winners will be chosen by a panel of judges based on set criteria. What is the criteria, you may ask? Well, Vodafone is keeping everyone on their toes, as it will be announced to accepted teams on the Hackathon's first day.
If you think you are the next big thing – perhaps the next Mark Zuckerberg –  then don't miss the application's deadline on December 9th. You can find more details and register at hackathon.vodafone.com.eg
Roll your sleeves up, developers, and up your game for this challenging hackathon! May the best idea and working prototype win and may the odds be ever in your favor.