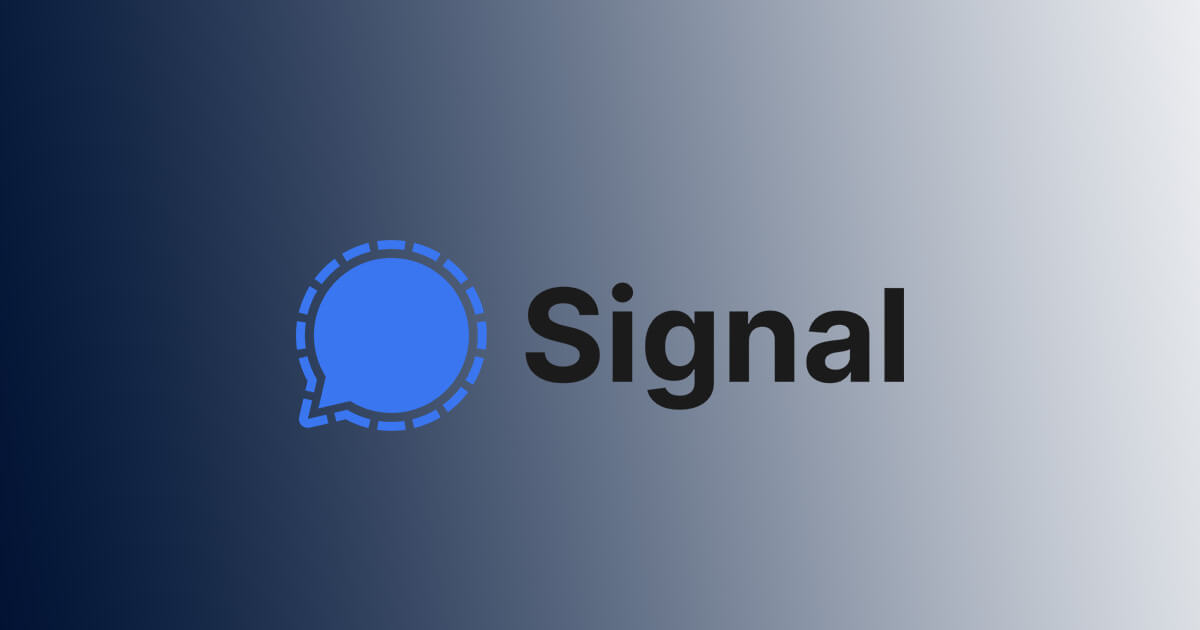 Update: Whatsapp announced on January 15th, 2021 that it is moving back the date from February 8. It also announced it will " go to people gradually to review the policy at their own pace before new business options are available on May 15″.
So, Whatsapp, your beloved instant messenger, updated its privacy policy.
Do you know Whatsapp? The encrypted "secure" messenger is owned by Facebook and estimated to be worth 1.5 Billion USD.
Oh, wait. What?
The update caused an uproar, especially after Twitter, Facebook, and Youtube started suspending President Trump.
The facts were; our conversations will help Whatsapp sell our online behavior as advertising data to Facebook.
This means a huge privacy breach from an app priding itself on end-to-end encryption and other security features.
Now, Whatsapp's 2 Billion users started heading to other less sophisticated rivals, Signal and Telegram. Whatsapp was bleeding users by the minute.
Shots Fired
When Elon Musk and Edward Snowden, Former CIA employee, and famous whistleblower, both tweeted about Signal.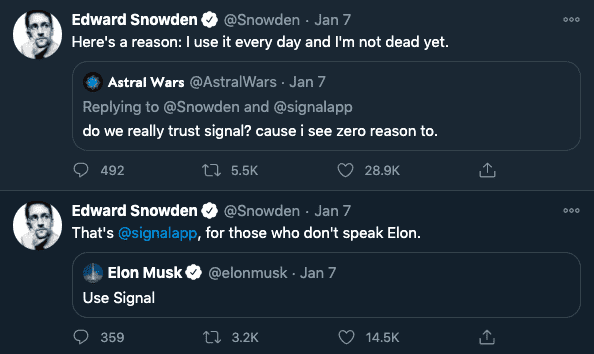 Signal is a similar app to Whatsapp that uses the same protocols.
It escalated so that Signal went from 14 million users to dominating social networking charts on Apple's App Store and Android's Google Play.
WhatsApp Responds, Finally!
Here are the facts as we know them from WhatsApp.
In a statement issued this week, the Whatsapp team said, " We want to be clear that the policy update does not affect the privacy of your messages with friends or family in any way. Instead, this update includes changes related to messaging a business on WhatsApp, which is optional, and provides further transparency about how we collect and use data."
As you recall, Whatsapp has rolled out a feature to register business accounts and personal accounts, which means businesses can use the platform to communicate with clients and potential customers.
What Whatsapp changed is how it will use this data to optimize advertising and targeting for business accounts.
Furthermore, they added, "We want to make this easier and better if you choose to message with businesses. We will always be clear within WhatsApp when you are communicating with any business that uses these features."
In a nutshell, chatting with friends or calling your mom is fine and secure. But once you are on Facebook and choose the "Go to Whatsapp" button to message a business, things will be a bit risky.
Facebook will then use some of your data, such as battery level, IP address, browser information, mobile network, phone number, and ISP.
Whatsapp will also allow larger businesses to use "secure hosting services from Facebook to manage WhatsApp chats with customers."
That is your conversation with that business hosted on Facebook.
Freaky Coincidences
WhatsApp made a clarification that was as vague as every privacy-related clarification made from Facebook.
This is proving to be one more stop in Facebook's endless fights regarding user and data privacy.
As I sit here writing this, I know the "sounds okay." I know that I will most likely not become affected by these changes. Suppose I choose not to interact with businesses via Whatsapp or use Facebook's Shops feature. But, knowing all the facts, I still feel uneasy. WhatsApp may not share my everyday chat data with Facebook, but it still feels like it does.
The same way I talk about PJs with a friend, and my entire Facebook feed fills up with home-wear ads the next day. No one admits it or can prove it, but we all know it is out there.
We call them "freaky coincidences," but they are actually what experts define as Surveillance Capitalism.
This is how any mention of our everyday interests is now goods. Ones that get sold and bought for us to become better and penniless consumers.
But hey, welcome to 2021. This keeps on getting interesting.