Facebook has revealed statistics of its Text-Delights soccer animations that were launched ahead of Russia 2018 World Cup. More than 583 million tournament-related animations appeared on Facebook during the tournament. In total, there were 78 phrases that triggered animations: a few celebratory phrases for each of the 32 countries in the tournament and nine language variants of "Goal!". Said Facebook in a blogpost.
Now that the World Cup has wrapped, these soccer animations are no longer active.
During the tournament, for instance, when fans of the Egypt national team typed "Yalla Ya Masr" into a post or comment, they might have seen Egypt's team colors shoot across the screen along with an animation of Pharaohs, a flag and celebratory streamers. When fans of Nigeria posted the team's "Up Super Eagle" cheer, they might have seen a stream of green and white alongside an eagle. And no matter what country a fan was cheering for, celebrating a big goal — or GOOOOOOOOOOALLL! — activated a soccer ball rocketing across the screen with fireworks and applause.
See a goal in action
These kinds of text effects first rolled out on Facebook in 2017.
Creative Director Zach Stubenvoll, who oversaw the project, describes the process by saying, "Creatively, we pushed the animations to express each team's pride and capture some of the excitement of watching a game live in a stadium. We looked at every aspect of the experience — from color, icons, motion and sound design — making sure each was thoughtfully considered and relevant for fans."
During the 2014 World Cup, Facebook noticed that fans were celebrating big goals on the platform in real-time by typing "Goal!" or "Gol!", but that they weren't content to use justly a single O. To ensure that they could capture the full scope of fans' enthusiasm, the team designing this year's animations developed a new method of pattern matching that allowed for any number of G's, O's, A's, and L's to activate the animation. In English, "Goal," "goalll," "goooooaaaalllll" and "GOOOOOOOOOOOOOOOOOOOOOOAL" all resulted in the animation. The team then repeated this process for nine different language variants of "goal."
"In 2018, more than 11 million O's were used in instances of the English word "goal" on Facebook. But there were more than 85 million O's in instances of "gol", the word in Spanish and Brazilian Portuguese. The most exuberant "goal" contained 63,199 characters—or the equivalent of 17 pages of text written in single-spaced 12-point font." Said Facebook
Most popular country cheers during the World Cup
Mexico comes first on most popular country cheers list with 84 million cheers, Brazil comes second with 64 million, Argentina third with 64 million, Egypt fourth with 47 million, and Colombia fifth with 41 million. According to Facebook data.
[table id=3 /]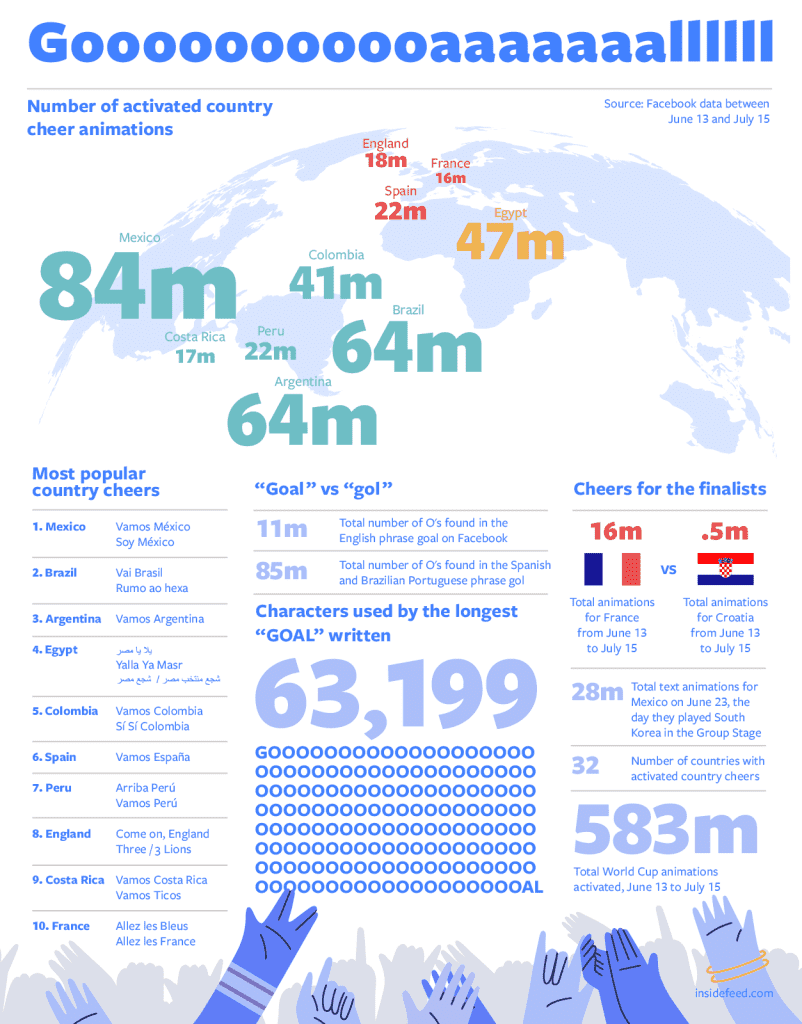 How often did you use text delights during the World Cup to cheer for your team?