History has shown us that images are worth more than words. Thanks to the rise of visual-based communication, we are returning to more graphic forms of expression. Driven by a desire for intimacy, there is an urge to convey our thoughts and feelings as we look to connect with others in the midst of a bustling world.
This is reflected in a new vocabulary of emojis, GIFs, and camera-based messaging, which helps us express ourselves more dynamically. Given the unprecedented times we live in, and with people spending more time at home, emojis are becoming more relevant than ever before.
The people of the MENA region heavily rely on emojis when posting and commenting on Facebook.
The top ten emojis used across the MENA region include: face with tears of joy, red heart, heavy black heart, smiling face with heart-shaped eyes, rolling on the floor laughing, face throwing a kiss, rose, sparkling heart, heart suit, and the broken heart. Hearts and laughing smileys are the most popular forms of expression among people in this region, pointing to the positive mindset that still resides in communities even as we navigate unfamiliar and challenging times.
The top 10 emojis used across the MENA region:
Face with tears of joy 😂

Red heart ❤️
Heavy black heart 🖤

Smiling face with heart-shaped eyes 😍

Rolling on the floor laughing 😂

Face throwing a kiss 😘

Rose 🌹

Sparkling heart 💖

Heart suit ♥️

Broken heart 💔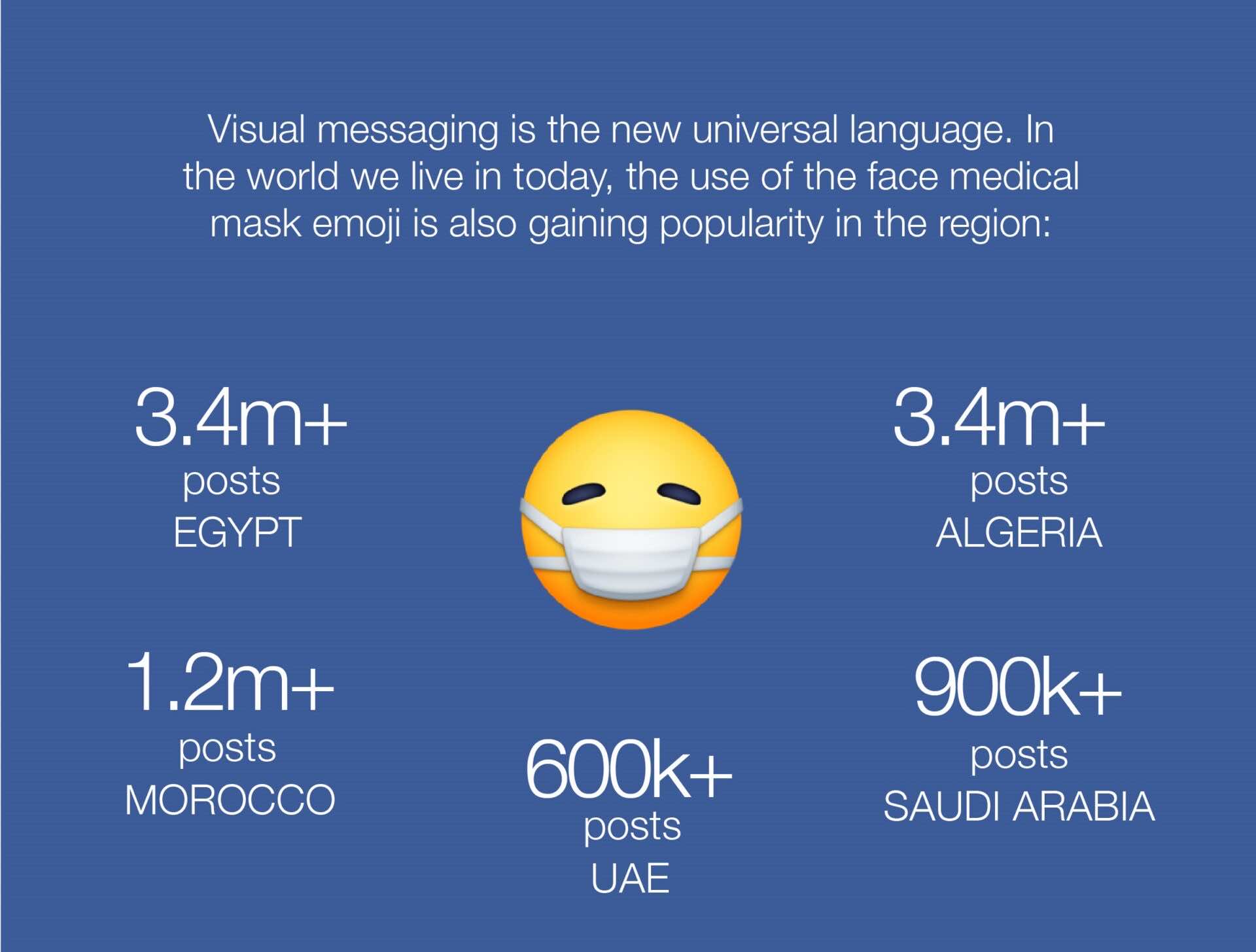 In the world we live in today, the use of the face medical mask emoji is also gaining popularity in the region. The top five countries across MENA that use this emoji in Facebook posts include:
Egypt: 3.4M+ posts
Algeria: 3.4M+ posts
Morocco: 1.2M+ posts
Saudi Arabia: 900K+ posts
UAE: 600K+ posts
Top 3 emojis in each country (MENA)
A closer look at some of the most popular emojis in different countries in MENA.