Since the last time the Pharaohs qualified for the FIFA World Cup, it's been 28 long years. Telecommunications giant Vodafone Egypt is not happy about this and is therefore suggesting, nay strongly campaigning, for a strategy that it believes will change Egypt's fortune. And it's simple: Stop talking football for two months to avoid jinxing the team. We want to qualify this time.
Vodafone promotes the idea that over-analysis and too much self-criticism by Egyptian people could be the reason for jinxing the team and not qualifying for the World Cup for all these years.
Vodafone's movement announcement
According to the company, the pattern is clear. Every time the national football team reaches an advanced stage in the qualifiers of the most prestigious football tournament worldwide, football banter that is not only excessive but also somehow jinxes the team. And it ends up getting disqualified.
It is for this reason that Vodafone has spearheaded a campaign dubbed #ماتقاطعش "Stop Talking Football–. It doesn't get any simpler. As the line of the campaign suggests, Egyptian football fans are urged by the company to steer clear of any discussions pertaining to the World Cup qualifiers for the next two months and allow the gods of football to bless the national football team with a long-yearned-for victory.
After enduring the pain of disappointment for nearly three decades now, things have begun to look promising for the national team, if the group matches are anything to go by.
Vodafone's movement comes days prior to World Cup Qualifiers Third round matches, as Egypt will meet Uganda on August 31 in Kampala and September 5 in Cairo.
Egypt has maintained the lead in Group E with six points after defeating Ghana and Congo in the first two rounds. Uganda trailed in second with four points, Ghana in third with one point, and Congo in fourth.
Celebrities join the movement
A number of Egyptian celebrities have joined Vodafone's movement, storytelling jinx-stories from previous World Cup Qualifiers, encouraging Egyptians to join #ماتقاطعش movement – these celebrities are Medhat Shalaby, Ahmed Fathy, Mohamed Barakat, Ahmed Youness, Saad Samir, Bayoumi Fouad, Magdy Abdel Ghany and more.
Vodafone Egypt's Campaign Social Media Frenzy
Vodafone's movement campaign has captured the attention of Egyptian fans and social media influencers, having sparked funny conversations across various social media and 2.5 million views in the first four days, this by far more than the expected views.
Here're a few samples:
اتكلموا في اي حاجة ياجماعة في الكسوف في سموزي السبانخ في القلقاس ووجه الشبه بينه وبين البطاطس بس بلاش كورة هم شهرين بس #ماتقاطعش #فودافون

— شيماء محمود 👑 (@ShemoEgy) August 22, 2017
فكرة حملة فودافون حلوة فشخ والله
بطلوا كلام فالكورة شهرين لحد مانوصل كاس العالم #متقاطعش

— Dongolinho (@moustafadongol) August 22, 2017
حلوة حركة فودافون بتاعت #متقاطعش
بس يارب فعلا نقدر نصبر و مننبرش فيها 😂😂

— Radwa fathy 🌻 (@Radwafathy15) August 22, 2017
عجبتني اوي الحملة بتاعت فودافون الجديدة #متقاطعش 👏👏

— Abdalla Tarek (@Abdallacamp) August 21, 2017
ممكن مثلا نتكلم في طريقة عمل ال Cupcake علشان نلهي نفسنا شوية و #متقاطعش

— Soma (@Super_Soma) August 21, 2017
عاجبني اعلان فودافون بتاع كاس العالم اووي 😂😂 #متقاطعش #فودافون

— Rofida Diab (@rofida_diab) August 19, 2017
حلوه فكرة #فودافون في اعلان #متقاطعش الحمله دي لازم تتعمل لينا احنا جمهور الزمالك عشان تقريبا العيب فينا احنا 😂👏

— Sayed Hassan (@sayedawad93) August 20, 2017
In addition, other brands started showing support and leveraging Vodafone's movement which shows the success that this movement reached so far.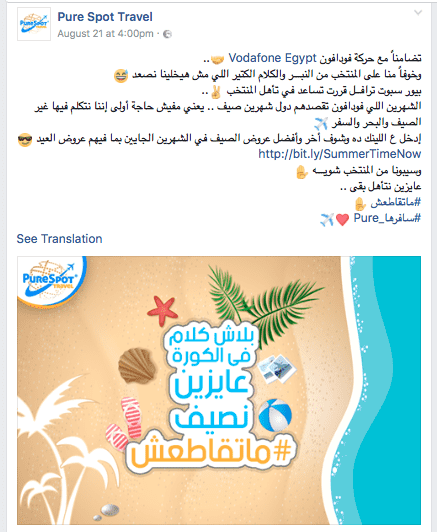 Will you join the movement too?