News
Smartphones
Apple eliminates SIM card tray completely from iPhone 14, forces eSIM
One of the most surprising features Apple has announced for Apple 14 at its event on September 7 is the elimination of the regular SIM card tray in the iPhone 14 lineup. Instead, the latest iPhones will use eSIM technology.
eSIM technology uses software rather than a physical card to store your cell phone user information.
The iPhone 14 lineup will only abandon the physical SIM card in the U.S.; other regions will still feature an iPhone with a physical SIM card slot.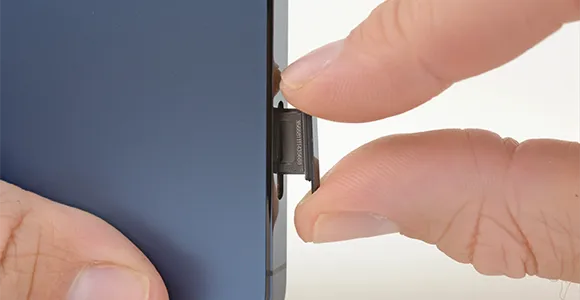 Knowing that the iPhone 14 lineup will be available in the market on September 16, most people haven't yet made the transition to eSIM; here's everything you need to know about your new eSIM:
What is eSIM?
An eSIM is a SIM card embedded in a mobile device and can connect you to any operator offering eSIM services.
Furthermore, the eSIM works the same way as a traditional SIM card, but you don't need a physical SIM card. It is pre-installed on the device, and you can activate it by installing the "eSIM profile" of a new operator.
It is an evolution of the physical SIM card. More and more smartphones, tablets, and laptops are equipped with an eSIM card.
There can be a lot of benefits to using eSIM, though keep in mind a phone carrier has to offer it as an option for you to use it. The good news for U.S. customers is that most major U.S. phone carriers offer eSIM, from T-Mobile and Verizon to more budget-friendly options like Mint Mobile.
Which iPhones have the eSIM?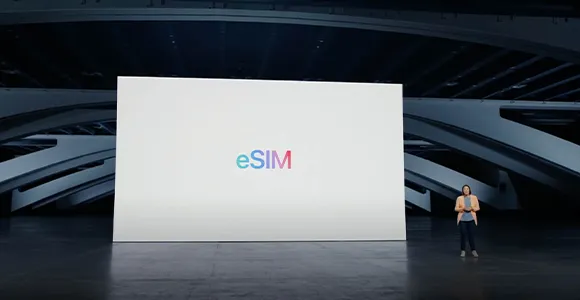 iPhone X.R.
iPhone X.S.
iPhone XS Max
iPhone 11
iPhone 11 Pro
iPhone S.E. 2 (2020)
iPhone 12
iPhone 12 Mini
iPhone 12 Pro
iPhone 12 Pro Max
iPhone 13
iPhone 13 Mini
iPhone 13 Pro
iPhone 13 Pro Max
iPhone S.E. 3 (2022)
iPhone 14
iPhone 14 Plus
What does eSIM mean for iPhone 14?
Apple has offered eSIM support since the iPhone X.S., XS Max, and X.R. arrived in 2018. The iPhone 13 even allowed you to have multiple eSIMs on one phone. Currently, Apple confirmed that you could have eight or more eSIMs (oddly specific) and use two phone numbers simultaneously.
How to activate an eSIM on your iPhone?
Setting up the eSIM is pretty simple. You need to first get the eSIM card in one of four ways: install a carrier plan, scan a Q.R. code, use a phone carrier's iOS app or use Apple's eSIM quick transfer — a new iOS 16, which comes out on September 12.
What is eSIM Quick Transfer?
There is a new eSIM setup option on iOS 16 called eSIM Quick Transfer. This allows you to transfer your current SIM card (a physical SIM card or an eSIM) from your old iPhone to a new one as an eSIM. The only catch here is that both phones have to run iOS 16, or it won't work. But for many people, this will be an easy way to transfer their SIM cards when upgrading phones.
What are the advantages of eSIM service?
First, no more stabbing yourself with a SIM card tool. Second, by removing the physical SIM card slot, the phone has more room inside the case to improve other features instead of setting aside space for a physical card. You also cannot lose an eSIM card, and while physical SIM cards can be swiped to use in port-out scams that hijack phone numbers, the only way to get an eSIM is to steal the whole phone.
Moreover, an eSIM can be updated over cellular service or Wi-Fi rather than requiring you to swap out a new SIM card physically. As 5G improves, this could allow phone carriers to update eSIMs to get the most out of those improvements.
What U.S. carriers use eSIM?
With eSIM Carrier Activation, your carrier can assign an eSIM to your iPhone digitally at the time of purchase or if you call your carrier for an eSIM after setup. Here are the U.S. carriers that offer eSIM service:
AT&T
Boost Mobile
Cellcom
Credo Mobile
C Spire
FirstNet
H2O Wireless
Spectrum Mobile
Straight Talk
Strata
T-Mobile USA
Tracfone
U.S. Cellular
Verizon Wireless
Xfinity Mobile
You can check Apple support to find wireless carriers and worldwide service providers that offer eSIM services.