Advertising
Apps
How To
Facebook Launches Video Creation Tools to Help Advertisers Build Mobile-First Video Ads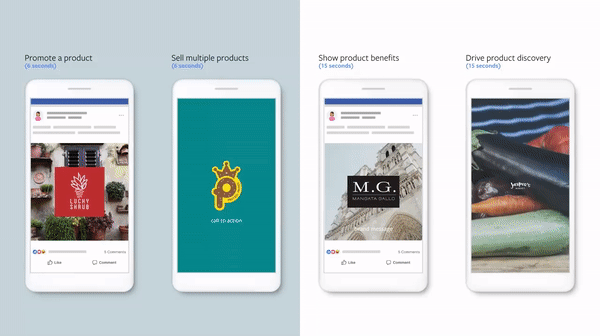 Facebook has introduced new video creation tools that enable advertisers to convert existing images and text assets into mobile-first video ads with ease. In order to help small and medium businesses create attractive videos that fit seamlessly into the mobile content consumption experience.
You can create vertical and square videos, as well as choose from varies of animations and styles.
According to a Facebook study "the mobile-first creative has a 27% higher likelihood of driving brand lift and 23% higher likelihood of driving message association compared to video ads that are not optimized for mobile."
1. Video Creation Kit
The Video Creation Kit enables you to turn existing image and text assets into mobile-optimized videos.
The Video Creation Kit has four templates. The templates are found in Ads Manager within the single video and slideshow formats. The templates make it easy to create effective mobile video ads that follow a performance-optimized story arc. Choose to:
Promote a product (6 seconds): Focus on a key product to generate interest and sales.
Sell multiple products (6 seconds): Show a selection of products, promote a special offer and drive sales.
Show product benefits (15 seconds): Highlight product features, use case studies or explain how a product works.
Drive product discovery (15 seconds): Bring your brand to life and share what makes your product unique.
https://www.facebook.com/marketing/videos/842719609265073/
Facebook Head of Growth, Litographs, Jonny Miller said "As a Facebook marketing team of one, any tools that can not only save me time but enable me to create a compelling video in a minute or two, rather than having to outsource, make a huge impact. Seeing the video generate a 20% increase in our return on ad spend is extremely exciting for future campaigns."
2. Video cropping
Our new video cropping tool helps you easily optimize the framing of your video ads by cropping videos to our recommended aspect ratios within the ad creation flow. You can crop your video ads to 1:1 and 4:5 for feed, 16:9 for in-stream and 9:16 for stories. Cropping your video ads to the recommended aspect ratios will help your ads fit seamlessly into the ways in which people are consuming content in different environments.
3. Simple video creation tools
And for advertisers creating ads directly from their business Page, specifically on mobile, the new simple video creation tools help you quickly create templated videos from Page assets such as photos and company logos.
This tool provides an effective and easy way to create eye catching video ads that look great on mobile, without major investment, in-house skills or additional assets. Simply select the animate option when boosting a post and a video will automatically be created for you. From there, you can use the video as created or customize it to suit your business needs.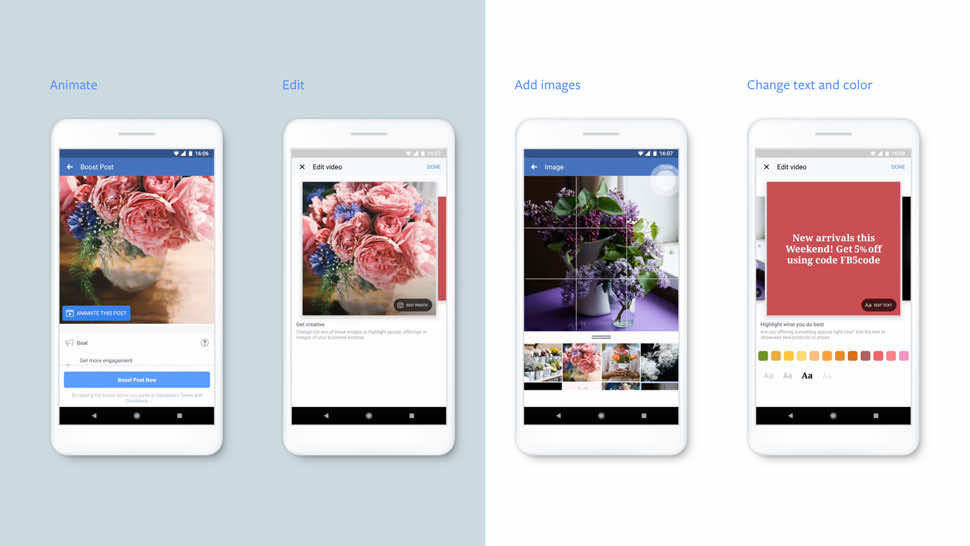 Create an ad using video effects tool
Animating your ads can make them more attention grabbing in News Feed. You don't need to spend a lot of money and time creating videos. Facebook offers a video effects tool that animates your ads for you for free, using assets like your images and logo.
To see this feature, your Facebook Page must have a profile photo (at least 128×128 pixels).
To animate your ad:
Open your Facebook Page in the Facebook app.
Create and publish a post with an image (at least 360×360 pixels).
Your image will be cropped to square dimensions by our tool, so avoid using vertical or portrait images that could be distorted.
Tap the Boost Post button that appears on your post
The Boost Post window opens. Click Animate This Post. Animate facebook ads
An animation will be created automatically for you.
Tap the pencil icon Edit video if you want to customize the colors, images, text and fonts.
Keep your text as short as you can, because the animation is quick
Choose high quality product images with good lighting, or images that represent your brand.
Tap Done when you're finished.
You'll return to the Boost Post window and see a preview of your ad.
If you're happy, tap Next in the top right. Uploading your video may take a few minutes. You can then choose your settings and budget to boost your post as usual